How Acupuncture Cures Spring Illnesses
The ancient Chinese observed their environment and noticed that the same basic energies that manifested in the world were also reflected in human beings. The Five Elements (water, wood, fire, earth, metal) are a way of describing these energies. In nature, these five basic energies are each associated with a season, and in humans they're associated with bodily organs, energy meridians, and emotions.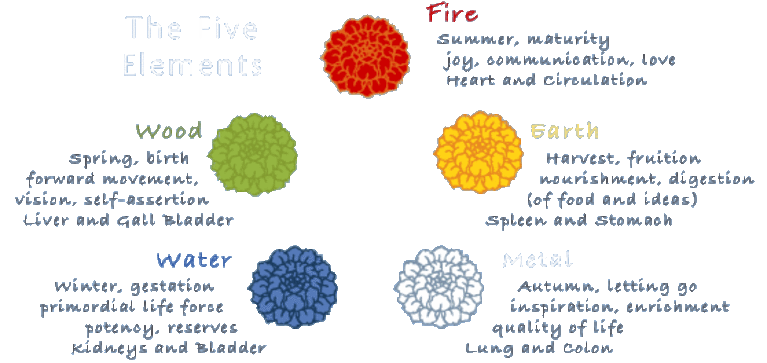 Like the seasons, each of the elements gives birth to the next in a never-ending cycle. Just as an ideal summer creates an abundant harvest, when the elements are in balance in us, we have a sense of well-being. However, when one of the elements is out of balance, it will start to affect all the other elements. Like a chain with a weak link, the whole cycle is affected, and symptoms of unease appear.
In my acupuncture practice, I support people dealing with imbalances that are often specific to the season we're in. Acupuncture does not see the body as separate from the mind, emotions or environment, so it looks at all of these aspects of a person when treating dis-ease. For example, frustration and resentment could be the cause of your headaches or digestive issues. And, frustration or resentment could be exaggerated during the spring, if your body is still stuck in the sluggishness of winter.
Spring is the season of the wood element. It's a time to be focused on your vision for your life, and to make movements toward that vision with enthusiasm, vibrancy, and creativity. Just as the sprouts are bursting from the soil with one-pointed focus and determination, so we are invited to give birth to our own lives with all the potency of nature.
The shadow side of the wood element can make us feel stuck, frustrated, hopeless, resentful, or unable to believe that we can get where we wish to go in life. We can be planning, planning constantly without taking action, or making choices that don't lead us toward our goals and leave us feeling thwarted. Some may experience the sadness of having no clear vision to give inspiration for the future.
Gifts of Wood in Balance:
Ability to have a vision and make plans.
Ability to make decisions.
Movement toward goals.
Simultaneous strength and flexibility.
A feeling of hope and optimism for the future.
A sense of purpose.
Challenges of Wood out of Balance:
Lack of direction or clarity.
Poor decision making, or inability to make a decision.
Frustration and feeling stuck.
Overly rigid or overly flexible.
Hopelessness, depression.
Lack of purpose.
Physically, imbalances in the wood element can show up as liver or gallbladder issues, irritability, anxiety, sleeplessness, eye problems, headaches, allergies, digestive issues, depression, musculoskeletal pain and stiffness, or genital and reproductive issues.
If you are experiencing any of these challenges, don't despair! Five-Element Acupuncture can help you eliminate challenging spring symptoms and experience the gifts of the Wood Element in balance instead.