Eco-Sex and Love
Our editors have independently chosen the products listed on this page. If you purchase something mentioned in this article, we may
earn a small commission
.
Love for the planet and the delicate eco-system of my body go hand-in-hand in my world. I'm interested in products that are in line with my values: organic, sustainable, artful and pleasurable.
In the realm of eco-sex and love, there is a whole world out there of sexy, pretty, green and healthy things. Here are my picks for tools and brands to bring a higher-quality consciousness to your bedroom arts.
Sex toys: Over the past few years, a number of companies have emerged dedicated to creating body-safe, eco-conscious playthings that are also exquisitely beautiful.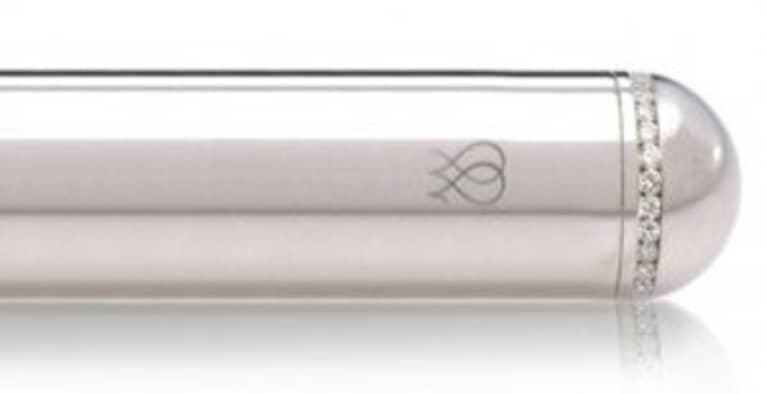 Jimmyjane is one such company. Their vibrators are erotic objet d'art. They range from the gorgeous and functional "Form" collection to the platinum and diamond-studded, three-thousand dollar Little Eternity (Think of it as an addition to your investment portfolio). Some of their vibrators feature collaborations with different artists, like the "Ultimate Member" collection with Gorillaz artist Jamie Hewlett.
Their toys house rechargeable and replaceable motors and the materials used are safe for your body.
Most sex toys on the market are made with toxic ingredients, notably phthalates, a carcinogen. The most absorptive areas of your body are not where you want to be placing things that leach dangerous chemicals into your system.
High-grade silicon, glass and metal are the best materials to use in sex toys.
Brands I love: Jimmyjane, Lelo, njoy.
Enhancers: As an intimacy coach, I'm a firm believer in arousal coming from within. I discourage using sexual aids like Viagra and vaginal lubricant (I see vaginal lubricant as the female equivalent to Viagra). Instead, I suggest that people look for physical and emotional keys to unlock desire.
While it can be argued that in some cases, a lack of responsiveness may be physiological, I'm still all about finding the root cause. Get thee to a naturopath or integrative physician to decipher the messages your body is giving you.
I definitely support the use of lubricant for areas that don't produce their own naturally. In that case, I recommend Firefly. It's an organic, petroleum-and-paraben-free lubricant without any synthetic or chemical ingredients. It contains shea and cocoa butter, among other plant products.
Alternately, head over to the kitchen and melt down some coconut oil. It's an excellent oil for sensual massage—it's the most glide-y oil I've ever used—and it's compatible with all of your body parts. Except condoms. It's not compatible with those—it can break them down.
You can make your own massage oil by adding a few drops of essential oils like jasmine, rose, ylang ylang and sandalwood—all of which have aphrodisiac and heart-opening properties.
Avoid commercial lubricants. Full stop. They contain such unsavories as propylene glycol (found in anti-freeze), DEA and parabens—all of which are carcinogenic. Again, the last place you'd want these materials is in your nether-regions.
Healthy Mattresses: You spend a third of your life on a mattress. (And much more if you are having the prescribed amount of sex dates). There are a host of options available these days made from natural materials like rubber, horsehair, wool, natural foam and latex.
Old-style spring mattresses typically contain formaldehyde and PBDEs (banned in Europe), which off-gas while you sleep. Synthetic materials are also prone to mold and mildew formation, which can compromise your immune system.
If you'd like to really indulge, you can spend $64,000 on a Hästens bed. The company from Sweden pride themselves on making the highest quality, handmade, most expensive beds in the world.
While you're at it, revamp your sheets. Organic cotton and bamboo are excellent alternatives to sleeping and breathing in pesticide-laden linens.
Birth control: I'm an advocate of natural birth control. By that, I don't mean an iPhone app that tells a woman when she is probably ovulating: a woman's body can do that and do it accurately.
Just like every other female in the animal kingdom, humans show visible signs of estrus. In the 1950s, Drs. John and Evelyn Billings, a husband and wife team from Australia, studied and were able to find consistent patterns in vaginal secretions to indicate fertile and non-fertile times.
Their technique, now called The Billings Method, is practiced by millions of women all over the world (it is included amongst the Chinese government's approved and taught methods) and is considered on-average 98% effective. It's simple to learn, free and it restores to women a power we all have: the ability to plan for or prevent pregnancy.
The method is as sustainable, body-safe and as empowering as you can get.
It is a little-known fact that the birth control pill is deemed a Group 1 carcinogen by the WHO. Studies have been done linking The Pill to increased rates of breast cancer, especially in women who haven't had children yet (the breast tissue is more susceptible before milk production occurs).
It is also thought that the estrogens from birth control pills make their way through the sewage system out into the ocean.
The Method is explained in book form and if you are interested, I suggest contacting the main organization who can set you up with a local, certified instructor. I highly recommend that men and women alike learn how to use it, so this becomes a mutual responsibility.
Book: The Billings Method: Controlling fertility without drugs or devices and Website
***
I'm personally and professionally into radical self-responsibility, finding root causes and preservation of the planet as well as my body. Surrounding ourselves with and using products that lessen our toxic load makes it easier to tune into the wisdom of the body and soul.
Which is the key to being an amazing lover.