Green Yoga for the Whole Family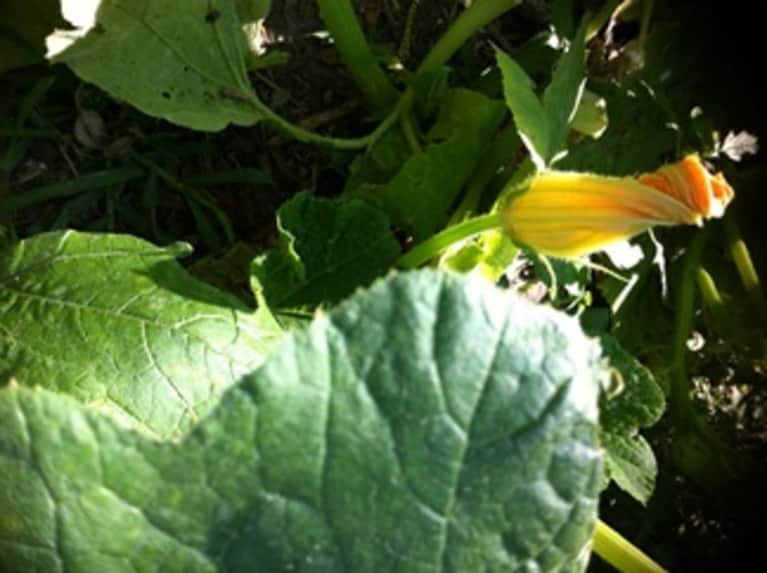 Earlier this week my son and I noticed a big-leafed plant had sprung up in our back yard. As we walked closer for a more thorough investigation we spied several large golden blooms.
We looked at one another with wide, surprised eyes.
"Mom? Could that be our pumpkinnnnnnnn......?" Cole started to ask but his question trailed off as he started to doubt our discovery.
I smiled and replied, "I guess Spring showers are bringing us Fall pumpkins and flowers!"
Over a year ago, Cole and my friend, Kimmi Norvell, owner of Coastal Bend Health Foods, planted a few pumpkin seeds from their Halloween sculptures during a pumpkin carving party. (Of course the other seeds were roasted and gobbled down for days and days.) The first plants sprouted that Fall, but a surprise South Texas freeze swept them away. We have not seen them since.
Now we spend time each day marveling at the current growth and beauty along with imagining the great pumpkins these plants will bring us. "Even Charlie Brown's Great Pumpkin won't compare," we laugh.
I love watching our little pumpkin garden grow. Yet what is most special for me is the connectedness that has sprouted between Cole and me as we remember and reflect on the many events and people who are part of this little garden. These elements of team-work, support and active connectedness also remind me of my favorite Yogiños: Yoga for Youth family poses, Jardin/Garden/Navasana (variation).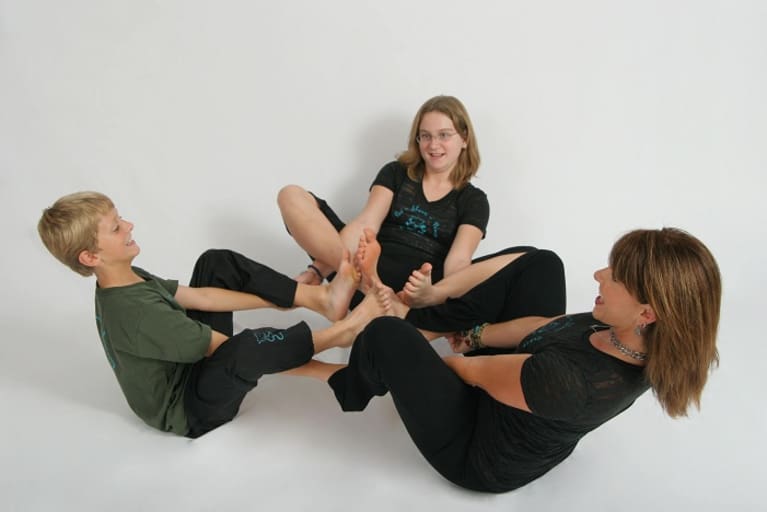 Jardín/Garden/Navasana (variation)
Instructions:
• Sit in a circle with your knees bent and soles of your on the floor with at least two friends or family members.
• Inhale and bring hands together to your heart center in Anjali Mudra.
• Exhale and lower hands to floor between your knees.
• Move each hand under each knee toward the hand of the person sitting next to you.
• Hold hands.
• Inhale, lift one foot off the ground. Exhale.
• Inhale, lift the other foot off the ground balancing on your bottom like you do in Barco/Boat/ Navasana ?
• Try to help your neighbor stay upright.
• Smile and have fun!
• After this pose, it can be educational and fun to discuss how Jardín can be done either alone without holding hands (try that way, too) or holding hands. How are the variations similar and different?
• When we hold hands and help each other, it's a demonstration of the world being interconnected. The sound OM represents how connected we are. And isn't it amazing to help each other? OHMazing!
Benefits:
Allows group to work as a team;
Strengthens abs,
hip flexors & spine;
Lots of laughter!!
Cautions:
Keep straight back;
Take slowly one leg at a time.
Enjoy nurturing togetherness with this pose at home, in parks, at school and even traveling. And if you happen to be traveling in New York City attending the Yoga Journal Conference this weekend, stop by the Green Yoga Association booth for more information on how to weave "green" into your practice, home and business.
photo cred: Dave Perrone