Why We Should Be Like Water & Live With Ease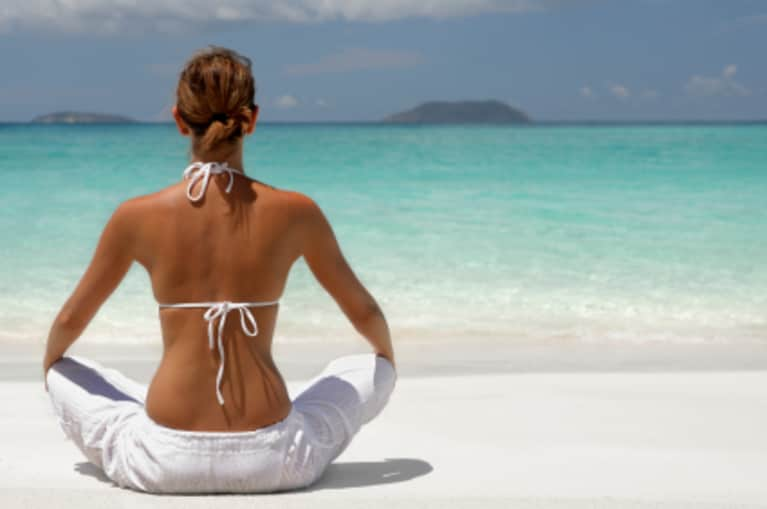 I love water. It is elegant and dazzling in its glimmering brilliance. Tranquil and calming, like a natural Xanax, it has the uncanny ability to instantly put me at ease while simultaneously and unselfishly offering up its graceful beauty. It is refined, formless, and flexible yet quietly and humbly powerful, effortlessly taking on the shape of whatever it encounters with the dexterity and durability of a Cirque De Sole performer, flipping, dipping, and stretching beyond the limits of human form and comprehension.
I grew up on the Jersey Shore, and when I decided to leave my childhood home to pursue my first degree, my choice for relocation weighed heavily upon what college I could attend to be closest to water (and warmth) because it was all I knew. I chose the University of Miami and I traded the navy waters of the Jersey Shore for the jewel toned tropical waters of Southern Florida, a happily and quickly made tradeoff. I was even lucky enough to attend a college with a lake claiming its center and inhabited by alligators (affectionately and unofficially named "chompers" by yours truly) and other whimsical creatures not native to the North East.
I would often find myself slipping out of my apartment in the early morning or late evening hours, when campus was eerily quiet and the air refreshingly cool, to sit by that body of water, the refreshing mist of water droplets hitting my cheeks when the water fountain at its center was turned on and the wind was blowing. I found solace in that lake and the peaceful moments I stole sitting beside it, a living organism just like myself existing in its purity and perfection (just as I wished to exist).
That girl had a lot to learn, and below are three lessons water taught me.
1. Be Formless – Water has shape yet it is shapeless, has form yet it is formless, morphing into and taking on the appearance of whatever it is pushed up against or into. If it is delicately poured into a glass to quench your thirst, it takes on the form of the container, agile and showing up for another important task. The ego does not allow us to be formless. It is rigid, overbearing, and arrogant in its trickery, aiming to constantly keep us fighting our own natures, which is unnatural by every definition of the word. Be formless like water and watch your life unfold with ease as you smoothly slip into the flow of your existence.
2. Go With the Flow– I'm far from flexible, or at least, I was far from flexible (more like painfully rigid and bullheaded). Today, I can navigate those cute little surprises, the unexpected twists and turns, that life has to offer up, usually without your permission or any future notice. How charming. Water is calm and flexible, bending or breaking when the situation necessitates either reaction. Like a cloud changing formation in the sky as the atmosphere nudges it along into a new shape, I try my best to morph with ease as life pushes me along, divine wind at my back.
3. Be Softly Powerful – Nothing can resist water yet it sits quietly in its own delicate authority, watching, waiting, and taking action, usually out of a long period of dormancy but always prepared to operate. Power is not about coercion, forcing others to bend to your ways despite their obvious objections, but it is about positive influence absent of fear. Often, the most powerful individuals are gentle, loving, and kind, fostering positive regard for optimal performance. Spiritual power comes from an internal emotional intelligence that constructs a nurturing environment where strengths can be developed and weaknesses can be challenged, corrected, or used for their often ignored advantages.