The Basics for Yoga Newbies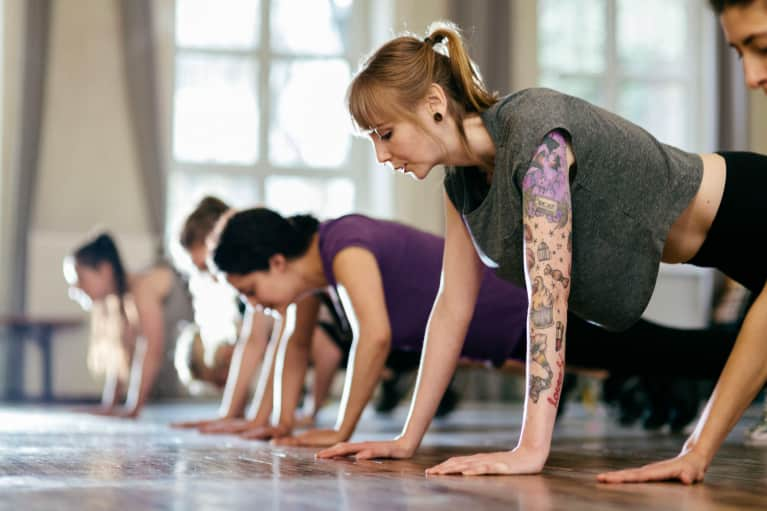 Walking in to your first yoga class can be intimidating. It can feel like everyone is 'in the club' except you. But it turns out, almost every class, is SOMEONE's first class. I remember my first time like it was yesterday, only it was 13 years ago. I was so afraid someone was going to make me drink Kool-Aid and sing weird 'songs.' All I wanted back then was a workout.
Yoga is a practice that is somewhere between three and seven thousand years old. (There's some debate on this.) So naturally, there are some guidelines and expectations of the community while they practice. I am often reminded these things are not intuitive and are the source of anxiety and fear for those new to the practice. Here are a few things you may not already know about practicing yoga asana (physical postures):
You don't need to be flexible: That's what yoga is for, silly! I hear from newbies all the time, "I can't (don't) do yoga because I am not flexible enough." YOU are exactly who should be doing yoga. When you come to class, just be patient with yourself. Remember, yoga is meant to be a lifelong practice. It's the process, not the final product that is yoga.
All asana classes are different: There are many different styles to yoga asana. Some variations hold poses while others flow from posture to posture. Certain teachers are fast-paced, others are slower and more meditative. Some studios heat their classrooms, others do not. Make sure you ask lots of questions. Most importantly, if one class does not work for you, don't give up on yoga. Just try another style and/or teacher.
No shoes or socks needed: Generally speaking, shoes are not allowed in practice rooms. Once inside, most students take off their socks too. Why? The shoes off is a sign of respect and it helps keep the practice room cleaner. The socks tend to be slippery on yoga mats, therefore bare feet are safer.
No eating before class: Not because you will have to admit this or you'd get in 'trouble' but because a full stomach does not mix well with physical activity and you just might feel terrible. The general rule of thumb is nothing too significant for 90 minutes before practice. Sometimes you need a banana or string cheese, which should be fine. Just best not to have a burrito right before you go.
Mats/Towels: Most studios have mats and towels to rent or use. This is the best practice, at first, so you have more information about how often you'll practice, what type of mat you want, etc.
Fitted clothes: There is no 'uniform' but when you are upside-down, you don't want your shirt over your face. Wear something that won't distract you or fall into your vision. If you take a hot yoga class, you may want to wear shorts and a tank top, but mostly wear what feels most comfortable.
Sanskrit: Most yoga teachers stick to 'tradition' and speak in the universal language of yoga, which is Sanskrit. In the majority of classes, you do not need to KNOW Sanskrit. The teacher will likely say a pose in both English and Sanskrit.
Say 'Hi': As a teacher, I always appreciate a new student chatting with me before class. It's not necessary, but it might make you feel more comfortable too.
No prerequisites! There are no prerequisites to practice yoga. Sometimes students take introductory classes before a regular class, others do not. Just look for classes that are 'level one' or 'all levels'.
Remember, yoga is meant for everyone. There are lots of variations on the practice and lots of teachers out there. There is depth to the practice beyond the physical, but there is also benefit just from the physical. I always encourage students to practice for themselves and to 'come as they are' – nothing more, nothing less.