Flexibility, Inside and Out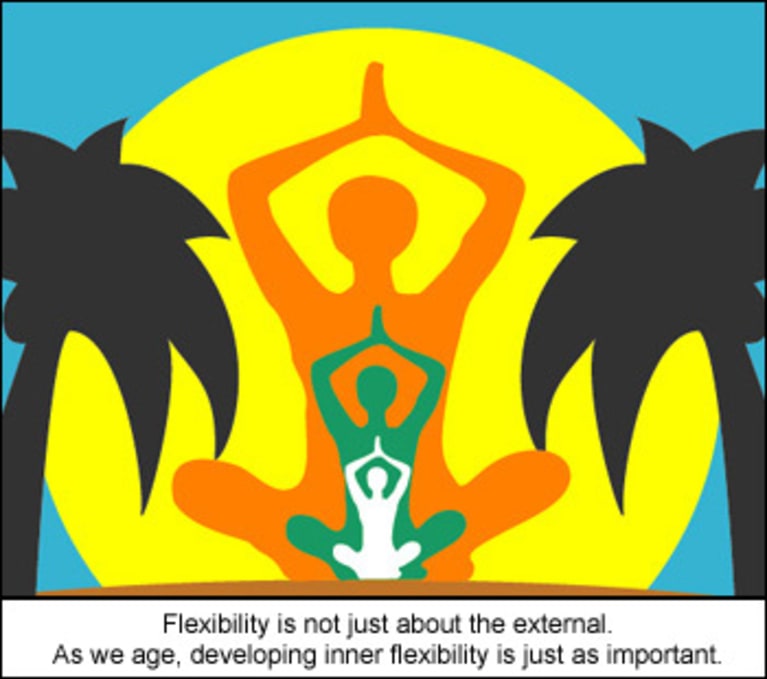 During my decade long daily practice of Ashtanga, yoga was so much a part of my existence that it never ever occurred to me one day life might change so drastically that I would no longer be a 'daily Ashtangi.' But life inevitably throws us curve balls, unexpected circumstances that remind us to expect the unexpected. I've come to understand these curve balls are the beautiful unfolding of both karma and current.
Despite my yogic discipline and devotion, and even with the supplementation of Pilates, acupuncture and Chinese medical massage, a serious spinal condition that I'd battled for nearly 8 years continued to worsen. I'd stubbornly denied that my particular yoga practice had anything to do with my back issues. The harder side of me didn't want to surrender to my body's cues. The masculine side of me thrived on engaging in an athletic yoga style. It took a few painful months, but I eventually admitted that perhaps my hardcore approach was exacerbating my injuries and actually increasing the physical irritation from within.
I finally agreed to my doctors' suggestion and had surgery. Little did I know that when I underwent an eight hour spinal fusion I was actually four weeks pregnant with my miracle baby Jade (full story in my memoir, Beauty Disrupted). I had one hell of a recovery ahead of me. Healing from a major surgery while growing a baby is a practice unto itself. Thankfully I did recover and nine months after that fusion, I gave birth to a beautiful baby girl.
It wasn't until just this past March while on vacation with my family in Sayulita, Mexico, that I dared to take my practice back to the mat. That isn't to say there hadn't been some sun salutations, light stretches, and intermittent standing poses over the past six years. But I certainly had not engaged in a fully committed mat-session since before the birth of my eldest daughter.
I'll admit it. I'm a jock (self-proclaimed). I bicycle 12,000-foot mountain passes, run, cross train, skate-ski, hike and mountain bike. All of these activities have been a huge part of my life over the years, but now as a parent there's limited time for fitness regimens. Mommy-time constraints, for better or worse, have led me toward the quick cardio-fixes and my rough jock-side self keeps me engaged in rigorous activities more than the gentler ones.
But on that beach in Mexico, with the waves rolling in and out, I was moved to experience that inner balance again, that absolute divine union that, for me, comes with the practice of yoga. The elements seemed to be calling me back to the mat. Or the beach towel as it were. With my hands in Namaste, I set an intention: May this practice be conscious. May my movements be honoring. May it benefit all beings.
By the time I moved to the sand for some sitting poses, my children had returned from a walk with my husband. My miracle baby Jade took her place by my side and began mimicking my postures. Together we navigated forward-bends and several other Primary Series floor poses that I hadn't attempted since before her birth. We giggled as we worked our way into back bend-prep and shoulder-stand, wiggling our toes at the big blue sky above.
As I stood up and centered myself, preparing for a handstand, my daughters cheered me on. I laughed immediately, certain I couldn't possibly kick up, without a wall behind me, on uneven sandy ground. But I did. 43 and still a hand-stander! Turns out I wasn't as far away from my practice as I thought I was. Although it had been years, and while the beginning of that beach practice was uncomfortable, my body had memory. I was able to open up and quiet down. I was able to really navigate and experience the inner journey that yoga is.
This body is where I live for now. I want it to be a comfortable place for as long as possible. And I also want to continue to tap into that inner journey. Flexibility is not just about the external. As we age, developing inner flexibility is just as important.
Namaste!