The Shaky Side of Stillness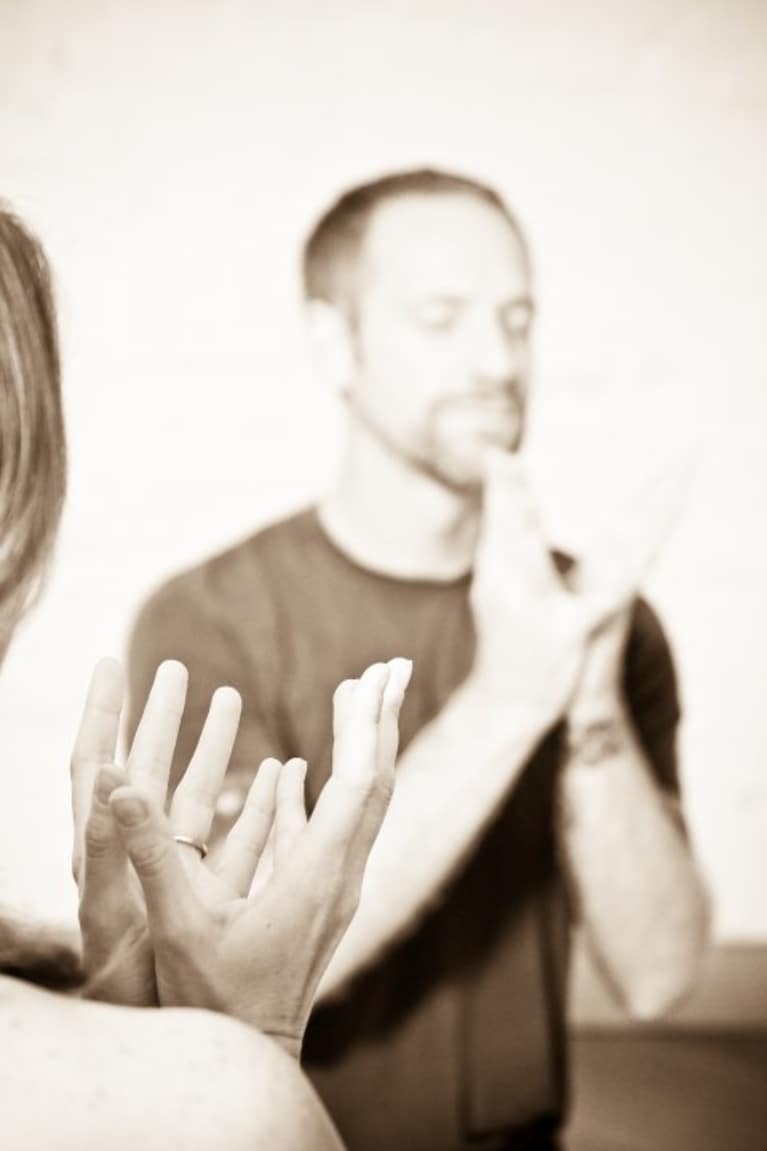 Who hasn't occasionally felt a bit shaky in practice? Normal, yes? I always do. Literally. I cannot be physically still. I have a hereditary condition called an essential tremor. My hands shake, the right more so than the left, my head shakes slightly, too, and my voice can tremble. A full cup of anything is an accident waiting to happen. Balancing poses take on an entirely new look when I'm in them, if I can get there.
I have heard it all throughout my life. Your hands shake. Are you nervous? What's wrong with you? Try to relax. We shaky people can have highly developed avoidance systems, and I know what situations are more challenging. The simple act of picking up a cocktail from a bar at a social event, something most of us take for granted, can produce paralyzing anxiety. Even for an extrovert like me who can poke fun at himself faster than anyone. I know it sounds silly or shallow to admit that, but it's true. Certain everyday activities can trigger feelings of helplessness and shame, not to mention frustration. To help, I try to manage my symptoms through wellness practices, diet, and of course, lots of exercise. Some days are better than others. Like yoga.
My favorite yoga sutra is a reminder that we cannot see the color of the water in a lake if the lake is turbulent. I believe I am drawn to this particular aphorism because I will never know a perfectly calm lake of water when I practice asana or sit in meditation. When I decided to become a teacher, I was terrified to touch others because I knew my tremor would be communicated through my touch. And it is. I also know how important touch is in yoga, so I don't shy away from it. I teach, shaky hands and all, assisting students throughout class. I also help other teachers learn to assist in teacher training sessions. Students do ask about it, or quietly nod when I initiate the explanation, and have always shown understanding. It feels good to talk about it. I think it creates space for a deeper connection on the mat.
That's where the yoga mat meets the road, so to speak. I knew from my first class that trying to look steady and calm and actually being steady and calm are two very different states of mind. One is selfish and rather vain, and one is closer to authentic. It is still one of the first thoughts to enter my brain when I work with a new teacher in my own practice, with new students in teacher training, or in one of my classes. Will they notice? Of course. Will they call me out? Maybe. Does my being self-conscious about it matter in the bigger picture? Not one hoot.
It is certainly not my goal to leave students wondering why my hands shake when they could and should be focusing on practice. I believe my unique touch is meaningful because it's who I am. It's me, and it's real. I only have to look at my hands to know that I am different from most people, that every student is different, and that I cannot limit myself as a yogi and teacher because of an obstacle like a tremor. Perhaps shaky hands are a gift, and it is not the trembling touch that is important. The intention is what truly matters. No matter what, I can build positive, reinforcing relationships with my teaching and touch, and enjoy every moment of doubt, insecurity, confidence, joy, and all the ups, downs, and all-arounds that come with the process. And just like my shaky yoga practice, I am glad it is not always a steady ride.