How Drumming Changed My Life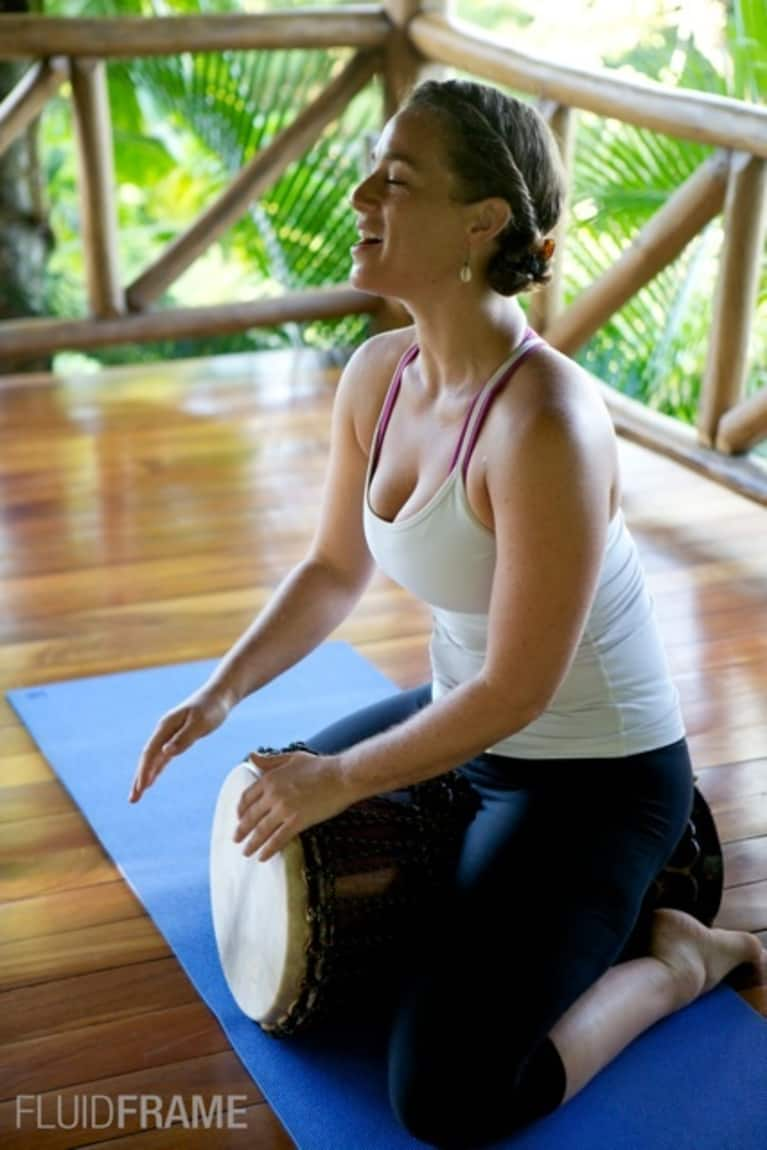 Before my daily yoga practice, I used to suffer from ridiculous anxiety. One of the ways I loved to release stress was to dance, and when I wanted to start studying West African dance, a good friend from Senegal suggested I also learn how to play the djembe drum. I had been a musician all my life, but this new art form had unexpected positive effects. Not only did I have a fun and new creative outlet, but drumming also helped me decrease stress, improved my ability to dance, and inspired me to create a powerful community surrounding the music.
I started taking drum lessons regularly and realized that playing complex poly-rhythms by hands required a tremendous amount of focus and surrender. Similar to meditation, drumming requires that you release any attachments to the thoughts. The moment I let my mind get carried away, I lose the rhythm. So with practice, I cultivated the ability to consciously breathe while playing in order to maintain a steady beat. I found that while it was fun and exciting to play, I also felt calm and concentrated.
Interestingly enough, drumming is used as a recuperative therapy for a variety of different purposes including supporting individuals recovering from brain injuries, drug addiction or chronic pain. The syncopation of playing hand drums cultivates a connection between the brain's hemispheres, the left side being the seat of logical and sequential order, while the right side is more intuitive and holistic. Drumming has also been shown to boost the immune system and relieve stress and anxiety.
Personally, my favorite part about playing drums is the community. I was pleased to learn that the name "djembe" comes from the saying "Anke djé, anke bé," which translates to "everyone gather together in peace." So when we gather to drum and dance, everyone contributes a unique sound or movement to create a powerful ensemble. When I realized that the drum beat is the inspiration for all movement in West African dance, I was able to let my body listen and move accordingly.
In the end, drumming gave me a new excitement for life. It became a new form of meditation to help me acquire balance in my busy mind, it improved my dancing by leaps and bounds, it inspired me to incorporate live drumming in my classes, and gave me the confidence to co-create MOTHER MEDICINE World Music Project. Traditionally, the djembe is played only by men, but gender limitations have never kept me from doing what I want. Even today, it is rare to see women play djembe in West Africa but luckily, I'm in West L.A. and we can continue to learn and explore this beautiful and ancient practice of sacred sound and movement to heal ourselves and each other.
Sound good to you?
Gigi Yogini will be teaching a special class with live drums and MOTHER MEDICINE at 5:20pm on Friday, April 20th at the Tadasana International Yoga & Music Festival over Earth Day weekend on the beach in Santa Monica, CA, April 20– 22. Click here to check out the festival website and purchase tickets.