10 Tips to Get You Through 30 Days of Yoga (And 365 Days a Year of Life!)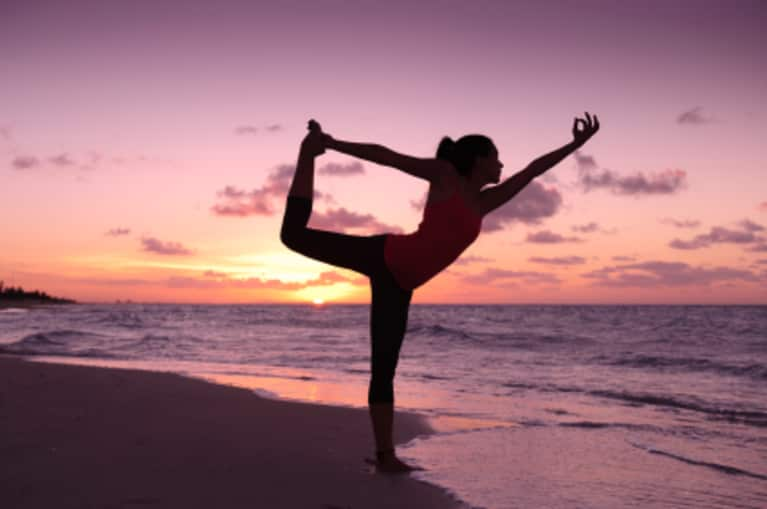 The 30-day Challenge. The 40-day Revolution. It seems these are sweeping the globe. Nearly every yoga studio does one, sometimes two, a year. Why? Simple: a brilliant means to inspire practitioners to commit to and realize the benefits of a consistent and daily yoga practice, to adopt a healthy habit. Inspiration and motivation is heightened when you sign up with a bunch of like-minded people eager to accept the same challenge - and get that deal on a yoga pass, or better yet win a free membership. Whatever your motivation, this many days of regular practice is good. Period.
Riding the wave of my yogi compadres across the country, I recently wrapped up a personal 30-day challenge. Mine was to practice 2-3 hours of asana and pranayama 6 days a week, 20-30 minutes of meditation 7 days a week, and to eat healthy, whole, and gluten-free foods for 30 days. As a dedicated student of yoga, and because I have access to a studio where I teach yoga, the asana and meditation part was easily managed. I am well acquainted with the benefits of regular practice. However, know this: there was a time when I could not even fathom having the will to practice yoga everyday. It comes with dedication and time.
Where I really got burned was going gluten-free. I'll be honest, it totally kicked by ass! It seemed like every couple of days there was some delicious glutinous treat that I got my hands on. I think I managed to go mostly gluten-free but therein this "challenge" was my weakness, my pattern, yelling in my face. It was astonishing to witness the internal dialogue of my mind shuffling between the pros and cons of whether or not I deserved a cookie, how bad was it for me really? Wild!
For me, that's what these 30-day things are all about; noticing what arises in your mind when you are challenged, the unconscious patterns that wield their power over you like an iron sword, and how you overcome it.
Assuming you've already been sold on the myriad of physical, mental, and spiritual benefits that accrue with a regular yoga practice, I list 10 small gems of wisdom collected over the years and several 30-day voyages into practice.
1. Schedule it in. Stick it in your iPhone, pencil it in your calendar, actually write it down. This makes a difference.
2. Enlist a co-conspirator, a mind-body buddy, if you will. Do it with a friend and this will not only provide you with extra support but will also hold you accountable. This truly would have been helpful for me for going gluten-free. If you are incorporating a dietary change into your challenge, I suggest tackling that one with a friend, partner, spouse, roommate, whoever. Strength in numbers!
3. Remove the temptations from the house. Cover the television, give your loaf of bread and box of pasta to friend. It was just a quick piece of toast, or my boyfriend putting panko crumbs on our chicken that really got the voices inside reasoning a cheat.
4. Morning affirmation. This was mine in the voice of Sri K. Pattabhi Jois. "Do your practice and all is coming." Short and sweet. Say it upon rising and whenever you think of it. This little ritual always keeps me rising to the challenge of practice.
5. Find an inspirational quote everyday, or if your teacher provides one in class, write it down and contemplate. There are bzillions of quotes on the internet and in books. Get the most out of your practice. It's way easier to practice when you are inspired.
6. Pick a pose to work on. I picked pincha mayurasana as I've been working this pose for years but never to the point of comfort. Voila! After 30 days, everyday, no problem! Cool, huh. A challenge within a challenge can combat the boredom that is sometime associated with doing something everyday and really makes your practice your own.
7. Keep a journal and write down your thoughts before and after you practice. At the end, you'll be happy you did and this will fuel the continuation of your practice, or your next challenge.
8. Plan to eat and rest well. Because I was aiming to eat only healthy food, my body loved me and therefore seemed way more up for the task of daily asana, which can be tiring, and for some, painful. Healthy whole diets reduce inflammation in all the tissues making them pliable, strong, and resilient.
9. Be kind to your body and your self. If you are tired, modify your practice, go to a beginner class, or a yin class. If you falter and miss a day, let go of the self judgment and punishment. Move on and take it one day at a time. Maybe one day your practice can be sitting by a river or in a park? The Sufi poet Rumi expresses this beautifully:
"Today, like every other day, we wake up empty and frightened.Don't open the door to the study and begin reading.Take down a musical instrument.Let the beauty we love be what we do.?There are hundreds of ways to kneel and kiss the ground."
10. Give gratitude for your practice everyday. I cannot describe to you how this practice in itself will change your life. Like asana for the mind. When we are thankful there is no room for judgment, fear, or sadness. Thank yourself, too; you are doing it!
There you have it. Parting words: as a grand finale, write down what you learned from your experience at the end, the gifts of the practice emerge here and will most definitely help you get through the next challenge, whether it's another yoga challenge or you decide to go gluten-free or sugar-free. Realizing and reaping the benefits of your growth will keep that spark for daily practice alive and the inner fires burning bright!
"This practice becomes firmly rooted when it is cultivated skillfully and continuously for a long time." ~ The Yoga Sutra of Patanjali 1:14