Dark Chocolate Can Reduce Sugar Cravings?!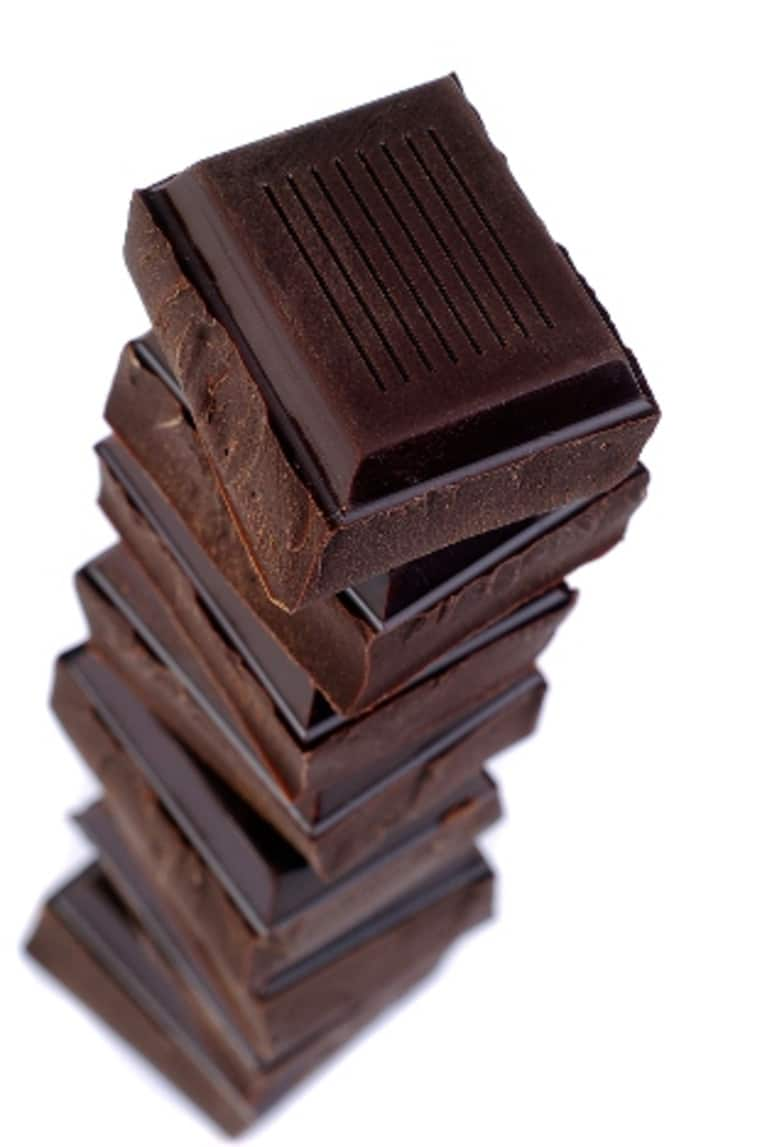 Wouldn't it feel amazing to have a fool-proof way to enjoy sweet treats without fear of inhaling an entire bag of cookies? There actually is a way to do just that. Every single day.
I spent YEARS feeling horrible about myself because I couldn't eat just one Hershey's kiss at a time. I would grab a gigantic handful and eat them one after the other until the whole bag was gone and all I had left was a big pile of foil and a fat, bloated belly. I would come home from work, eat dinner and then sit in front of the TV with a big bowl of ice cream – day after day after day. I felt so powerless to my sugar cravings. No one knew it, but sugar controlled my life. Like many women, I felt consumed by sugar cravings and endlessly feel bad about myself and my body. I have to confess, I was what I call a "Secret Sugar Snarfer".
After a lot of trial and error, I finally learned how to stop the sugar madness. After years of stomachaches and struggles, I learned how to make peace with sugar in a very surprising way. This little trick is something that can be easily implement immediately, so that you can enjoy sugar without any guilt, shame or deprivation. When you feel the 3:00pm energy slump coming on, or you get home from work and you are starving, or you want "just a bite" of something sweet for dessert after dinner, this is what you do: Eat a chunk of dark chocolate. It's true. Yes. Chocolate. But, I am not suggesting that you eat just any old chocolate bar. Not a regular Hershey's bar. Nope. You want to eat organic dark chocolate with at least "60% cacao" stamped right on the label.
Why? Because it is the highest quality chocolate out there, chock full of antioxidants and flavonoids which reduce blood pressure and cholesterol and boost your immune system. You can benefit your body WHILE eating a daily dose of 60% cacao dark chocolate. Just break off 1/3 of a dark chocolate bar and savor every delicious chocolaty bite. Eat chocolate to conquer cravings? It sounds too good to be true, I know. The reason it works is because your body tastes the chocolate, registers that it has gotten some sugar and then the craving is satisfied. It is just enough to please the palate, but not enough to make you want more. You will find that with this one little indulgence, your sweet urge will be satisfied and you won't go off on a crazy sugar rampage.
If you don't use this pleasure-filled trick, you could end up deprived, cranky, angry, sad and scared and you will delve into anything sugary that you can get your hands on. You will eat way too much, feel guilty, and beat yourself up. Not a pretty sight. Eating a few bites of a dark chocolate bar really does stave off sugar cravings so you don't have to suffer or worry that you will find yourself busted, once again, with your hand in the cookie jar. So, why deprive yourself any longer? This is yet one more reason why dark chocolate is your new best friend.