Yoga Is for Everyone: 5 Ways to Find the Right Practice for You!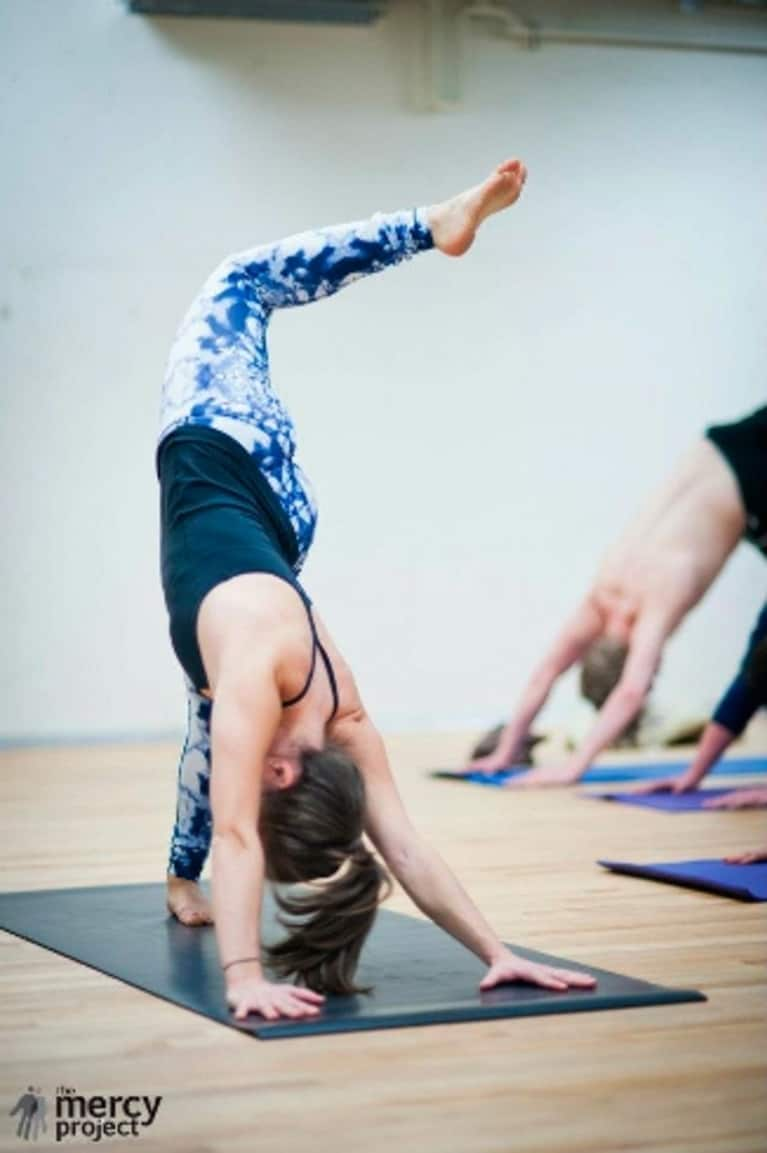 I am not a typical yoga teacher, I am exuberant, excitable and sometimes have so much energy I don't know where to put it. I proudly strut around in tie-dyed yoga pants and my day doesn't feel complete if there isn't something purple in it. Friends have said to me, "I don't get it- you're not zen…" or "I can't imagine YOU teaching yoga… you're too bubbly." It is true, I am super hyper and definitely colorful.
Through yoga I have found more balance, grounding and can better channel my energy toward positivity and growth. Yoga has helped me find confidence. Through pratyahara, introspecting self-discovery I have learned that I do not necessarily have to push hyper or sarcasm out in order to let yoga in. I can have my raw vegan cheesecake and eat it, too. I have found my niche in teaching up-beat classes sprinkled with awkward references like, "Michael Jackson your pelvis" and "Let's lift one leg and move into peeing dog. Imagine the wall is your fire hydrant." I like to hear students giggling, at least I know they are exhaling their breath and the jaw is being released.
I truly believe that there is a yoga practice out there for everyone. I used to be offended if someone came to my class and did not return the next week. Then it dawned on me -- I do not necessarily like every single person I meet and I do not always enjoy every single type of activity I try. The same holds true for yoga. As I continue to deepen my personal practice and share all that I am learning with whomever is willing to listen I realize that some people click and some people don't. This is in no way a personal reflection on me nor does it mean that I am a bad yoga teacher. It's like someone once said, I just have to keep on keepin' on.
I am grateful for the students I have and based on the return rate, I think they like me too. That is what really counts isn't it? Doing what you love with individuals who share the same passion and whose company is endearing? So I'll put it out there -- if you didn't like yoga that one time you attempted it with that one teacher who spoke in a strange tone or smelled a little funny -- keep trying. There are a multitude of styles and many well-educated professionals with all different personality traits and areas of expertise. You can find your yoga! Go hunting!
Here are ways to find the yoga practice that is right for you:
1. Google your favorite activity with "and yoga"
It is amazing how many different types of yoga retreats, studios or teachers combine breath or movement practices with other hobbies. There are a multitude of centers offering yoga and hiking, yoga and skiing, yoga and horseback riding, yoga for vegans, there's even yoga for dog lovers where you can bring your pets!
2. Ask yourself "what do I want to get out of my yoga practice?"
If you want a good workout and to build core strength, a yin yoga practice might not be right for you, just as a power vinyasa class would not be appropriate for someone who finds walking around the block exerting. Think about how taking up yoga might add to your life and try to figure out what would be most enriching for you… There's a yoga for that!
3. Talk to the teacher
Before even placing feet on the mat, it might be a good idea to make some inquiries. Calling up a local yoga teacher or studio is a great way to get a feel for the place. Do not be shy to ask as many questions as you like. Energetic vibes can definitely pass through cellular networks. Usually you'll know how if you click with a teacher or studio after a few minutes of chit chat.
4. Remember - yoga does not have to be about downward dogs and warriors!
So maybe you don't like animals and the idea of putting your body into a position called pigeon or dolphin makes you cringe. That's okay (you heartless puppy hater), postures are just one of the eight limbs on Patanjali's yogi tree. Meditation, compassion, breath control, piety, these are all branches of yoga. It might be worth some exploration.
5. Face your fears and just go for it!
Yoga instructors and yoga studios are some of the most welcoming people and inviting places. Their nature is to be open-minded and accepting of all folks. Put your fears aside; jump straight in to the yoga studio nearest you. Just give it a try! At worst you'll have a great story to tell your friends about the weirdos you met in class. At best, you've just discovered your new favorite thing to do.