11 Creative Vegetarian Ways to Eat Matzah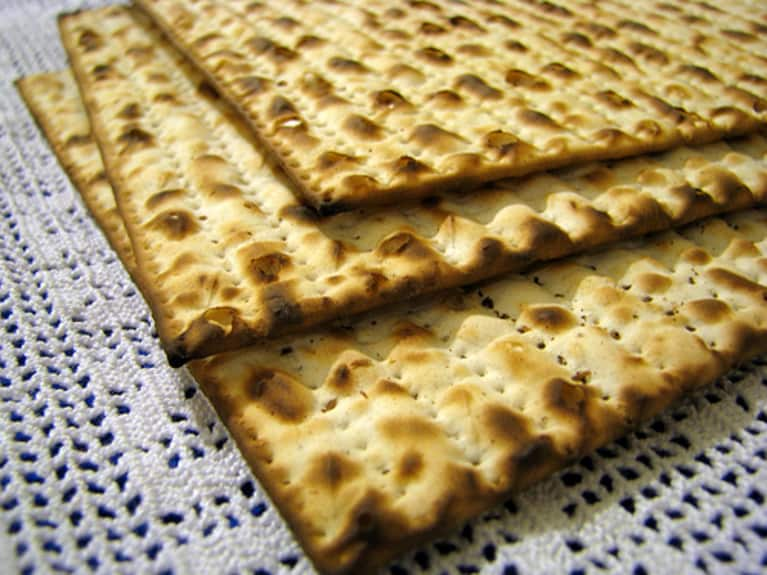 Passover is around the corner and it is time that we delve into creative ways of eating the not so interesting bread substitute, matzah. By itself matzah can be a bit dry and tasteless, but there are a variety of ways to turn this bland unleavened bread into a delightful and healthy meal.
I find matzah to be a perfect compliment to an assortment of vegetables, cheeses, spreads, tofu, and even eggs. Either for a full meal or mid-day snack, my resourceful matzah recipes never fail to satisfy. Even though I don't keep kosher, for the eight days of Passover when matzah is abundant, it is nice to take a break from your other routine breads.  The following are my eleven favorite vegetarian ways of eating matzah.
Breakfast
1. Peanut or Almond Butter and Strawberry Jam
2. Honey and Smart Balance (Butter for kids is fine)
3. Strawberry Jam and Temp Tee Whipped Cream Cheese
4. Smart Balance or Butter with Cinnamon
5. Eggs of any kind (poached, scrambled, whites, fried, omelettes—add cheese if you like)
Lunch/Dinner
6. Melted Gruyère, Manchego, Jarlsberg or goat cheese plain or with a drizzle of honey
7. Sliced tomato and fresh mozzarella with basil and pesto
8. Arugula, sliced raw zucchini, parmesan and pine nuts with lemon juice and olive oil
9. Sautéed mixed mushrooms and melted cheese
10. Egg salad with Veganese
11. Flash-fried tofu strips/slices by Wildwood with avocado
image via