Tone Up After Baby with Arm Balances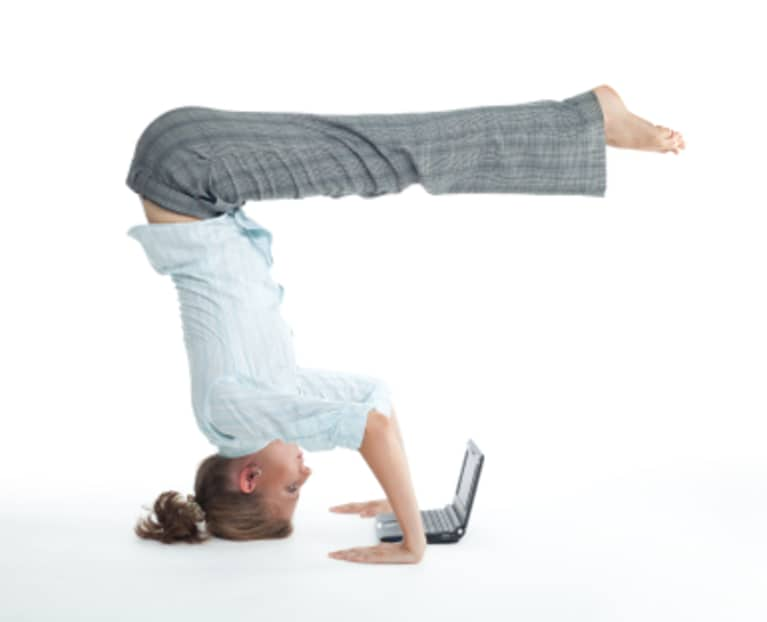 My 19-month-old daughter keeps me on my toes. She's so active that I can barely think straight, yet she's still too young to practice yoga with me. So what's a stay-at-home yogi to do? Practice arm balances of course.
Vinyasa yoga is my yoga drug of choice. I'm absolutely addicted to the graceful flow from pose to pose and synchronization of breath and movement. I also love that my heart can lead me in my dance, and that I don't have to anally follow a series of set postures. My body and soul dictate what I do on my mat.
Unfortunately, having a very active baby means that my typical at-home mat time regularly consists of 30 minutes or less—often less. So I've discovered a secret to physically-fit success—arm balancing.
While I did keep up with my practice during pregnancy (I canceled my 6 a.m. yoga class when my water broke), no body is the same after giving birth. Because I wanted to get my core not only back in shape, but better than ever, I turned to balancing on my hands for renewed strength and confidence.
Why arm balances? They require focus—which is often lacking for new moms—as well as core strength and flexibility. To me, they're the total package. One of my favorite poses to practice is flying pigeon. It's a deep hip-opener, abdominal and leg strengthener and all you really need to do is a few rounds of sun salutations, some preparatory lunges, and flying pigeon pose followed by a couple of seated 'cool-down' poses and savasana—a complete practice of maybe 25 minutes.
Here's how to soar in pigeon.
First, get comfortable in restorative pigeon pose, as the arm balance is the exact same asana, just on your hands.
Start by bending your knees in chair pose and flexing your right foot as you cross it over your bent left leg; your right leg bent to 90 degrees and your ankle hanging off the side of your left knee. Then sit lower.
Stay there or progress to squatting in this position with your hands planted shoulder-width apart on your mat, your right shin now hugging up against your triceps or armpits.
From this position, wiggle your left foot back until it comes off the ground. Engage your core and press into your hands so that your right shin lightly rests on your upper arms, rather than hanging heavily. Keep flexing your right foot around your left upper arm.
Then, turn your confidence full-on and shoot energy through your left leg so that it fully extends behind you. To get completely air-borne, shoot your left leg high up in the air with the leg completely straight and your left toes spread and charged.
Congratulations, if you've made it this far, you're flying in the pigeon pose arm balance! If not, keep working these prep poses, along with simple core work and hip-opening postures.
Until next time, keep practicing—even if it's just in between diaper changes.