To All the Pot-Smoking Yogis Out There: Take Back Your Power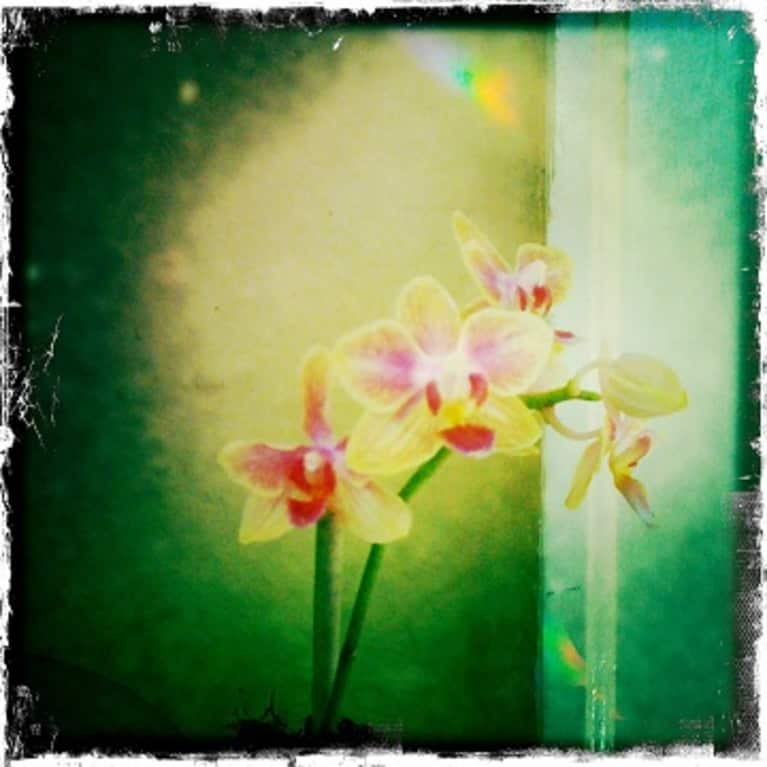 "And the day came when the risk to remain tight in a bud was more painful than the risk it took to blossom." ~Anais Nin
A few days into the new year on a Sunday morning, my mom called to tell me, tears choking her words, that my estranged father was in the hospital dying from a drug overdose. My mind spun and recalled how, just a few minutes earlier, I had been imagining how the day would play out, with plans to lead a private yoga lesson to good friends, then enjoy a lovely lunch together on the local beach.
Minutes later, for the first time in years, I was by my dad's side; he was unconscious with plastic tubes coming from his throat, his arms, his nose. Nurses kept coming in, trying in vain to find an uncollapsed vein to determine if the septic bacteria infecting his blood had let up. My father also had an outrageous fever, caused by the pneumonia wrecking his body, one failing liver and two destroyed kidneys, and a heart that was down to 30 percent capacity due to the severe coronary it had suffered.
The ICU physician came in, told me the grim prognosis, then turned and said, "You're the next remaining kin. I guess that gives you power of attorney." My vision tunneled. Here I was, standing next to my father, whom I hadn't had a relationship with in twenty years, and I was to say when to pull the plug.
Way back when, as a little girl like most little girls, my father was my hero. Never mind the fact that drugs had already ravaged his life in multiple ways, I loved him. Blindly and innocently. My fondest memories are when we talked about God, love and infinity—conversations that changed my life and which no other adult had had the courage to broach with me, an inquisitive and intelligent 8-year-old. Soon after, the drugs took total control and I didn't see my dad again until it was up to me to decide when he would die. That day another veil lifted.
Up until that point, I viewed marijuana as mostly benign. Sure, it strips people of ambition, motivation and drive, contributing to a "coasting" kind of lifestyle where you'll never know how much you actually could have accomplished without the crutch—but it never killed anyone, right? I mean, maybe it was the gateway drug. But then again, maybe it wasn't. The appeals to ameliorate marijuana's liability go on and on—and are setting up shop inside our cultural consciousness.
I'd be lying if I said I'd never smoked pot (I went to college, after all). But, if I want to be honest, I'll admit that addiction runs deep in my family and the allure of numbing out has been a difficult siren to drown out. Lucky for me, I have yoga and its code of personal responsibility, accountability and integrity. Unlucky for me, though, as soon as I want to forget about that dedication to union, to personal empowerment and freedom, an excuse awaits a mere thought away.
Now, pot clinics keep popping up all over California as does news of the Mexican drug cartels, which supply most of the marijuana to the US and are responsible for the slaughter of nearly 50,000 innocent lives. Suddenly, all soaked in blood, marijuana looks a whole lot less appealing, right? Yet some people I know—hardcore yoga practitioners, massage therapists and overall health nuts—still smoke pot and cling to their justifications for doing so. Here's the two I've heard the most frequently and their counterpoints:
"It's harmless. It's just an herb that grows out of the ground."
As mentioned above, unless you grow your own, your weed isn't green. It's red. And it's illegal—which means chances are, somewhere along the chain of command, the people involved in selling the substance have their hands in far worse crimes against humanity.
"I get closer to God with it."
Oh, well, then let me tell you about this awesome thing out there called OXYGEN. When you sit real still and focus on inhaling it into and exhaling it out of your nose... well... you just have to experience it for yourself.
Are there exceptions to everything? Yes. Do some people receive substantiated relief from smoking pot? Sure. That's not what I'm talking about. I'm talking about those of us who mindlessly smoke pot and mindfully practice yoga, eat organic and take pride in our "pure" lifestyle and connection to Source.
So, before you fire it up again, I encourage you to ask yourself—"Do I really need this? Is it worth all the consequences?" Sitting on the other side, I can attest to how sweet life is once we actually own it.