How to Live As If You Meant It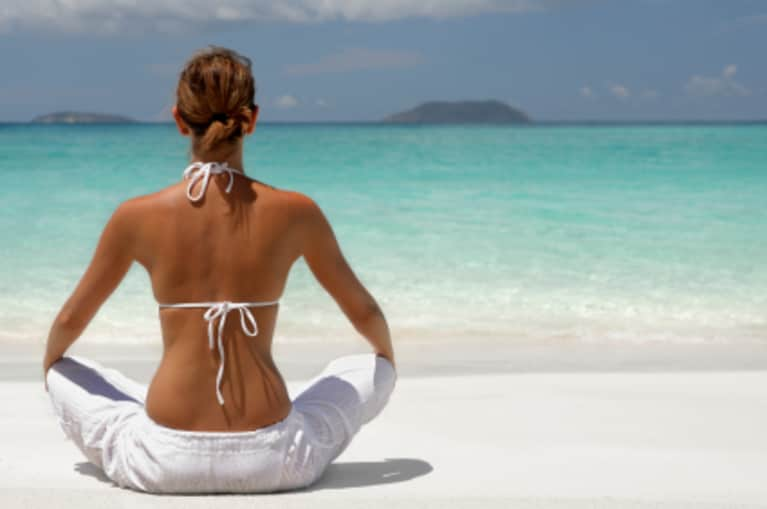 In 2001 my husband and I took a giant leap of faith. In our mid-forties, we quit our jobs, sold everything and closed down the life we had built in the Bahamas to embark on a new adventure in India. Being on staff at an ashram had been a long held dream and we were thrilled to be grabbing the opportunity with both hands.
Fast-forward two years. While the experience at the ashram was transformational, we knew it was time to start looking for work. We also knew that as challenging as closing down a former life might have been, finding new work opportunities would offer a unique set of challenges.
Thankfully, we quickly secured teaching positions at schools on Grand Bahama, an island we had never visited before. However, initial feelings of gratitude dissolved the moment we arrived.
I was shocked. My first impression was,"My God, this place has an energy of depressed neglect," and these feelings were dramatically reinforced a few days later, when the island was hit with two hurricanes, arriving in quick succession.
At that point in my life I had been on a spiritual path for several years. I had a regular hatha yoga and meditation practice. I understood the importance of self-reflection and I knew how important it was to offer dakshina, monetary offerings in support of worthwhile causes.
However what I had not grasped was how every aspect of our lives is a mirror, reflecting the way we treat ourselves 'inside.' In other words, "The energy of depressed neglect," I was seeing in my physical environment was my own internal landscape, barren and laid bare from a lifetime of disregarding my intuitive gifts, skills and talents.
To galvanize this lesson, my new teaching position was highly stressful. I had unconsciously created working conditions to reflect inner patterns of self-neglect and was handed a schedule that was almost impossible to maintain, leaving me exhausted and depressed.
It was at that moment I suddenly woke up. For the first time I could see that everything was my own creation and with new-found understanding I began asking,
"What do I need to learn here?"
"Why do I keep re-creating the same kinds of stressful work situations?"
Almost immediately, I was graced with a lucid dream in which I found myself looking into the face of a woman I intuitively recognized as the revered Yogi, known in India as the 'Mother.'
On seeing me she exclaimed, "You! It's good to see you again!" With that, I fell to my knees sobbing and she pulled me to her, holding me in her arms like a baby.  Next she gently inquired,
"Do you know how you got to this place? 
Before finally whispering,
"If you want to stay in this work and environment you can. If you want to get yourself out, it's up to you"
Moments after waking I went online, typing 'The Mother' into the search engines and watched in awe as the compassionate face of the woman I had seen in my dream appeared on screen. I discovered the Mother was a French woman who had met Shri Aurobindo and had given her life to serving his mission in awakening people to the truth of who they are.
Following the dream, I felt empowered by the understanding that I could make outer changes if I wanted. However, I was more aware of the importance of making changes on an internal level. The first part of the Mother's question was key. Did I know how I got to this place in my life?
With renewed awareness, I chose to implement three action points:
To embrace my intuitive gifts, skills and talents through writing.
To view my work and outer environment through new eyes.
To create a daily practice of inquiry underpinned by one simple question: "Am I bringing Presence to what is unfolding now?"
This direct, yet profound approach proved to be life changing, leading me on a journey of self-discovery and integration. And having made changes on an internal level, the outer conditions changed rapidly.
I was given a more manageable schedule. Opportunities opened up to write articles for Mind-Body-Spirit magazines and in alignment with purpose, I discovered a palpable quality of Presence readily available in each moment.
When we begin to take responsibility for our internal world, we can be at ease with what is. Resistances dissolve and if we need to leave a situation because we have learned enough from it, we can do so with poise and equanimity.
From the awakened stance, this is how we must live. If we are fully conscious and actively engaged with what we are creating, then life is filled with the alchemy of grace. We have access to limitless vitality and enthusiasm and with a clear sense of purpose we are graciously able to accept everyone and everything in our world.
This is living from the highest, most enlightened perspective. This is living as if we mean it.