Distress Travel? No, De-Stress Travel.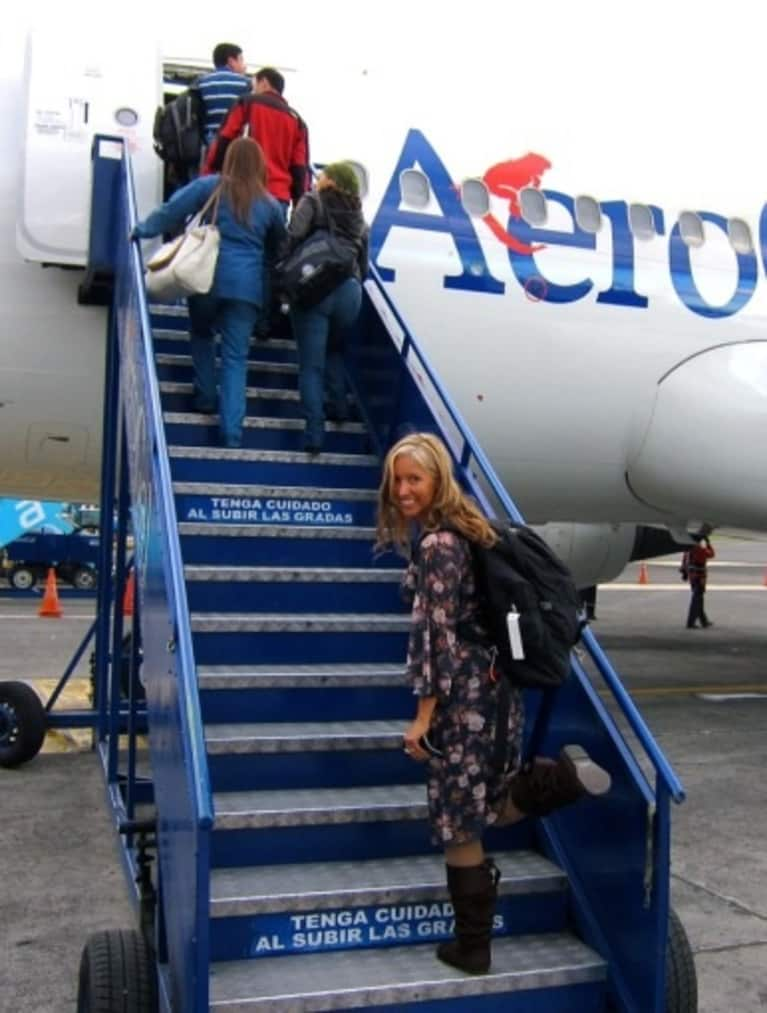 Traveling makes us nervous. It triggers the stress response (fight-or-flight) to some degree in everyone. What is stress? It is the opposite of relaxation, where your sympathetic nervous system is activated. The most commonly referred to form of stress is "distress.".
Now consider the areas for potential stressors you experience when traveling: from getting to the airport; to being on the plane; to arriving at your destination. Therefore, it is no wonder why the biggest roadblock to seeking out new adventures is the stress related to the process of travel.
These travel related stressors, "environmental conditions or external stimulus or events" that cause stress trigger the stress response which result in a chemical reaction from brain to body.
I know this from firsthand experience, because for 12 years I was a corporate road warrior traveling up to 70% of the time, both domestically and internationally. Even post-corporate job I lead yoga retreats around the world. Based on my experience from flying over 1 million miles here is a summary of what to expect from these 4 phases of travel and how to reduce your stress.
PHASE 1: Getting ready for your trip
Key stressors: Packing, workplace stress of getting your job in order for while you are gone, worry about the lack of control you'll have away from your home and job, physical stressor like poor sleep due to anxiety about travel.
PHASE 2: Airport
Key stressors: Environmental stress of getting through Security checkpoints and loud noise levels, extra bright lights, anti-social behavior from fellow travelers, overcrowding, feeling out of control in managing how long the process takes to get to your gate and even when you depart.
PHASE 3: Plane
Key stressors: Physical stress such as discomfort in where and how you are sitting, recycled air, processed food, constant noise, feeling no control over the barrage of smells all around you, annoyance with fellow passengers, indigestion, sleep cycle disturbance.
PHASE 4: Destination
Key Stressors: Environmental stress related to anticipation of what you'll expect when you arrive, feeling your rights changed from your role at home or work, facing new obligations in a new place.
The antidote to the stress response is the Relaxation Response which triggers the parasympathetic nervous system. Here are simple ways you can de-stress your travel.
Suggestions for Stress-reduction While Traveling:
1. Breathing exercises: Try balanced breathing, count your inhale and make your exhale equal in length. Take 5-10 breaths.
2. Visualization: Think of an ideal moment or place where you felt the most relaxed. Tell yourself the story in detail of this situation or location. Stay with the story for 2-3 minutes.
3. Mantra repetition or prayer: Repeat a favorite phrase, word or prayer to yourself. Commit to this for 5 minutes or a certain number of cycles. Could be something simple like "I feel safe and peaceful"
4. Yoga poses: At the airport practice 1 legged balance poses to focus and calm your mind like tree pose, or find some wall space and take half downward dog ("L") pose by putting hands on wall shoulder distance apart an step feet back until body forms an L, enjoy standing forward fold. On the plane try shoulder openers like eagle arms, seated twists, and neck stretches.
What to bring for increased comfort on the plane:
Headphones
Eye cover
Neck pillow
Warm socks
Earplugs
Aromatherapy
Extra layer, sweater, light jacket
Snacks