Why You Should Be Open to New Yoga Practices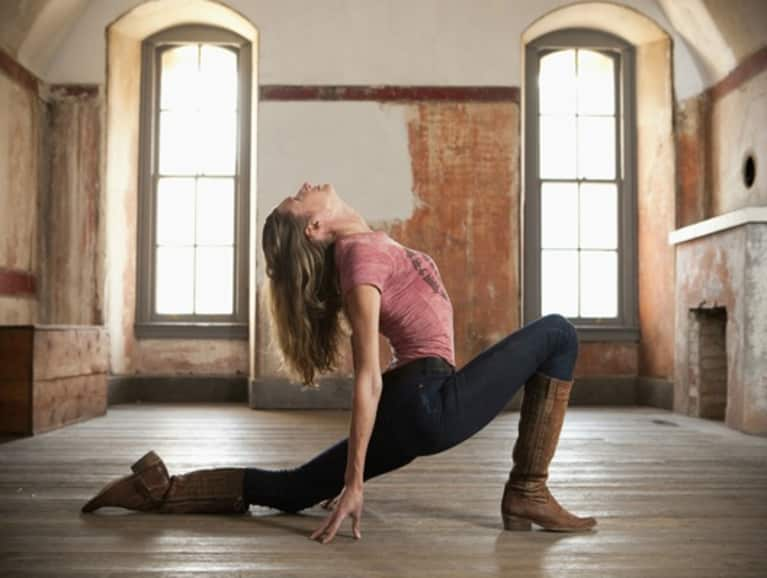 A wall of heat hit me as I walked into the room that seemed to contradict all my other yoga experiences up until that point. So far, yoga to me meant power flow gym classes in sun-filled rooms, complete with ample air conditioning to balance out the sweatiness. This, instead, seemed to involve a large, dimly-lit, damp-with-humidity space with flickering candles at the room's center and edges.
"This feels like a cult cave," I thought to myself as I wedged myself between two other yoga mats. As I settled myself, I looked around the room, taking it all in. All the participants stationed themselves around the center circle of candles, and prepared themselves for what seemed to be a marathon. Everyone (but me) had a huge water bottle next to them. One man kept jumping into a sprinter's pose. Another man did a head stand against the wall.
But as the heat relaxed my muscles, I decided to do my own small stretches, because for the past couple weeks, my back had been aching from standing for hours at my new job at a local cafe. After all this time of being worried about stressing my back with more demanding yoga classes, I decided to try Yoga Tree's "Mellow Flow for All Levels" in the Castro with Janet Stone (Janet is pictured above). This 90-minute-long class offered the "opportunity to connect with the interiorization of ones practice," where "students are invited to work as deeply as they desire," and where you can "come find yourself wrapped in love and devotion." Perfect, I thought -- my back needs a little TLC.
It only took me a few minutes of the class to realize it was a version of Anahata yoga -- a type I've never tried before, but had heard about. My first clue came when Janet began singing. Then the whole room joined together to echo the teacher's song, causing the whole space to reverberate with harmonizing oms. The next clue came as the poses kept returning to ones that opened up the chest. And so the puzzle pieces fit together.
But all in all, the heat, darkness, aerobatics, and singing didn't make the biggest impression - it was the rivers of sweat that eventually overtook my whole body as I flowed through downward dogs, planks, cobras, and child's poses. I was a pool of my own salty water. And I realized why everyone else had huge water bottles next to them. As a wave of dizziness darkened my eyes momentarily, I promised that next time I would remember to hydrate myself beforehand.
Fountains of sweat continued to funnel into my eyes as some of the class helpers - like fairies, shadows, or wraiths in the night - circled around, with light, delicate fingers trying to ease my hips into the right alignment, open my ribs more, or straighten my legs to their fullest capacity. Relief came in the form of child's poses and Janet's humor ("I just recorded this today," she joked with the class about the classical piano playing on the stereo system - receiving chuckles across the room).
Finally, as the whole class began to sing again, I knew the 90 minutes were coming to a close. I felt like a wet, smelly, disheveled -- yet limber -- mess, and all I wanted to was find some orange juice and a shower to make it all better. And as I funneled out of the room after all the other yoga enthusiasts (noting in a mirror that my front bangs looked like they had been styled with a ton of hair spray in a lovely '80s fashion), I wondered, "Did I like that? Would I do this class again?"
And a few minutes later, as I chugged some Simply Limeade out of the jug with the rainbow Castro flag billowing in the background, I decided to not make up my mind. For me, all that mattered was feeling right and healthy. And despite my pungent aroma, salty arms, and exhausted limbs, I noticed one specific thing -- my back was magnificently normal. And since that class, I haven't felt it twinge yet. So I must have found something that fit well with me.