5 Tips for Creating the Perfect Yoga Playlist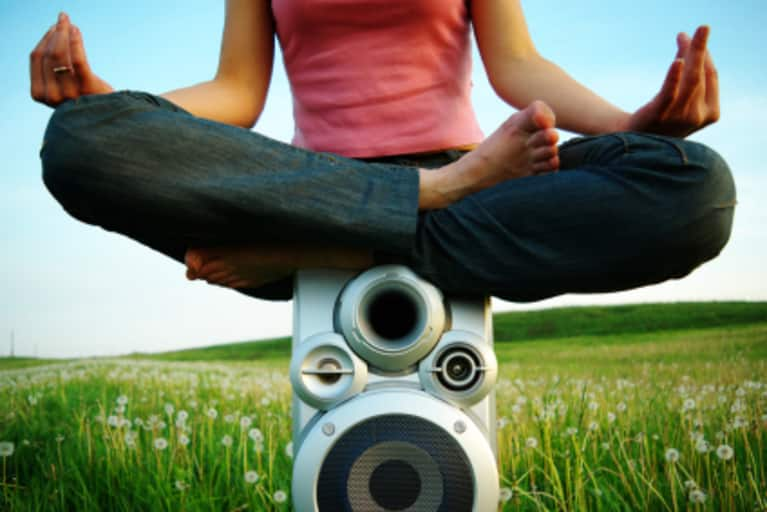 As a musician and a DJ I am particularly mindful of the music played in a yoga class. If done well, music can be a vehicle for achieving an inspiring and uplifting class. Some of my best moments have been listening to an amazing song while going deeper into a pose I didn't think possible. However, music can also be a distraction if not used carefully. Here are some tips to help create a perfect playlist for your yoga class:
1. Know the audience: Selecting music for a yoga class is very different than putting together a playlist for a Friday night mixer. Good music creates the mood for the class and helps set the intention for the practice. Think peaceful, introspective, and soulful. Most likely LMFAO's "Party Rocker" wouldn't be a great choice.
2. Match music to the sequences: A good DJ knows that playing songs in similar BPMs (beats per minute) helps create flow on the dance floor. Creating a set list that complements the class is a great way to motivate students to push themselves. This can either be in quality, rhythm, or tempo. Music for the beginning of the class should be slower, calm, and peaceful. As poses get more difficult use music that is more upbeat. For the cool down series play music that is relaxing and allows the class to slow down.
3. Practice to the playlist: The only way to know if your playlist works is if you practice with it. There's nothing worse than when a teacher decides to change a song half way through. Practicing with your playlist is also a great way for knowing what to cue next.
4. Get creative: Just because it's a yoga class that doesn't mean the entire playlist has to be typical "yoga music". Mix it up with ambient electronic, indie, folk, pop, or even classical music. As long as the music has some sort of meaning and purpose it will most likely be a success.
5. Be aware of volume: Volume is very important. Music in the beginning of class should be softer and louder during flow series or peak poses. However, make sure that the music isn't so loud that students miss important cues. If you find yourself shouting over the music you should gradually turn down the volume. Never make abrupt volume changes in the middle of a class. Also, playing music during an opening "Om" can be distracting. I personally like to hear music after a couple of moments of meditation and after starting the warm up series.
As a teacher I am always looking for new music to play in my classes. Below are some great tunes I've discovered or heard in other classes. Enjoy and have fun!
1) Air - La Femme D'argent
2) Verve - Jazz remixes
3) Garth Stevenson - Flying (75 minute concept album that is composed to mimic the arc of a yoga class, any of the songs from this album are great)
4) Prem Joshua - Mangalam
5) Gayngs - Gaudy Side of Town
6) Purity Ring - Lofticries
7) Jill Scott - Golden
8) Om Narayana - Wade Imre Morrisette
9) Carla Bruni - La Ciel Dans Une Chambre
10) Yo Yo Ma and Emmanuel Axe - Rachmaninoff's Cello Sonata Op. 19-3