5 Tips for an At-Home Yoga Practice
March 19, 2012 — 15:20 PM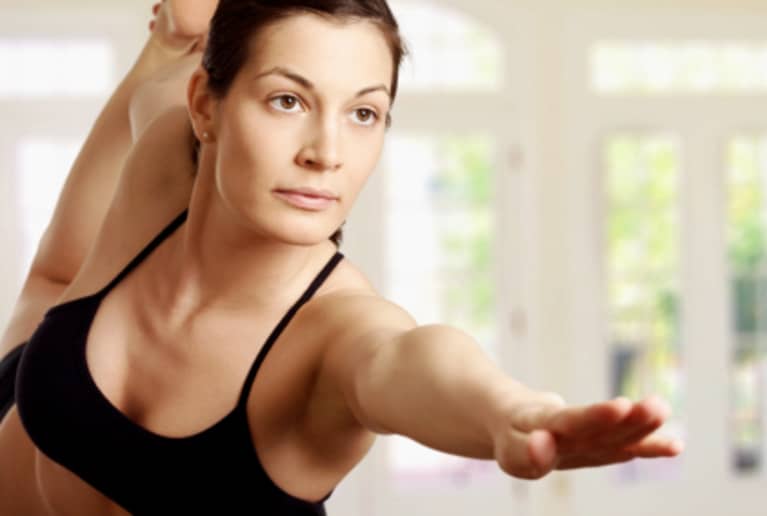 I have a friend who, as her New Year's Resolution, started going to yoga a few times a week. She was doing really well, especially for someone who never went to the gym or any other types of exercise classes. Well, when I saw her during the first week in March, she'd fallen off the wagon and wasn't going anymore because she didn't think she had time.
My reaction to this was that you can, and should, always find time for a daily yoga practice. Even if you only get in 20 minutes some days, it's so beneficial to bring yourself to your mat even for those brief moments to allow yourself to calm your mind, bring focus and a connection to yourself, and physically to stretch out your body and continue building strength. Like everyone says, yoga is a practice, not a task you do once and it's finished. It takes time and repetition to build muscular strength and flexibility, as well as to learn to quiet our minds and reach the meditative state.
So here's my tips on having a healthy, safe practice at home:
1. Go to classes as often as you can. Yoga is absolutely meant to be able to be practiced alone at home or anywhere you want, however it certainly doesn't hurt to attend classes often so you begin to know the flow and movements innately in your body. You'll also learn the proper alignment so as not to get hurt!
2. Find a video or podcast.  If you're not yet totally comfortable flowing through a practice off the top of your head, there are TONS of DVD's, YouTube videos, and Podcasts to choose from. Most teachers don't demonstrate the entire class, so just having a voice telling you what to do can help.
3. TV or yoga? Have a conversation with yourself about which you find more important, television or yoga? Decide whether you can take 20 minutes away from the TV when you get home to plug into your awareness and body and help yourself grow.
4. Yoga at the gym. If you're someone who finds it easier to get to the gym when you're busy, simply fit your yoga into that time. It doesn't matter where you are, as long as your intention is there.
5. You don't have to get creative. Simply doing a restful child's pose and moving into a flow of Sun Salutations is absolutely fine for your at home practice! If you don't feel confident enough to go through every pose that exists, do the simpler poses you feel you know and you'll get the same benefits.
The practice of yoga is about you, no one else, so there is no way you can go wrong in your own practice unless you let your ego take over and end up hurting yourself. Start with a simple, gentle practice to ease your way into it and begin feeling the benefits that a daily yoga practice will bring you.