What Yogis Can Learn From Geese
March 14, 2012 — 18:00 PM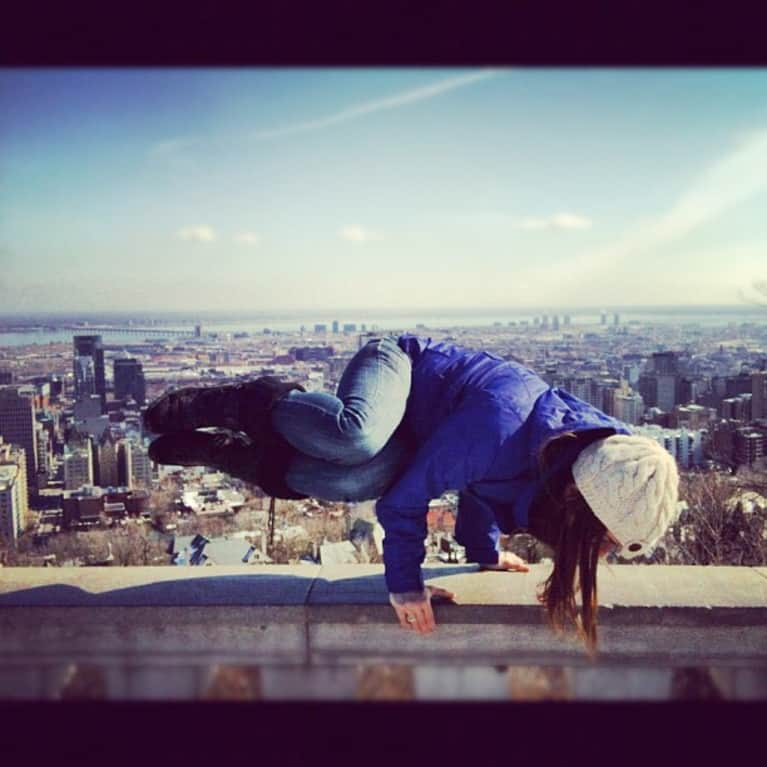 The weather in Canada has been unseasonably warm. We've had few blizzards and snowstorms, few horribly muddy days, few blisteringly cold and windy evenings, and suddenly, spring is spring up all around. It almost feels undeserved.
Smiles adorn faces of happy runners outside. Children laugh jumping in puddles. Cyclists have removed Gortex outer layers to reveal neon again and I have become accustomed to feeling guilty if the sun is shining and I am not trudging through the wooded areas of local parks with my dog. Everyone around seems to be embracing this positive change and doing what feels best when sunny moments arise.
So, when warm rays hit me through my bedroom window the other day, I called a girlfriend and we headed out on a long walk (with Julius the dog too, of course). We strolled through woods and up the gravel paths of Montreal's largest park until we arrived atop a highpoint overlooking our hometown. Infused with energy from our walk, the sun, the city, I promptly hopped up on the concrete railing of the lookout point and asked her to snap a picture. I took a deep breath in and allowed my body and soul to express itself. What manifested was Parsva Bakasana- a bird slightly askew and flying over the city. Her photo really captured the mood, the momentary bliss, the presence and prana that were fluttering around.
Flash forward to this morning, on my way to teach my first hot yoga class of the week. Upon stepping out the front door, I had a truly Canadian moment. I strutted outside in my lumber jacket to the loud honking of Canadian Geese. Looking up, hundreds of white round-bellied birds trumpeted their way back to northern summer nesting grounds. My enthusiasm was instantly halted when mind chatter brought me to, "Oh no! It is too early for geese! The geese shouldn't fly for another month! What if it snows again? The geese will freeze!!" I snapped out of it. Geese don't fly by our solar calendar. Geese don't wear watches. The geese have NO CLUE what day or even what month it is. These animals live according to feel. They felt warm. They felt ready. They felt compelled to fly.
When I got to the studio, my class was a mix of ages and abilities -- veteran Ashtanga yogis, newbies trying hot yoga for the first time and my regular Monday morning following of 40-50 something women. As we centered ourselves, I told them of my morning encounter with the geese. I encouraged them to find their own personal edge. Work within their range today but still find a challenge to the practice. Offering several modifications for each asana and vinyasa, I instructed the students to live in the present and practice what felt good, best and natural to them today, just like the geese.
What unfolded was a dance of breath, movement and joy. The practice was so cohesive and congruent even though every body had a varying portrayal of the asana. I truly felt like a mother goose leading her roost in a direction that was biologically innate in each being. Everyone was challenged, everyone was different, and everyone was accepted. We ended the practice sounding aum three times. Our pitch was identical. The sound encapsulated the room and echoed through the studio. In those ninety-minutes we had all truly found our moment, our proper direction and grew wings.
Yoga is a wonderful practice to tune in to the body and learn about ourselves. Through breath and movement, we become educated on the body's most minute sensations. Just as our emotions change, the mood of our physical bodies can change as well, according to season, stress and general circumstances of life. Sometimes, a rigid and regimented practice can create a rigid state of mind and vice versa. It is so important to let go of our expectations of how our asana practice should feel and should look and just glide with the ambiance of the moment. Injuries happen from over pushing, from stubbornness and from not listening to the response of the body. Taking Balasana during an advanced power yoga class is by no means a cop out. Showing compassion for oneself on the yoga mat and respecting the limits of each day are signs of incredible strength of character. Like the lives of geese guided by change of winds and temperature, our asana practice needs to be steered according to the mobility and heat of the physical body each time we step on the mat.
This does not mean yoga should not be challenging. Geese make a tough journey of thousands of miles bi-annually to reach their nesting grounds and still rest when the wind is too strong or the weather too cold. However, they never fail to make it to the arctic and back, a tough and strenuous journey. It is patience and commitment to practice that will lead to our bodies manifesting the strength and poise of more complicated asana. But just like the geese, we do not need a set time line in which to get there. One day, with diligence, persistence and compassion on our mats, balance will happen, feet will lift off the ground and yoga will let us fly!