Cancer Took Me Apart, Yoga Put Me Back Together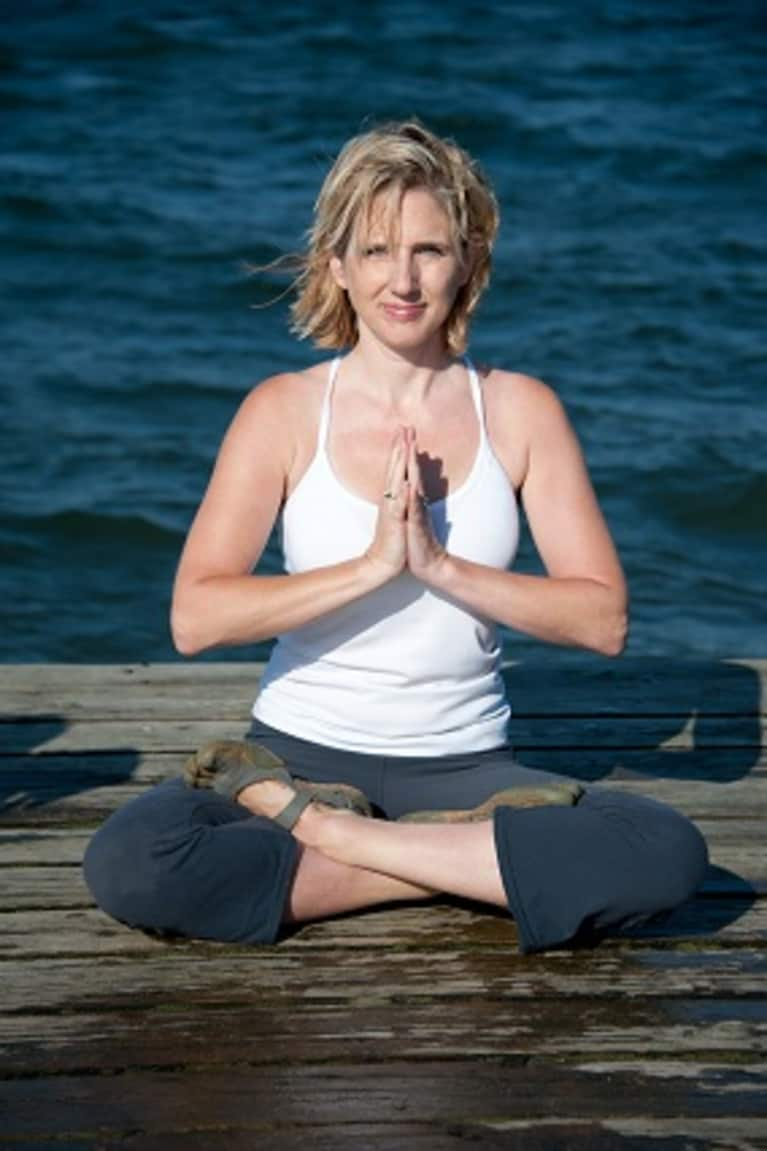 Being a cancer survivor is something I think about every day. Even though I'm considered out of the woods, it is a part of my identity. Since the diagnosis I have written about the reactions and the road to recovery. But all of that aside, that weight we survivors shoulder, can some days be a passing thought and others a darn heavy burden.
I write this with no intention of pulling together a pity party. I believe cancer was, for all good purposes, a smack in the face to live my best life possible. And I connect better when I talk about the C-word with some irreverence. Drawn from the beginning of this cancer journey to the sassy style of writers like Kris Carr who take a no prisoners approach to fighting this disease seemed like a pretty good battle plan. So I heralded her commitment to all things wellness from the beginning and incorporated many of her lifestyle guidelines.
At diagnosis, this yoga mamma of four was attracted to an all-natural approach to fighting the disease. Yet, the urging of family and very good friends in the medical field combined with a good deal of agonizing deliberation led me to follow my surgeon and oncologist's advice to the tee. Best practices? Bring it on. And this meant chemo, surgeries, and radiation. I did it, but it was a constant battle with my brain. The daily trips to the doctor left me feeling both physically and emotionally wiped out. There were days when my family dragged me out of bed to go to chemo despite my declaration that I could green juice myself out of this mess.Gratefully, on the sidelines, I found comfort in exploring alternative health concepts. This meant that I read about the benefit of every potential vitamin, journaled, juiced, and delved into health information overload.
However, as treatment wore on...and on and on...My constant comfort was yoga. I had been a teacher for almost ten years so by this point so my mat was a familiar friend. From my yoga experiences, I knew that the human body had a tremendous power to face adversity and heal thyself. As cancer took me apart, yoga would gently and methodically put the pieces of me back together.
I've since determined that the magic of unrolling the mat was the opportunity to keep my feelings in check. It gave me a sense of control amongst the chaos. Focusing on breath and the way it unraveled everything I felt about the diagnosis left me exhausted in a good way. It was different than escapism….I felt every emotion in my practice at times making me feel like I was eyeball to eyeball with the ugly truth of it. But weeping in pigeon can leave a mind clearer than any latte ever could. Clarity felt like the best weapon I had in the fight. And I could walk away from some pretty pent up crapola with a stronger body as an added bonus.
Since that entire experience, I approach life with more gusto. Risk adverse no more, I jumped headfirst into a yoga retreat business that makes my heart flip with happiness every single day. I also teach yoga to other cancer patients which somehow makes the pill of getting it myself easier to swallow. Recently armed with the understanding that women who practice yoga universally look to give back, this believer in karma, faith, and yoga along with my awesome friend and magazine creator Jen, just unveiled "The Courage is Contagious Project" to reward two women of bravery and inspiration an all-expenses paid yoga retreat on Madeline Island.
I still feed the fear factor. But I've accepted (again, thank you yoga) that it's part of this process and the life of post-cancer Amy. Still, I can cope quite well; thank-you, with mat in hand and happy of heart. I think Pre-cancer Amy would actually be quite proud.