6 Ways to Offer Love, Comfort and Strength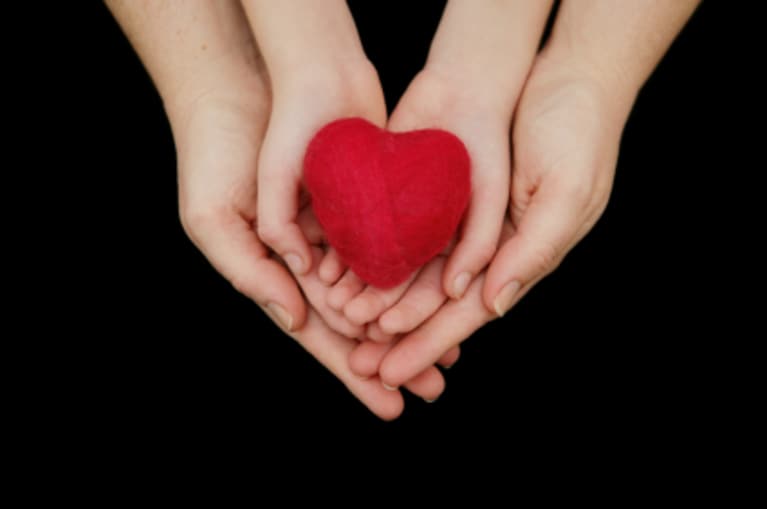 13 days ago (but who's counting?) I found out I would be on bed rest for at least 12 weeks. The bed rest relates to my pregnancy –with twins! – and is apparently fairly common in the world of "mommies of multiples". I, however, was completely unprepared for the doctor's orders.
For some people, this would probably sound like a dream come true. I mean, I haven't vacuumed, cooked, dusted, taken out the garbage, or folded a t-shirt in almost 2 weeks.
For me, this is basically the equivalent of a jail sentence, albeit a comfortable one. I am alone all day with little interest in anything besides obsessively reading online blogs written by other people in my position and catching up on TV shows I missed while I was doing all the things I really love-practicing and teaching yoga, riding my beach cruiser, walking the boardwalk and discovering unknown spots for amazing meals (bonus points for vegan and vegetarian locales that let you BYO!).
What this time has taught me is how to show and receive love. Friends and family have shared their support, faith and care in rare and rich ways that have dried my tears, reawakened my spirit and inspired me evermore. Here are six seemingly small things that have truly made all the difference:
1. Listening.
Shel Silverstein was brilliant in his advice: "Listen to the mustn'ts...listen to the don'ts. Listen to the shouldn'ts, the impossibles, the won'ts. Listen to the never haves, then listen close to me... Anything can happen...Anything can be." I never knew how true those words were until this restful "adventure" began. Listening truly is a creative force, magnetic and extraordinary, quietly powerful and foundational in its effects. I will be forever thankful to those who have come over, perched on my bed and just listened.
2. Diverting and distracting. 
I am an admitted maniac multi-tasker. I'm sure you've met a dozen people just like me – fingers flying over my keyboard; feet wandering towards my yoga mat; ear glued to my phone; nose on alert for the scent of a roasting recipe. Or maybe you are that person...and if so, you can only imagine my reaction to bed rest. With that in mind, I must recognize how amazingly cathartic it has been to take on projects while propped up on pillows. Addressing my sister's bridal shower invitations was invigorating. Researching local yoga studios and teachers for the 2012 Jersey Shore Global Mala has been exhilarating. Listening to stories about people who are dealing with their own crises has been almost medicinal, especially when I feel like I can offer even the smallest sliver of advice.
3. Sharing Successes.
I am not, of course, the first person to ever be put on bed rest. As I mentioned, there are approximately a zillion people with hundreds of blog entries dedicated to their time between the sheets. I wish I had the time, or the words, to write each of these women a thank you letter for the energy and emotion invested into their experiences. As they hit each milestone, I cheer first for them...and then a little bit for the future me who will, hopefully, reach those same milestones. Inspirational quotes have had a similar effect; the ruminations of famous minds who have offered golden guidance like:
"Oh soul,
you worry too much.
You have seen your own strength.
You have seen your own beauty.
You have seen your golden wings.
Of anything less,
why do you worry?
You are in truth
the soul, of the soul, of the soul."
-Rumi
4. Crying. 
This may surprise you, but it was a purifying experience when I first told my mother what was going on and I heard her cry just as uncontrollably as I had. I saw her beauty and strength in her ability to express her own feelings of love openly, unabashedly and unselfishly. Although I was the one on doctor's orders, my sorrows lifted a bit as her tears fell. Why? Maybe because I knew I wasn't alone. Or maybe because I knew it was okay to feel exactly what I was feeling. And that was exactly what I needed.
5. Gifts.
I don't mean to sound selfish, but gifts have been an absolute delight. And I am not talking about jewelry and Lululemon gift cards for post pregnancy (hint hint), I am talking about books from a friend's personal library, scratch offs, flowers, magazines, mangos, cards, candles and pictures. Petite presents seem planetary on slow days and they remind me, in even the most deafening silences, that someone is thinking of me. I guess its not so much the gift as it is the fact that someone thought of me when they picked it up and packaged it.
6. And of course, words.
I read somewhere that "what sunshine and rain do for flowers, encouragement does for humanity." The written notes, texts and emails of encouragement and positivity that I have received from friends and family have lifted me up on a daily basis. No matter how simple the message, I somehow always find the same sentiments in their words: open-heartedness, non-judging and caring concern. And it never stops meaning the world to me.
There are a million other small things that we can all do for others, simply by looking within ourselves for both what we have to offer and what we personally need most of all. This is my list for now, but I imagine it will grow over the next few weeks and months. And that anticipation, in and of itself, is something to look forward to!