5 Ways to Bring Passion Back Into Your Love Life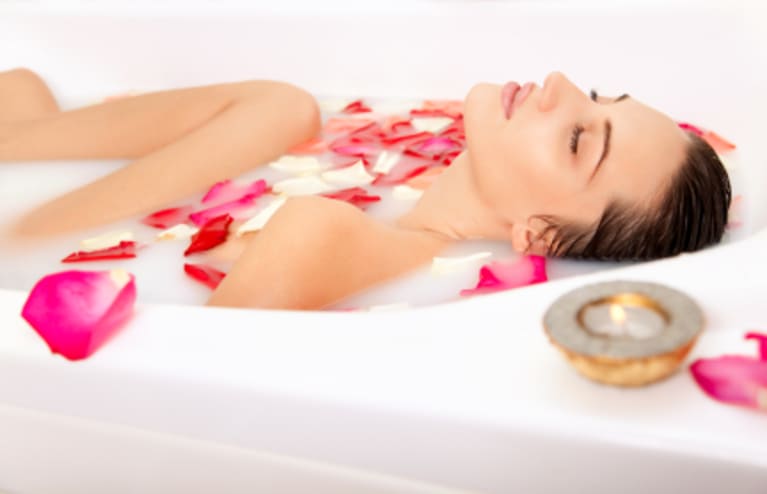 It's the biggest and most important love affair of your life. You are not meant to be the mistress from it. You are the main event.
And if you are standing on the sidelines, waiting for a spotlight, you will definitely miss your moment of discovery. You will forever be unknown and unremarkable.
And that would be a grave shame. For you are most definitely worthy of accolades and attention.
But it all begins with you.
Take a breath and ask yourself truthfully, "Do I support my own Greatness?"
"Am I passionate about Me?"
"Do I love, honor, cherish and obey myself?"
If you answered no, you're missing out on the Love Affair of a Lifetime. But it's not too late! You can still get it together and get your self-love party going. Not only will you flourish and glow, your life will quite literally transform overnight.
Before I fell madly in love with me, I could not truly trust or fully experience the love of another. Until I cherished myself, honored my values and obeyed my inner wisdom, relationships were often fear-based (fear of being alone, unloved, unworthy — all the ways I treated myself).
Secret: Relationships are meant to be love-based.
So if you want passion and ecstasy with your Significant Other — and I'm referring to emotional, mental, physical and spiritual intimacy here —, cultivate your numero uno relationship first by following these five vital steps:
1. Do unto yourself as you would have others do unto you.
You may have heard the saying that we don't allow others to abuse us more than we abuse ourselves. Now this may be controversial thinking, but I agree. Neglect is a form of abuse. And loads of us disregard ourselves.
Pamper your body. When you take a bath or a shower, truly enjoy it. As a single mom from the start, my showers became a thirty-five second functional affair. In, scrub, rinse, out — save hair washing for when I had sufficient time.
Don't make my mistake.
At least once a week, exfoliate with a natural body scrub — better yet, use a loofah and dry scrub daily. Light candles when you bathe — have a soothing cup of herbal tea. Brush your teeth and really appreciate that you still have them!
And moisturize your body with love — you don't need fancy-schmancy products laden with chemicals. Great options are sesame oil or organic coconut oil.
In touching and loving your body like this — truly looking after it with respect and gratitude — you'll begin to fall in love with You.
2. Is your food making you flat?
You literally are what you eat. What you consume affects not only how you look, but how you think and how you feel. Quite frankly, you are walking, talking, living, and breathing…food.
When you load yourself up on junk, you do not love yourself. You are actually punishing yourself by denying yourself what you deserve — the best. Refined and processed foods — the Standard American Diet — promote illness, obesity, and a miserable, sluggish and foggy life.
What kind of a way is that to promote passion?
You need oomph! You need energy and power. And that comes from Real Food. Fruits, veggies, whole grains, legumes.
Sprinkle your days with cashew nuts, goji berries, raw cacao, blue green algae, cauliflower and sesame seeds. All are great to up your mood.
3. Warning: No romance is a passion killer.
Can you imagine a relationship with no dating? How would you get to know each other? In a marriage or serious long-term partnership, what happens when you stop dating? The union fizzles out.
And so will your relationship with yourself. You need 'date night'. At least once a week go out with yourself. I know, that may seem totally weird and so not your style, but try it anyway. A couple of times actually. You'll learn to love it!
Note: I'm not talking about going grocery shopping or paying the bills. I'm talking about a movie, a meal, a stroll in the park. Maybe a trip to a museum or an art gallery. Time for You. To be with You. To learn to know, like and love You.
Got it? Great! Now schedule it!
4. Scientific half-truths you must know.
One of the most loving things you can do for yourself is ditch negative company. A plant can't grow if it's left in the dark, fed with poison and suffocated with stale air. Neither can you.
Negative people are a major antidote to excitement and enthusiasm. You want to delight in the joys of life; you want to feel your blood flowing through you and hear a song of joy in your heart.
You do not want to constantly hear what you cannot achieve, how you're wasting your time or about the disasters in the world. And by the way, I'm talking about gossip too, girlfriend. You know enough about what's wrong. It's time to focus on what's right! Remember, you become those that you surround yourself with.
And that story we learned in science class about how negatives attract positives — well, that's half the story. What you think and believe, you create. Your thoughts sculpt your reality. So, negative attracts negative and positive attracts positive.
Politely dispel pessimistic influences — it's downright unloving to you to settle for anything less. We want passion — not depression! Boost your love juices by surrounding yourself with loving people.
5. The final crucial component you simply don't want to skip.
The effects of exercise are magical. Runners become addicted to it. I did too.
Yes, all those feel-good hormones are released and rush around your body and your brain. They are definitely a contributing factor.
I think there's more to it though. Here's my theory.
As you begin to exercise, you notice changes in your body. Sure, you'll lose weight and inches but you start to build strength and endurance too. You begin to experience your power.
You notice progress and just how much you can achieve. You experience yourself as an agent for change. And that feels awesome!
In making time to exercise, you have prioritized your needs. Yet another step in growing this vital love connection with you.
I guarantee you that after a month on a regular exercise regime you'll love your body and yourself oodles more.
And when you do these five things I've suggested — when you get that spark of infatuation and grow it into a deep-seated love and appreciation of who you are — your entire life will transform.
It's a given. Trust me. I've done it.
When you are passionate about You, the world you choose to inhabit will mirror that love, excitement and respect.
And it all begins with you.
So what do you think? I'd love to know. What are you going to do to love, honor, cherish and obey your life partner — i.e., You?