3 Tips for Creating More Space in Your Life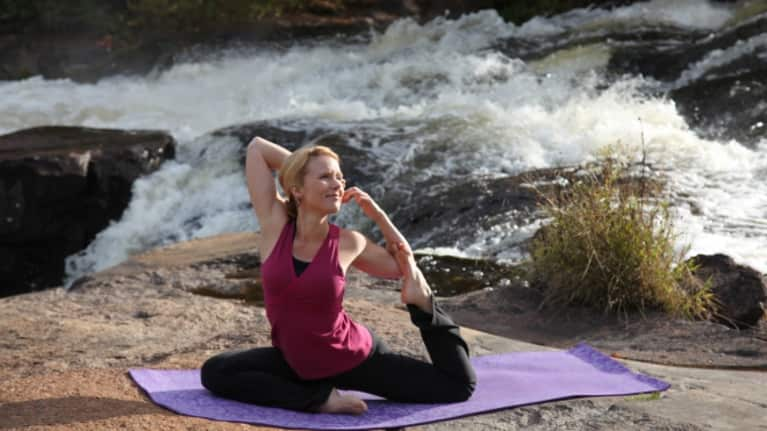 Slowing down an overly busy schedule will feel strange at first. The transition from a frantic pace to a slower rhythm may be completely foreign. I grew up rushing from one activity to the next, filling any empty spaces with "doing." I have had this awareness as I cleaned closets on the only afternoon I have to myself, checked my email every five minutes for updates as I was writing, cleaned my purse in the doctor's office and filed my nails as I waited at a stop sign. The list is endless.
At first doing nothing and unwinding can seem like a challenge. We're used to filling all those empty spaces with tasks so we don't feel bored. In our adrenalin fueled world we've been conditioned to look outside of ourselves as our focus rather than giving ourselves permission to look within. For me, the fear of the unknown, facing myself, my unmet dreams and the stuffed down feelings of anger, fear and worry kept me from slowing down. With practice, those years of rushing and busyness can dissolve. I can now wait for my family to finish eating before I start to clear the table, make supper without folding clothes and talking on the phone and let my son finish his entire cone before wiping his face!
What are the things you do to stay busy?
What do you do to avoid feeling bored?
What are you avoiding by having down time?
As you notice what comes up, challenge yourself to sit with those feelings when they do arise. Take that time to breathe and simply be.
I've had this challenge many times as I relax into savasana at the end of my yoga practice. My mind would go on a mental rant, begging me to get up and do something! You may notice the mind try to pull you back into doing. The thoughts can sound like: "You have too much to do to just relax. You won't get ahead in life if you sit around. You have so much work to take care of. You are being unproductive sitting here." These thoughts are simply the antics of the mind (ego), hoping to keep you in a busy, disconnected state, separate from your true self.
When you decide to sit with those feelings of the unknown, the worries and the fears, you give way to a deeper awareness, the deep peace that lies within all of us. You can liken it to the waters of the ocean on a stormy day. On the surface, the ocean is rough, choppy, unsettled and unpredictable. But deep beneath the surface, there is a quiet, calm, grace that is unshakable.
The truth is, once you get good at taking time to relax, you tap into a spiritual power that draws in every opportunity, all the resources and people that will serve you in a better way than the rushing, forcing and chasing after could ever produce.
Here are 3 tips for creating more space:
1. Schedule Yourself - Make time to relax, read, take a walk, meditate or listen to your favorite music. Give yourself permission to be there fully and enjoy!
2. Learn to Say No - Give yourself permission to give a loving, firm no to extra activities and allow there to be open spaces on your calendar for spontaneity. Find enjoyment in what is right in front of you.
3. Try "Bird's Eye View" - When the demands of the mind surface, simply notice. As you step back and gain perspective, you can start to identify which thoughts are old patterns. Ask if they are still true for you in this moment and then choose to let them go.
Learning to be "bored" is like meditating at first. As you give yourself time without a TV, the radio and talking on the phone, you may feel a bit restless before you can relax and enjoy the benefits. But beware, you may start to feel less stress, enjoy your own company and gain some insight along the way.