6 Best Foods for Vegetarians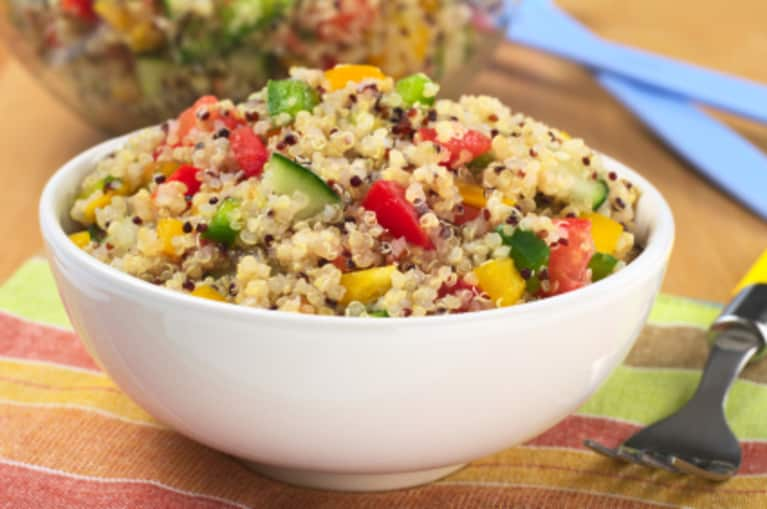 So after years of experimentation here are some of the things that I eat regularly to ensure that I get optimum health, nutrition and energy from my semi-vegetarian diet. This is a list of foods that I eat every day to feel youthful, vibrant and strong in my yoga practice.
1. Probiotic rich foods: These foods add so much goodness into your digestive tract as they are rich in digestive enzymes and good bacteria. Many westerners are unfamiliar with them but they are big in many Asian cultures. Try kefir, fermented foods, natto, kimchi, miso and tempeh.
2. Ancient grains: This includes quinoa, buckwheat, millet, lentils and brown rice. These are loaded with health giving benefits and make a good gluten-free alternative to bread and pasta.
3. Fresh fruit and vegetables: Make fresh salads, smoothies, and juices from a wide range of fruits and vegetables (organic wherever possible).
4. Organic yogurt: Processed yogurt is devoid of nutrients. Instead, eat high quality organic yoghurt, loaded with wonderful nutritional benefits for your body. A dairy-free vegan, alternative is kefir yoghurt, made from coconut or nut milk.
5. Seeds: This includes pumpkin seeds, sesame seeds, sunflower seeds, hemp seeds and chia seeds. Seeds have incredible health benefits. They can be easily added into salads or combined with other ingredients to make healthy treats.
6. Supplements:
* Green Powder: E3 Live or any fresh greens powder such as chlorella, spirulina or wheatgrass powder. Mix it in smoothies or juices. If you are really brave just drink it straight up in apple juice!
* Sun Warrior protein powder: This is truly a wonderful addition to any vegan or vegetarian diet. This protein powder is raw, sprouted and highly bio-available (meaning your body can absorb it quickly and easily). The powder comes in 2 flavours: chocolate and vanilla. Simply mix the chocolate powder with water, then shake and drink it or blend the vanilla powder with fresh fruit for a great smoothie that is high in energy and tastes sensational!
* Vitamin B: Vitamin B deficiency is common in vegetarians, so it is imperative that if you are vegetarian/vegan that you supplement it in some way. Do your research and choose a good quality Vitamin B supplement.
* Magnesium: In the past, there used to be an abundance of magnesium in the soil. Now as farming practices are automated many trace minerals are no longer in the soil, so many people may benefit from extra supplementation.
* Probiotic supplements: Having the right internal environment is the key to you experiencing digestive health. Probiotic supplements are a wonderful way to ensure your inner terrain is a healthy, alkaline one, filled with good bacteria.
Eating a wide range of nutrient-rich, fresh, real foods is the key to making sure that you get what you need to be healthy and well. The best way to do this is to play around and experiment with different types of real food until you find a mix of food that works well for you and your body.
Do leave me a comment below and let me know what foods you like to eat to give you strength and energy!