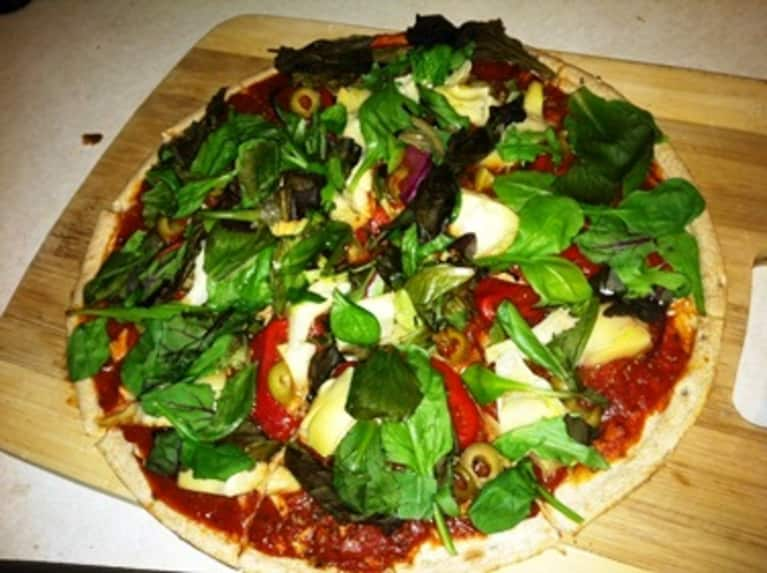 The last few weeks my husband and I have been experimenting with eating vegan, and we've found some pretty damn good recipes.
One Friday night we were mourning the loss of pizza in our lives, but instead of getting consumed by grief we decided to hit up the grocery store and create a healthy, vegan spin on the usually cheesy and calorie-loaded dish. Lo and behold, what we came up with was pretty amazing -- this dish is capable of selling the idea of vegan pizza to even the biggest skeptics.
Ingredients (Serves 2)
1 Whole Wheat Pizza Crust
2 Cloves Garlic (finely chopped)
1 T Olive Oil
Organic Pizza Sauce (to desired consistency, maybe 1 cup)
1 T Garlic Powder
1 T Onion Powder
2 T Oregano
10 Olives (sliced)
1/3 Cup Roasted Red Pepper (fresh or jarred)
1/2 Can Artichoke Hearts (quartered)
Two handfuls of Spring Mix Salad or Mesclun
Directions:
Put the olive oil on the pizza crust and brush to cover evenly. Spread the chopped garlic, followed by pizza sauce evenly over the crust. Sprinkle the garlic powder, onion powder and oregano over the sauce. Cover the pie with the olives, roasted red pepper and artichoke hearts.
Follow the baking instructions on the package of your particular crust. About 4 minutes before the pizza should be finished, take the pie out, add a few handfuls of the spring mix to the pizza, and place back in the oven.  Let it cook the remaining 4 minutes, then slice and enjoy!