Consciously Choosing to Move Forward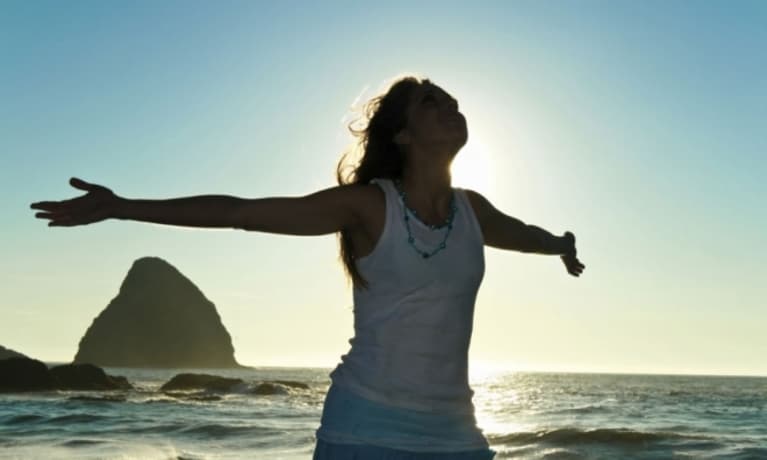 Having lost my mom almost ten years ago at the age of 19, it has obviously been a major factor in my life. To say that I was close to my mom is putting it mildly; we were more like sisters in some ways and we were definitely best friends (or at least as much as a teenage daughter can be with her mom!).
Her death hit me like a ton of bricks, and I will admit that there was a time when I wasn't even sure that I wanted to be here without her. Healing from this grief has been the major part of my personal and spiritual growth in the 3 years that I have been seeing my life coach/spiritual counselor and "working on myself." I go through different phases of my grief: I have days when it feels very fresh and painful, days when I feel such joy and gratitude that I had her for the time I did, days when it isn't even on my mind, etc. But I recently realized that I was allowing this situation to majorly define me and my life; I wasn't looking at losing my mom as a challenge in my life to overcome, but as THE obstacle in my life that was and will be forever blocking my growth and holding me back from "getting on with my life." I have been holding this incident as the thing that makes me broken, and which separates my life into "before my mom died" and "after my mom died." And, even though I have only been healing it for 3 years, it happened almost a decade ago and quite honestly, I am tired of the root of most of my issues being that my mom died!
There comes a time when I think we just need to say, "I'm going to get over this; I am going to heal from this. I am not going to let it define me, or run my life anymore." In my most recent session with my amazing life coach, Christine Hassler, we talked about how things feel BIG, issues feel BIG, and we think we are separate from others and in a way special because there is this BIG thing that happened to us. Well, BIG things happen to us all! And it is only our judgments about it being so huge that allow it to continue to determine our lives and hold us back. I am coming to see that this is what separates the person who has his/her tears and then gets back up on the horse and on with life, from the person who wallows and always feels defeated and like a victim. I, admittedly, have been the latter in many ways. It might look like I have continued on with life, but a big part of me has been wallowing in my BIG issue.
But not anymore. I am consciously making a choice to heal this and get on with a beautiful, abundant, happy, joyous life. Yes, my mom died, and I'm not belittling this fact or denying the pain or grief that comes from it- that will be a part of me probably until this life of mine is over. But shit happens! It does. Painful and hurtful things happen to all of us, and it is how we hold them, and how we allow or not allow them to define us that matters. I am not saying to not do the "work" and heal and learn from your traumas and issues; I am saying that part of being human is going through difficult times, and that we have the opportunity to use those challenges to further our growth rather than to stop us in our tracks. Sometimes we just need to consciously make that choice, and allow the Universe to support us in our new mindset.
Is there something in your life that you are holding as really, really BIG? Is there some hurt from your past that you are defining yourself by? I invite you to join me in choosing to be empowered and not let the past, however painful, define us. Again, yes, do the healing work around it, let out your sadness and anger, but don't allow it to mark your life forever. Are you with me? Together we can say, "Yes, I can acknowledge that something painful happened to me, but I am not letting it determine the rest of my life. I am letting my attachment to it go and I am stepping into new blessings and gifts." I invite you to join me in consciously choosing to move forward and letting go of the past. A beautiful future is waiting and calling for us, if only we choose to see it.