Women & Heart Disease: Yoga Can Save Your Life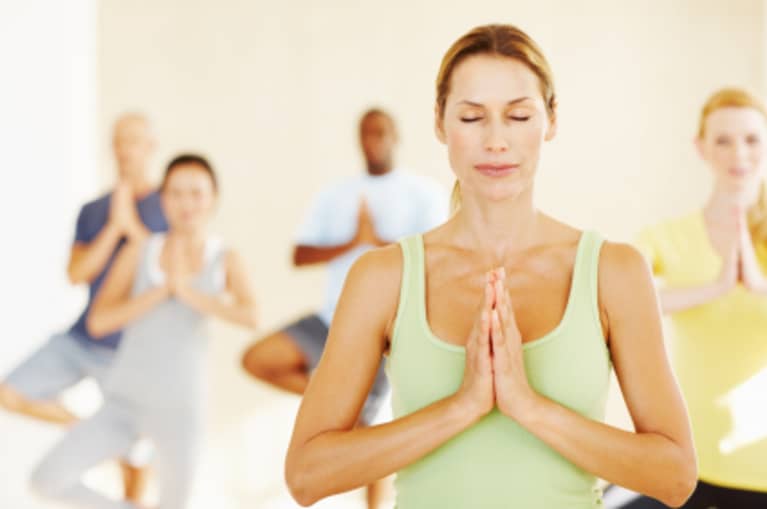 February is National Heart Month in the US, and that means the media and health care communities hustle and do all they can, to get to word out to women about the silent, sneaky killer -- coronary heart disease. With the last few days left in the month, let's take a look at some of the signs and symptoms, and then rejoice!
I'm here to tell you YOGA can put the brakes on heart disease, prevent a heart attack, and for women especially, reduce the stresses that cause the surge in cortisol and the blockages that bring on the condition that can cost you your life.
According to Women Heart - the National Coalition for Women with Heart Disease;
An estimated 42 million American women live with cardiovascular disease, but too many are unaware of the threat they face. The facts don't lie; there is an urgent need for greater awareness of heart disease in women and for immediate efforts to eliminate the disparities in women's health care, especially with low income communities - disease is expensive and doctors and insurance companies are not encouraged to pay into a women's preventative care, women have to take care of their own health and their hearts.
So what do we need to know? It's imperative that you exercise to manage your weight and reduce stress, but there are a few startling statistics that might motivate you...
More Common Than You May Think.
More than 42 million women are currently living with some form of cardiovascular disease. More than 8 million women have a history of heart attack and/or angina.
Five and a half million women will suffer angina.
More Fatal Than Any Other Disease.
Heart disease is the leading cause of death of American women, killing more than a third of them.
35.3% of deaths in American women over the age of 20, or more than 432,000, are caused by cardiovascular disease each year.
More than 200,000 women die each year from heart attacks- five times as many women as breast cancer.
More than 159,000 women die each year of congestive heart failure, accounting for 56.3% of all heart failure deaths.
Women who smoke. Cigarette smoking results in a 2-3 times increased risk of dying from heart disease before the age of 40.
48% of adult women have a total cholesterol of at least 200mg/dL. Stop. Eating. Junk food - it is poison for your heart.
50% of Caucasian women, 64% of African-American women, 60% of Hispanic women, and 53% of Asian/Pacific Islander women are sedentary and get no physical activity.
80% of African-American women, 74% Hispanic-American and 58% of Caucasian women are overweight or obese. Scary percentages.
So what do we do when we know stress takes a major on women's heart health? A study released recently found that women who report high stress on the job and especially those with full time work and families to juggle, have a 40% increased risk of being diagnosed with heart disease -- before they turn 40!
Researchers at Brigham & Women's Hospital in Boston, MA looked at survey data from 17,415 women who were part of a Women's Health Study. These women were primarily white health professionals in their 40's and 50s. They were followed for more than 10 years. Job stress was defined as having a demanding job but little or no decision-making authority or opportunities to use one's creative or individual skills (many studies have shown when you feel you have no control over your work environment your stress levels are off the charts). Researchers tested numerous outlets for the participants to reduce and or eliminate their stress-reactors, and of all studied, YOGA was the top-of-the-list reducer - over 60% of women tested (some with early signs of anxiety or depression) shared that they not only felt an immediate release and calming of their stress symptoms, but more than 50% of the women stated they had lasting effects long after they concluded a 60-minute yoga session.
Yoga, once viewed as only a choice for exercise for the super fit and flexible, has become the fastest growing health program option in America; an activity equal to running and cycling. This new popularity has been proven to be a life-long healer for individuals with high blood pressure, have suffered a mild heart attack, and other types of cardiovascular disease - women benefit the greatest from the benefits of a regular yoga practice.
A promising body of research has been conducted and now suggests that yoga's combination of stretching, gentle activity, breathing, and mindfulness may have special, long term benefits for people with cardiovascular disease or show signs of a preventable heart attack.
Yoga and the Heart.
The word "yoga" comes from a Sanskrit term that means union. It aims to join body, mind, and the day-to-day challenges of life into a unified experience rather than keep them separate. There are different forms of yoga, from the gentle, peaceful Hatha yoga to the active "power" form called Ashtanga.
Yoga's path to balancing the mind and the body involves three interconnected threads: physical postures called "asanas," controlled breathing, and calming the mind through relaxation and meditation. The three work together. How does this improve cardiovascular health? The Harvard Medical Study suggests, getting into the various postures during a yoga session gently exercises the muscles. Anything that works your muscles is good for your heart and blood vessels. Activity also helps muscles become more sensitive to insulin, which is important for controlling blood sugar. The deep-breathing exercises help slow the breathing rate. Taking fewer but deeper breaths each minute temporarily lowers blood pressure and calms the sympathetic nervous system, which is responsible for generating stress hormones. The postures and deep breathing offer a kind of physical meditation that focuses and clears the mind. Meditation and the mindfulness of yoga have both been shown to help people with cardiovascular disease.
It Does Your Heart Good.
The Harvard School of Medicine and a research team's body of work suggests that yoga may;
reduce high blood pressure
improve symptoms of heart failure
ease palpitations
enhance cardiac rehabilitation
lower cardiovascular risk factors such as cholesterol levels, blood sugar, and stress hormones
improve balance, reduce falls, ease arthritis, and improve breathing for people with chronic obstructive pulmonary disease.
Tried Yoga?
Admittedly, beginning yoga can be a challenge, leaving some feeling extremely intimidated, and let's be honest, "yogis" in the studio setting especially, can be downright rude and come off as fitness elitists. Don't let this keep you away from the very health option that could lower your chance of heart troubles now and in the future. There are many wonderful online classes like YogaGlo that have a wide assortment of classes in all types of practice, many dedicated to restoration and specifically, stress reduction. Ask around the office, school or your friends and of those that practice yoga, where do they go and do they enjoy it? Visit a few studios in your neighborhood and ask to speak to the instructors one-on-one, any good teacher will be very happy to share their insights on the health benefits of yoga, and you may fund some know quite a bit on heart-healthy practices. If you have been diagnosed with any heart condition, be sure to speak to your doctor and let them know you are considering yoga as an alternative option for bettering your health, and let the yoga studio instructors be aware of any possible heart condition. A good, conscientious yoga instructor works to create a safe and empowering environment for their students and will help them modify poses to meet their abilities and limitations.
I have written often how my life was completely changed for the better having finally made the commitment for my health, to practice yoga. The stress relief I feel on a regular basis has made me a more grounded, balanced, sane woman, and my heart I know, thanks me for it!