5 Clues for the Treasure Hunt of Your Life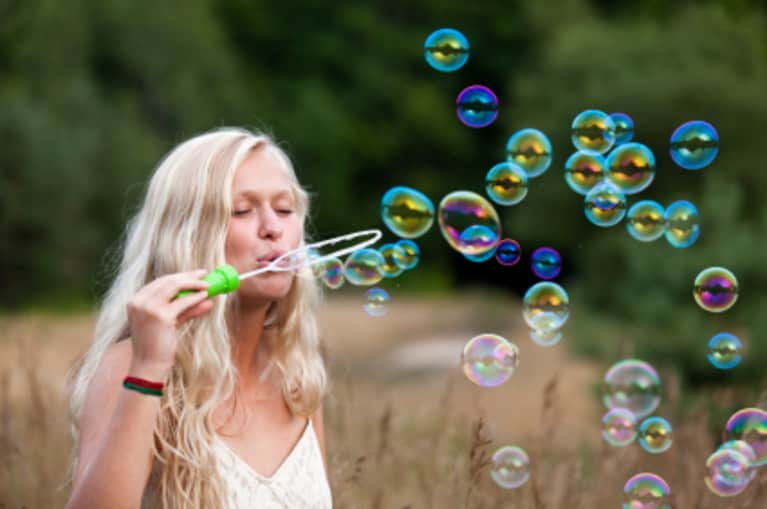 At the end of the day, we go to bed with ourselves. With or without partners, we bring closure on our day's activities within the space of our own hearts, minds and souls.
And living authentically is a challenge in this culture of ours. In fact, with mass media, marketing and socialization, knowing our own true essences is almost impossible. And that's tragic, because knowing your essence is, I believe, the Meaning of Life.
When you know your essence, you can share your magnificent gifts with the world. You are a blessing. A unique child of the Universe, not Play-Doh to be molded in the flavor-of-the-month cookie cutter.
So how can you find your essence, if you've lost touch with her?
1. Catch a Falling Star and Put it in Your Pocket.
Go out and play—carefree. Lose yourself in the wonders of your childhood pastimes—the times before you behaved "correctly".
Blow bubbles, climb a tree, glitter yourself up with sparkly make-up. Build a puzzle. Roll down a hill. Climb a ladder and pretend you're a fairy princess in her castle. It's all about going back to that sacred space before conditioning and inhibition set in.
2. You Make Me Feel Like a Natural Woman
Take a nature stroll. Play with a dog. Really stop to smell the flowers. Listen to whispered words in the wind. Marvel at the insects—fragile and strong. Find pictures in the clouds. Dig your toes into the sand.
Just immerse yourself in the perfection of the natural world while knowing how equally perfect and in harmony you are with the cycles of life. Dismiss the analyst, the critic within, and simply let your body and Soul respond to all that surrounds you. That's your essence being moved. Fill her up.
3. You're Only Human—Born to Make Mistakes
Too often we've heard the voice of criticism. Too often we've heard how we don't measure up—to the movie stars, the rock stars, or the models. And as much as we may intellectually reject the examples that others compare us to, even by ourselves, the imprint is molded as a standard of judgment.
So forgive yourself. Forgive your humanness. Give yourself permission to make mistakes. How else will you learn?
And stop judging. For no inner voice or self will dare to emerge into a threatening environment. One which breathes criticism. One which creates shame.
Make it a mantra, "I forgive myself. I love and accept myself exactly as I am. I learn from my mistakes." Make a warm, loving space for that spark to glow.
4. Girls Just Wanna Have Fun.
What do you do, or once did, that utterly makes you lose your sense of time and space? What activity totally enmeshes you so that your experience of self pervades all and yet is simultaneously deeply rooted within you?
When you discover that activity or those activities…. Do them; often. Schedule a regular slot in your calendar for "Immersion into Bliss" time. It's then that your core will flourish and dance, now that she's released from captivity.
5. The Greatest Love of All.
Each morning, arise and ask yourself, "What can I do that is loving to me?"
Don't wait for your boss, your friends, your mother or your kids to give it to you. Not even your lover. Love yourself. As only you can.
What makes you feel special? What makes you feel safe? A bubble bath? Candles at dinner? Gorgeous underwear? Stepping out of toxic relationships? Only you know.
But give it to yourself. Daily. And you'll feel the difference.
You are worthy of abundant gifts; shower them upon yourself. It's not about the material, it's about the gestures and self respect.
The most valuable treasure is You. That part of You that makes you You. Go out and find her. More correctly, go within and reunite with her. Shine your essence brightly.
It is your gift to yourself and to all humanity.