Creating a Culture Built on Kindness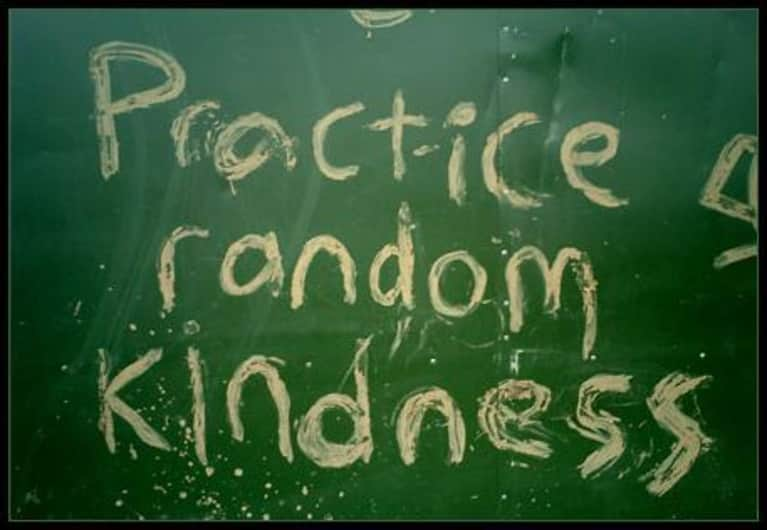 Imagine a world, where the currency was kindness, rather than dollar bills. Imagine that we rewarded people with acts of kindness and well-being for their integrity, ethics and authenticity; rather than rewarding those that climb to the top of the corporate ladder, taking out anyone and anything that might get in their way, with financial wealth.
Picture a culture, where the most revered individuals were those that held true to the basic, fundamental truths of this world:
Life is impermanent; value it and all that is alive.
Do good, be kind, treat others only in ways that you yourself would like to be treated
Speak kindly, both to yourself and to others
Practice compassion. Act with the intention of creating a better world – for all living things.
Consider how differently we, as human beings would behave; valuing kindness, rather than dollars; Striving for compassion, rather than financial gain.
Imagine raising our children to place honesty, integrity and caring at a higher standard than academic success and monetary wealth.
If this world were to exist, would we not have everything required to not only survive, but to prosper? In a world like this, we would care for our neighbor and recognize each individual as a person of equal value. This world would not allow for us to turn our backs on people in need – our currency would be kindness, with each one of us striving towards providing a higher quality of living for all. Rather than arguing about perceived differences, we would embrace our diversity and celebrate the true uniqueness off all living beings.
Close your eyes, take a deep breath, and picture for a moment this world, which is within our collective power to create. Choose to be in this world. Choose to honor yourself and all of those around you, by contributing to this world.
This is my wish, for this world, on Valentine's Day.
'Imagine all the people, living life in peace… You may say I'm a dreamer, but I'm not the only one'…Simple words, from a simply brilliant man, who understood. Inspired.
Namaste and Happy Valentine's Day.
image via