Stop, Look and Listen: What Adult Yogis Can Learn From Kid Yogis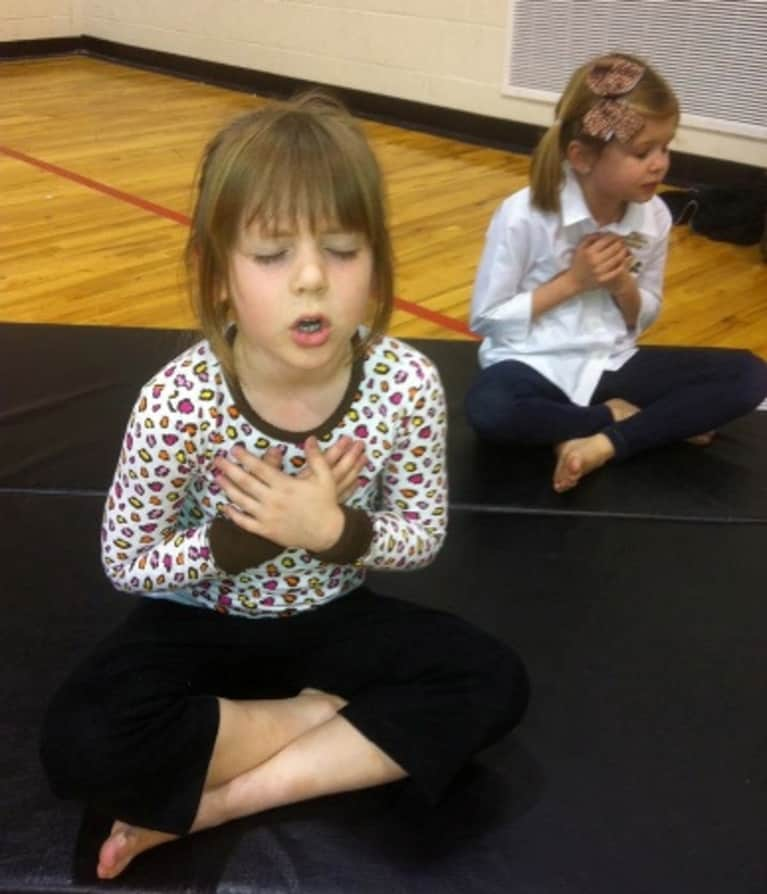 The teacher said, "When you hear the bell, stop look and listen!" The teacher may have been yours, back in your first grade class. The teacher might be you, now, leading a group of 7-year-olds through a yoga practice. When I train teachers I always recommend establishing a cue for "stop look and listen" to help non-verbalize transitions.
(The bell reminds me of the clap of wood on wood in the zendo, reminding us adult meditators to wake up, stop-look-listen, to this moment, now.)
The other day, after an especially stressful adult-type day of running errands, paying bills, and general 'taking care of business' in one of the most amazing but over-stimulating cities in the world, New York City, I arrived home to my apartment feeling in desperate need of some yoga. After I did some breath work and some "Stop Look and Listen", I realized how profound this childhood teaching actually was -- and how we all need to "Stop Look and Listen" at random moments during life and, most especially, during times when we're overstimulated, overtired, or over-something.
Often when I ring my bell in kid yoga class to "Stop Look and Listen" I'll get a few disappointed "aw's!" Most likely the students were involved in some fun activity, like crawling through a down-dog tunnel, practicing crow pose with a friend, or creating a new pose that combines balance, strength and/or flexibility. Maybe the energy was getting a little over-active in the room, or maybe it was time for quiet practice or a new activity. But it can be hard to switch gears. It's often easier to keep going with the momentum of an activity, even if its loud or less productive than it was when it began.
When I get the call in my life or in my body to "Stop Look and Listen", it's often met with resistance within myself....an inner "Aw!" In general for my life and my personality, it is easier to keep going. Even with less productive things like worry, there is a momentum that is seductive and hard to stop. Who wants to Stop Look and Listen when there is so much worrying or planning to do? Or so much fun? Or so much New York outside the window, beckoning me to come explore?
But the body doesn't lie. It might be a cold, it might be some aches and pains, or it might be a subtle intuitive twinge that the time is now to Stop Look and Listen in your day, or in your life. You might need to stop for five minutes to breathe, observe and listen to what is. You might need an afternoon off to do the same. Or you might need a more significant break in your life to Stop Look and Listen....not knowing what is to come next. But not knowing what's to come next is an exclamation point ! after the heavy comma of a pause. It is exciting to make space, to listen, to see what the teacher will say is coming next.
And here I'm talking about the teacher within. As yogi Dharma Mittra reminds us, "The True Guru, the greatest teacher, is already within you in the center of the chest." When your inner teacher rings a bell, no matter how it comes through or how it sounds to Stop Look and Listen, that inner teacher might have something new and very important to impart.
It's worth it to Stop-Look-Listen. Grow Still. Observe. Grow Receptive. Like a kid yogi waiting for directions from the teacher.
This is a lesson from childhood that I'm still practicing and learning today.