No Stock? No Problem! Roasted Beet Soup
February 7, 2012 — 19:45 PM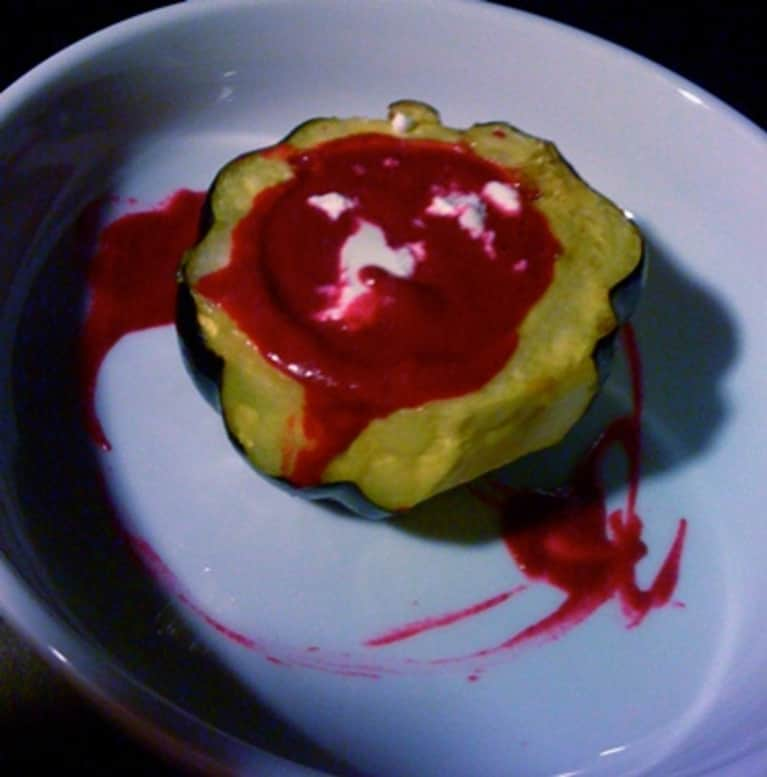 Are you wondering what to do with all your in-season root vegetables?
I was too and after deciding to blend my recently roasted beets into soup, I looked at the recipe and realized it called for stock (chicken or vegetable). Ugh. After a long day of classes, I wasn't about to go back out into the world, so decided to forage the fridge and improvise--something I do a bit of in the kitchen. Sometimes it works; others... not so much.
Lucky for me, the experiment worked that night and I can share it with you... so, get ready for one of the prettiest soups of your life.
6 medium-sized beets
coconut oil
1 apple
2 cloves garlic
5 celery stalks
1 tbsp apple cider vinegar
1 tbsp brown sugar (optional)
2 cups water
goat cheese (optional)
- equipment: blender
- makes 4 servings
Cut off your beet greens and save them later for juicing, sautéeing, or whatever you like. Wash beets thoroughly. Place in a roasting pan or baking sheet and bake at 400 for about 30-40 minutes. (Note: roasting beets preserves their nutrients and intensifies their flavor).
While the beets roast, you can prepare the other ingredients: chop the apple, garlic and celery then sautée them on medium-high heat in the coconut oil (enough to cover the pan), turning frequently.
Once your sautée mix has softened a bit, about 10 minutes, add the apple cider vinegar and brown sugar. Sautée another 10 minutes.
After the beets have roasted, peel and cut them into smaller pieces (I dare you not to try one! So delicious!). Combine beets with the sautéed goodness and sautée another 5 minutes or so.
Pour water into the blender, add all sautéed ingredients and blend thoroughly. (Note: take care blending anything hot. Splitting it up in batches is smart).
Serve (white bowls really help the pink pop), garnish with goat cheese and enjoy!
I also happened to have an acorn squash lying around, so I roasted it with the beets (cutting the top off, scooping seeds, leveling the base and smothering the inside with olive oil and salt) and used it as my edible soup bowl.