One Love: Jamaican Tips on Practicing Yoga More Mindfully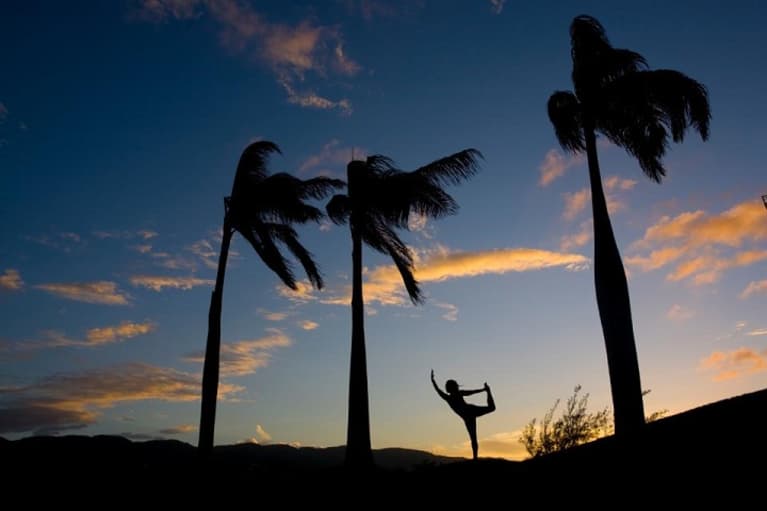 "When you do something from your heart, the universe works to make it happen for you." -- Seane Corn
It is a rather funny thing, how I ended up here. I don't mean here in Montego Bay, Jamaica or even here at the first ever Caribbean Yoga Conference. I mean here, as in my position and choices I've made in my life to get me here. Just three years ago, I was in a career that was killing me, depressed, anxious and consumed with eating disorders and drug addictions. Today I lead a much different life. I walk with purpose, peace, authenticity and undulating happiness. I do what I love every single day. I have found my purpose and my purpose has lead me to yoga.
Yoga is the best metaphor for life. I never really understood why I liked it until I came to the Caribbean for the Yoga Conference (Feb 2-5 2012). The conference is in Jamaica, which seems very appropriate. Seeing how the laid back Jamaican culture embraces oneness and community it is an organic relationship, to invite yogis from all around the world to unit and practice together in beautiful Montego Bay.
Metaphorically speaking, the Jamaican culture is almost a mirror to the benefits and teachings of yoga. Yoga teaches us to be more kind, and present and Jamaicans are compassionate and know how to go with the flow and be in the moment. Visiting Jamaica can be a healing experience, and practicing yoga is one of the best ways to help us get closer to our true purpose and discover whom we really are. We can learn a lot from the Jamaicans and yoga. Here are some of the examples:
You Are Enough
I've had the pleasure to spend time with local Jamaicans and one of the main mentalities on the island is, "You are always enough." People in western culture have a go switch that never really turns off. We always work harder, buy more stuff, or go faster in a desperate attempt to prove we are enough, to ourselves and to the world. This inadequacy creates a barrier between our true purpose and us. The same is true when we practice yoga. We have the opportunity to challenge our own limiting beliefs as we stretch our bodies and stretch our minds.
The mat signifies a scared place where you can be present with you, and honor the greatness that you are. Shed the fears and allow yourself to be comfortable with the beautiful being you are. It starts with being present in the moment and honor the process of self-discovery and real self-love. When you love yourself fully you can't help but to be beaming with happiness for all of mankind. When you realize you are enough, life and all of its grand opportunities rush in and fill you up with all consuming joy.
One Love. Everything's Going to be All Right.
Bob Marley, the famous Jamaican who put reggae on the world music scene sang, "One love, one heart, lets get together and feel alright." He reminds us, not to worry about a thing, because everything will be all right. Being aware that we are all connected is a Jamaican philosophy instilled at birth. The national thread that ties all locals together is the knowing that everything is one, and embrace it with love. The same mentality unfolds when we practice yoga. We gain a greater awareness of our surroundings and the energy that fills the space. We intuitively know that we are all one, and love is the only path to peace and true happiness.
In the yoga studio, we know that everything is going to be all right. When we practice yoga concisely, we begin to see the effects in every area of our life. We start to eat better, we breathe better, we relate to others more compassionately and we handle stress much easier. We know on a cellular level that everything is always going to be all right.
Photo Bill Tipper