8 Tips to Take Yoga Retreat Bliss into Your Daily Life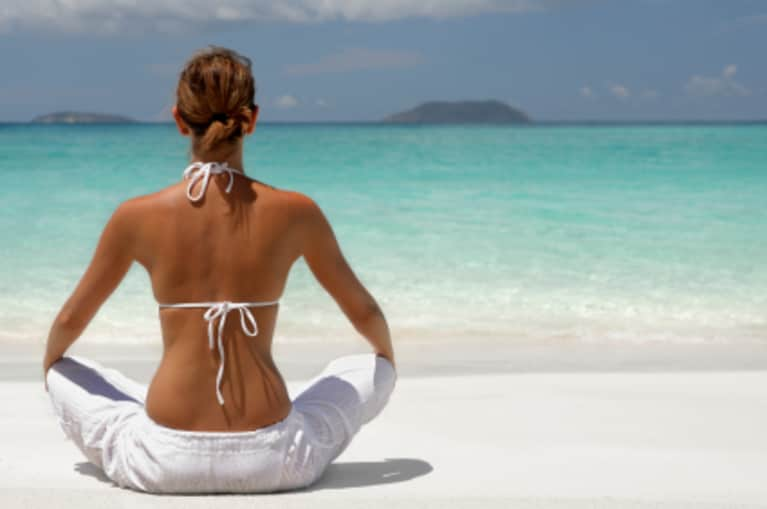 I have just come back from a blissful yoga retreat -- a week of yoga, meditation, massages, gourmet organic, vegan meals all set in an eco-friendly cabin in a rainforest on the beach. It was a week of heaven.
Coming back to reality is hard. I was so relaxed, at peace and – for lack of a better word – Zen! I promised myself that I would continue on this path to keep this feeling as long as possible. Unfortunately life starts getting in the way, and it becomes more and more challenging to maintain your new Zen state without a personal yoga teacher to encourage your practice, and chef preparing all of your meals.
But all is not lost! With a little preparation you can continue your healthy lifestyle even with the obstacles of busy life! Here are a few tips that make a daily retreat-style existence more manageable:
1. Go to a farmer's market/organic grocer and by vegetables in bulk! Then chop them up and put away in freezer bags ready to be used for a quick addition to dinner! That way a plate of delicious organic veggies is just as quick and convenient as a heat-up ready meal!
2. Focus on eating a whole foods, low allergen diet!
3. Try Bircher muesli for breakfast by combining ½ cup oats, 1 grated apple, ½ cup nut milk/soy milk and a mix of nuts and seeds over night and serving in the morning with fresh berries.
Have a quinoa salad for lunch with mixed veggies, 1 cup cooked quinoa and a scattering of walnuts toped with a dressing of olive oil, lemon juice and sea salt.
4. Snack on fresh veggies, hummus, nuts and fruit.
5. Finish the day with balsamic baked vegetables with beans – combine chopped pumpkin, sweet potato, capsicum, zucchini, carrot, onion in a baking dish with ¼ cup olive oil, 2 tablespoons balsamic vinegar, 2 garlic cloves and scattering of dried thyme, rosemary and sea salt and pepper, and bake for 30 minutes at 425F/220C stirring occasionally. Serve veggies with cannellini beans and toasted seeds!
6. Give yourself "at home" treatments:
Combine olive oil and honey for a smoothing hair mask.
Instant coffee and granulated sugar makes for a great skin exfoliant.
Soak in a bath of essential oils and Epsom salt to detox your system.
Combine ½ avocado with 2 tablespoons olive oil for a hydrating facemask – bonus! Eat the other avocado half to help your skin shine from the inside out!
7. Make the effort to set your alarm 10 minutes early and do some light stretching. As your hit the kettle for your morning cup of tea stretch out your back, legs and arms – make the most of this few minutes of peace before the craziness of your day begins!
8. Turn off the TV! Having a week with no phone, computer or TV seems like a very daunting task for anyone – let alone a Generation Y tech-head! – But I cannot tell you how relaxing it feels to not be a slave to digital communication. Plus, I had so much more free time! Read a book, write in your journal or take a walk instead!
While nothing will quite compare to the tranquillity of a yoga retreat, incorporating these simple tips into your everyday life will hopefully bring you some peace even in a fast paced world!
I have come to realise that it is all about choice – at a retreat you have no choice but to do yoga or eat healthily. Life is very much the same, but with a few temptations thrown in… You just have to make the conscious choice to step back and take control of your life. Pick the hummus over the chocolate in the afternoon. Set your alarm a little earlier so you can meditate alone before the rest of the house wakes up. Arrange a time every week that is dedicated to giving yourself some "me time" by having a bath, putting on a facial and reading a good book! All these little choices add up, and it is not only you who will reap the benefits but your family, friends and work that will be boosted by your relaxed, focused attitude! Start small, and work your way up – but most importantly, start today!