3 Ways to Get Your Kids Living 'MindBodyGreen'
Our editors have independently chosen the products listed on this page. If you purchase something mentioned in this article, we may
earn a small commission
.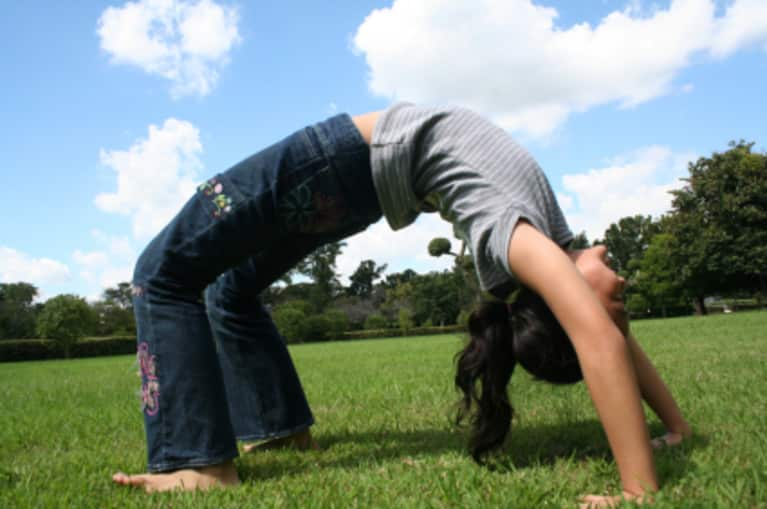 As we enter a new year, we set "healthier" goals for ourselves, which usually include eating better, exercising and being conscious of the world around us -- being MindBodyGreen!
This year I decided to expand my goals to my children. We recently started reading StarBright Meditations for Children, by Maureen Garth. I witnessed a calming response to where they now crave meditation for just a few minutes before bed. Another book called Change your Brain and Change Your Life spoke to my nutritional concerns. The author addresses the Standard American Diet (aka SAD), which got my thinking: When I offer cereal for breakfast, even though it may be organic, it is still from a box. I started an experiment by replacing cereal with roasted nuts and fruit, and it was a huge hit. As our Christmas boxes arrived, I saved as many as I could to teach them about recycling our materials and how we can create things from practically anything. Popping the bubble wrap was added fun, too.
Here are three goals that you can share with your children that will boost their year in being MindBodyGreen.
1. Mind: Before bed, read or make up your own visual meditation that will create warm and peaceful feelings. Here is a meditation that I created which may speak to your child's heart.
Child's Meditation: As you lay down with your eyes closed, feel the coolness of the air going through your nose, filling your chest and belly. As you breathe out, feel the warmth of your breath as you exhale any sad or frustrating things that may have happened during your day. Breathe in and out softly and quietly. (Place a small stuffed animal on their belly to focus the breath in and out.) See yourself in your most favorite, happy place: the beach, a mountaintop, a green field, or floating on a cloud. When you get there, see yourself lying under the most beautiful, strong and gigantic Peace Tree. This Peace Tree extends its branches over you and invites you to trade your worries for peace. (With older kids, you can explain how trees give off oxygen and how oxygen is life giving. As they exhale their worries, they release toxic carbon dioxide.) You can express your worries by writing, drawing or telling it to your Peace Tree. This Tree has so much peace there is nothing you can't share with it. After you release your concerns, see yourself being filled with peace, love and happiness. You have a huge smile on your face. Get up and dance around in your mind. Twirl, laugh, jump, fly or take a walk around your happy place. Freeze wherever you are and breathe in and out softly through your nose. Bring one hand to your heart and one hand to your belly. Say, "I am thankful for this moment." I will now leave you to explore and enjoy your happy place… Sweet dreams!
2. Body: Eating balanced whole foods is the best way to take care of our body. Eating breakfast is the most important meal as it is a time to reset the "go," button for our day. Share with your children that in order to make the car go, we must put the right kind of fuel into it or it will stall. The same thing is true for our bodies. They will "go" when we fill them up with the right kind of fuel.
Healthy Kids' Breakfast: Mix a handful of almonds, walnuts and cashews with a teaspoon of olive oil. Sprinkle some salt to taste and roast the nuts in the oven at 400 degrees for 15-20 minutes or until golden brown. Cut up grapes, bananas, apples and strawberries and serve a handful of fruit and nuts on a plate with a delicious cup of OJ to start off the day for long lasting energy. For those who have allergies to nuts or want something different, try this: In a blender mix one packet of frozen Sambazon Acai Original Blend (in frozen section at Whole Foods Market), one cup of chocolate almond milk and one frozen banana in a blender- it tastes like ice cream! For a delicious nutty flavor that is nut and soy free, sprinkle Mantioba Harvest Hemp Hearts on top for some crunch.
3. Green: Store up your boxes, paper bags, containers, newspapers, toilet/paper towel rolls, etc. to create whatever their hearts' desire and play the song by Jack Johnson "Reduce, Reuse, Recycle" for inspiration. Use crayons, paints, glitter, streamers, pipe cleaners or old clothes. Transform lost, unmatched socks into sock puppets. Look to nature for inspiration with rocks, sticks and feathers. Make a design on paper with glue and pour sand for a textured design. Allow their imaginations to reach their highest potential while reminding them that they are being green by reusing these materials instead of throwing them into the trash.
Hope that this year is off to a wonderful start and filling you and your children with a desire of being MindBodyGreen!