Gillian Gibree on Standup Paddle Yoga
If it is a sport that can be done in the ocean, chances are, professional Standup Paddler Gillian Gibree does it. A Cape Cod native, Gillian has been competing in ocean sports for most of her life and seems to be more comfortable on the water than off of it. Recently, she has made her mark on the standup paddling community as a pioneer in Standup Paddle Yoga with her San Diego, California-based company Paddle Into Fitness.
Here, Gillian explains what Standup Paddle Yoga is and why it is an important part of her training regimen.
MH: What is Standup Paddle Yoga? How is it different from any other type of yoga? 
GG: Standup Paddle (SUP) Yoga is yoga that is practiced on a standup paddleboard. Instead of practicing in a studio, the flows and poses are done on standup paddleboards out on the water! I favor Vinyasa yoga, and depending on what I am seeking on any given day I switch between gentle flows for something more spiritual and relaxing, and Power Vinyasa while cross training for other water sports.
The water adds another dimension to a standard yoga routine. The standup paddleboard creates a relatively unstable surface, which requires more core strength for balance. As a result, I often modify certain poses, and save the balancing series for the beach. The board and paddle can also add a unique twist to the practice. For example, the paddle can be used in half moon pose or during a modified side plank; a foot can be hooked around the rail for added stability.
How did you get started with SUP yoga?
I love the ocean and my life revolves around it, so naturally I gravitated towards SUP Yoga. To be able to combine Stand Up Paddle Boarding and yoga, two practices that I love, is really special to me. SUP yoga has also really complimented my other ocean sports and has helped me during competitions. When I am competing in SUP races, I have so much adrenaline pumping and the distance paddling can really do a number on my body. SUP Yoga helps me to relax, brings my awareness back to the present and restores my body. It completely rejuvenates my mind, body, and spirit.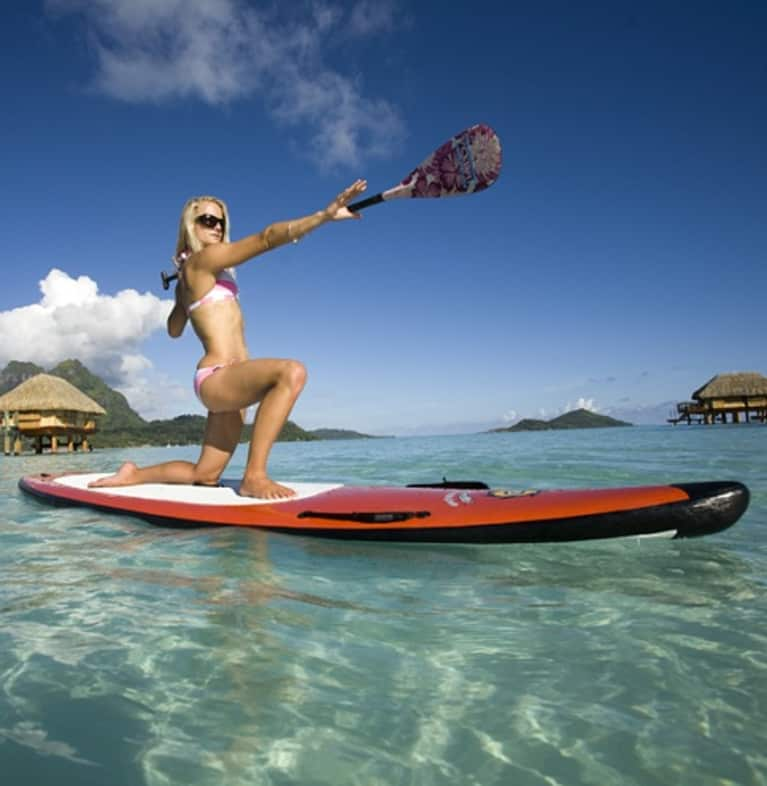 Do you think that SUP Yoga is accessible to everyone? What is a good beginner SUP Yoga pose, and why? 
SUP Yoga is absolutely accessible to everyone, however, I highly recommend taking a class from an instructor. It is important to make sure the poses are being done correctly and that there is no floating into danger during relaxation!
For a good beginner pose, I love doing eagle arms on my board. I like this particular pose because it is a great shoulder opener for all water men and women and a great way to warm up before a session.
What part of SUP Yoga do you appreciate the most?
My favorite part about SUP Yoga is sharing it with others. Since it's still a relatively new practice, I usually get to experience my students' first time, and for me, that never gets old. Everyone is surprised at how easy it is to transfer their sequence to the board and they always enjoy the new challenge. I make sure to keep the practice simple and available to everyone because after all, it is all about having fun on the water!
In addition, SUP yoga is a great way to be out in the natural environment. SUP yoga allows you to connect to nature in a totally new way. Where else can you soak up the sunshine, hear the seagulls, and rock gently with the ocean on your board during Savasana?
For more on Gillian: 
gilliangibree.com and paddleintofitness.com