3 Simple Lessons We Can All Learn From Dogs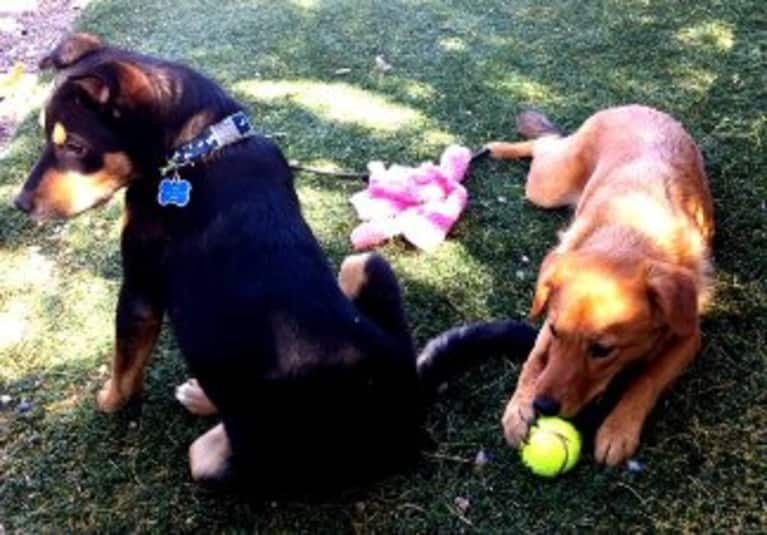 "An animal's eyes have the power to speak a great language." ~ Martin Buber
I haven't slowed down since the holiday craze has come and gone. Am I running around like "a chicken with its head cut off?" That's the understatement of the century! Every day I am pulled in what feels like a million different directions. Every new task seems more urgent than the last. And no matter how hard I work to whittle it down, the never-ending to-do list remains a mile long.
Sure, frantic multitasking has its perks. But when our lives are built on the foundation of it, we are not entirely 100 percent engaged in what we do, say, or think. Our minds and actions are moving in warp speed – sometimes in different directions – never fully processing and appreciating. Not only do these behaviors negatively affect our moods and health, we miss the magic in celebrating a completed project, the opportunity in learning new insights from a friend, the gift in connecting deeply and spiritually with ourselves, or taking a much-needed rest to replenish depleted energy.
Most importantly, we lose the moments in savoring the simple pleasures of being alive.
When I find this happening to me, I turn to my dogs, Ella and Max. They keep me grounded; reminding me to acknowledge the beauty in my everyday life. Perhaps there is something to be learned from how our pets live theirs.
Here are the 3 lessons I have learned:
1. Live in the moment.
A dog is innately aware of his environment: every sound, movement, smell, person, object, and emotion – always attuned to his surroundings.
Dogs can lay still and be completely in the element of now. They never drag any history from yesterday or project worries onto tomorrow. Their attention is focused entirely on the present, fully accepting, and aware. By learning to be more present, we begin to appreciate our surroundings, experience, and the people around us; we become aware of what is abundantly good, awakening our senses to the truth of life – our existence. And in so doing, we will worry less often, laugh more, and feel more grateful. (For more on gratitude, see my post The Importance of Practicing Gratitude Daily.)
2. Make time for play. A happy dog always plays.
Proactively make the time to feed the soul with your own version of "play". It will make you feel healthier and more productive. When we're constantly jumping from one thing to the next without taking the time to refuel our energy, we will naturally feel fatigued, always running on empty. My dogs remind me to take care of myself by creating moments of play – whether that is in laughter (from a movie), endorphins (from exercising), or nourishment (from a creative outlet). One of Wayne Dyer's secrets to success and inner peace: "You can't give away what you don't have." And that includes your precious energy.
3. Let yourself be REALLY enthusiastic. 
A dog's enthusiasm for the smallest discovery is unmistakably contagious.
Whether it's time for a walk, a new toy presented, or someone at the door, my dogs react with the utmost excitement. They perk up, tails wagging, bursting with emotions. We should recapture that kind of reaction in our own lives and with those around us. Allow yourself to get really giddy when a stranger smiles, feel absolutely ecstatic when a friend offers to buy coffee. Having a sense of enthusiasm for the smallest things can build a passion for life. Don't hold back. Let yourself live a life in a state of energizing enthusiasm! (For more on enthusiasm, see my post 10 Ways to Unleash Your Inner Child.)
The next time you're feeling overwhelmed by your day, do stop and smell the roses; take a long, deep, cleansing breath, and remember to incorporate the 3 tips above. Not only will you feel more relaxed, but you will begin to notice the subtle beauty of your surroundings and rejoice in the simple pleasures of being alive!