8 Ways You Can Be Your Own Best Yoga Teacher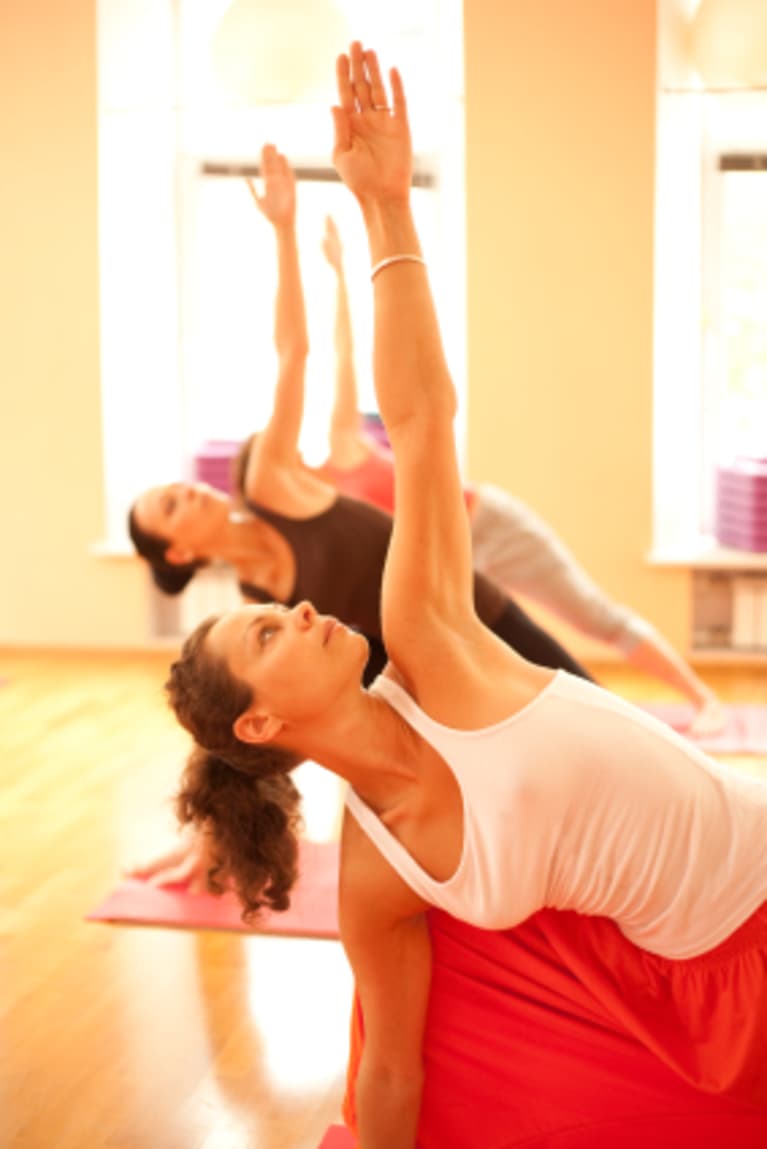 Many students are concerned that they will get hurt doing yoga. While yoga is not without its share of injuries, most yoga classes are places of safety. It is important for a yoga student to listen to their body, to trust what feels right, be where they can be for a comfortable number of breaths without struggle and where they can find ease and space. Be your own best teacher by putting your own body first in your practice.
And if all else fails consider the following:
1. Bakasana (Crow Pose), Sirsasana (Headstand) and Urdhva Danurasana (Wheel Pose) should never be among the first few poses in a class. Never. These are poses that require opening, preparation, strength and warmth in a body. These are neither brand-new beginner poses nor warm up ones and any teacher who tells you otherwise is one about which you should be cautious.
2. Heated classes can be a wonderful addition to any practice, but should be approached with kid gloves. Heat creates artificial opening in muscles and joints and therefore can lead to injury. Practicing in the heat requires closer attention to the body cues and to the breath. Oh, and just because you are all open and limber from the heat does not nullify #1, it only further emphasizes it.
3. Any teacher worth their salt will create an environment of safety and support. There should always be room for permission to come out of and modify poses, and modifications should regularly be taught. Poses that cannot safely be modified without props should not be encouraged/taught at a location that does not provide them.
4. Assists in yoga can feel magical but they can also hurt. If you are concerned about what a physical assist can do to your body and do not want one, you can always refuse it. Always! There should be permission asked to do an assist and you equally should have permission to say "no."
5. It is the student's responsibility to let the teacher know if they have either sustained an injury in the past or are currently dealing with some physical ailment. Teachers can see many little indications of such, but are not always privy to important pieces of information such as past neck injuries or heart conditions. Without hearing from the student that such issues exist they cannot in any way know that the student may have something that needs extra attention.
6. Your body is your temple. Any pose that makes you feel otherwise, any teacher that makes you feel otherwise and any practice in the canon of yoga that makes you feel otherwise should be avoided.
7. No pose is a single body part pose. If in practicing certain asanas you find that you only are feeling one location in your body, or can only focus on the sensations in one part of your body come out or shift your position. Yoga is a whole-body practice not one that addresses only your hamstrings or low back.
8. Introduce yourself to your teacher. Create an environment of communication so you feel comfortable sharing your concerns or questions and your teacher feels comfortable addressing them. Let your teacher know you so he/she can help guide your practice in a way that best suits your need and body.
Do some research before you Down Dog with any particular style or teacher. Then take a few breaths at the beginning of each practice to assess what you most need to be careful of in your body that day. Be your own best teacher and then allow the yogi in front of you to guide you in YOUR yoga. Do not enter your mat from a place of fear, but instead a place of knowledge and protection of your own body.