School Yoga and School Lunch: Friends or Foes?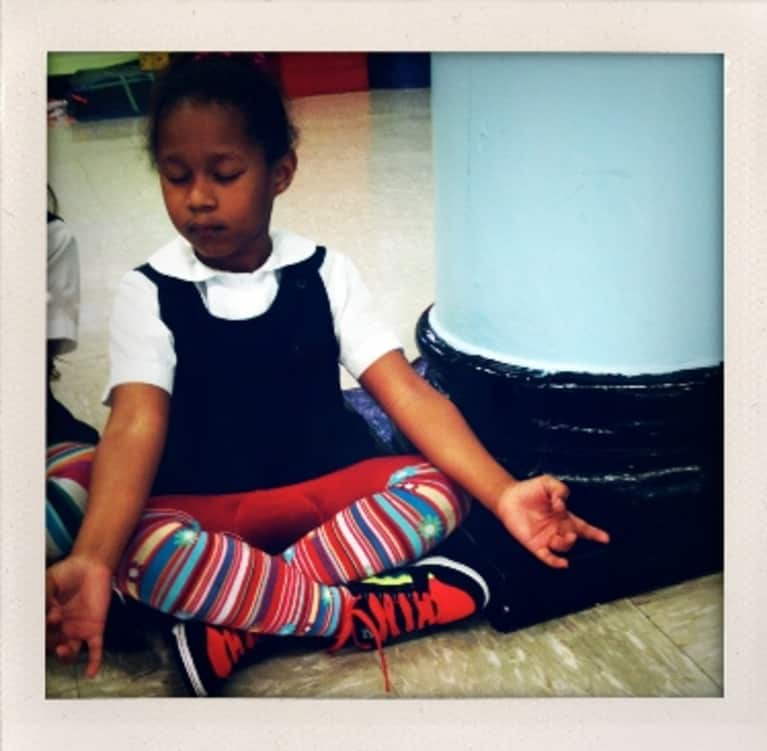 One of the things I was initially shocked by when going into the public school system to share yoga with students was the way school lunches have not evolved much at all. With all the advancements in education and nutrition, why are we still serving fried things on styrofoam plates?
Yes, I know about the work Jamie Oliver is doing with the school lunch movement, but to see it first hand is another thing. Here I was teaching yoga and then dropping my kid yogis off to have lunch and seeing them exposed to all this non-yogic food that's not healthy for the body!,The kids had a lack of choices and there were just piles of piles of junk and Styrofoam being thrown out hourly.
If you want to learn something then listen to a kid. I witnessed so many kids totally GETTING the problem with school lunches from an early age. I even saw a group of first graders make a petition to have their school lunches served on something biodegradable, not Styrofoam! The school took notice and for a few weeks had recycled cardboard plates and containers... but after the school administration saw it was more expensive to order these materials, we went back to the non-biodegradable stuff. The thing is, kids were learning about science and the environment in the classroom and saw the connection and problems of the wasteful stuff used in the cafeteria. It was disillusioning to me that  students got it, but financial concerns were still so strongly dictating the choices of adults, and to this extent.
I once witnessed a second grade girl just eating french fries, day after day. After asking her about it she told me she was vegetarian and didn't have anything else to eat. This surprised me because I knew she wasn't from a family or community of vegetarians. I asked her why she was vegetarian and she said it was because she loved animals and didn't want to eat them. This was, after all, the girl I'd witnessed saving insects from the hard life of playground concrete on her recess, taking them to the small patches of grass that lined their urban playground. She was a girl who carried around a sketch book and drew, very beautifully, lots of pictures of animals. I found this all pretty interesting and was inspired by this young girl, thinking for herself and experimenting with her own decisions. I felt sad that the school couldn't provide more variety. After all, a lot of these kids were learning about nutrition in their classrooms or physical education programs. What kind of mixed message were we sending them if we told them veggies were good to eat, then taking them to cafeterias with few vegetables?
Here's hoping we get some greens, and change, in school lunches sometime soon. We are feeding our future, after all.