5 Ways to Make the Most of Your First Yoga Class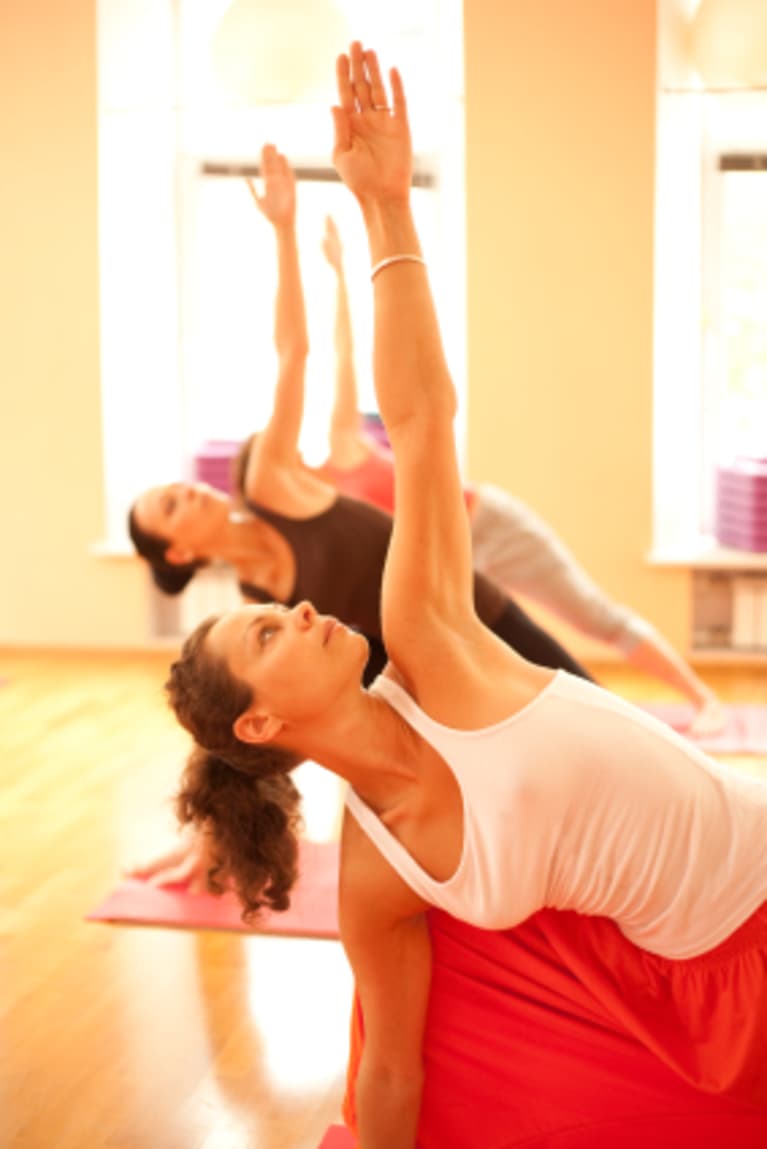 It's that time of year again; the time when we reflect on our previous year and set goals for the upcoming one. Many of us re-dedicate ourselves to our health during this time, often experiencing the high that comes with putting our goals on paper and planning for our brighter, better future. We're motivated, inspired, excited! That is…until we actually begin to turn our future goals into present actions.
Perhaps, as part of your new year's resolution you begin to think about trying out that new yoga studio in your neighborhood. Yes, that's it. Maybe this year is the year of downward dog! So, you look up the schedule at your local studio, you decide on a class you'd like to attend, and maybe you are even bold enough to attend said class! Now what?
This is typically when reality sets in; the reality of our tight hamstrings, of how the girl to your left can stand on her head for five minutes, while you can barely touch your toes. If you've made it as far as attending a class (which is a GREAT step by the way), you may never want to go back.
Guess what? We've all been there. Even I, a yoga teacher, get overwhelmed when thinking of trying out a new class. However, don't let fear stop you from becoming a better version of yourself this year! Here are 5 tips for making the most of your first yoga class!
1. Do Your Research. Before you grab a mat and go, take time to scope out the different yoga studios in your area. Figure out which styles of classes they offer. Ask practicing friends and family for recommendations. This will help you in choosing the best class for you.
Once you've decided on a class, call the studio ahead of time and reserve a spot. This can help you keep the commitment.
Finally, take some time to invest in this new opportunity and get a mat that you feel comfortable on. If this is not in your budget, make sure the studio you are going to provides mats for you.
2. Listen. One of the goals of yoga is to cultivate the power of listening -- listening to one's inner voice, and to the subtle energetic world around that voice. In doing so, one can begin to witness the authentic experience in each moment.
So, while you are in class, begin to tune out the ego (you know, that negative voice telling you your thighs look fat in that pose), and tune into the quiet space of your mind. Trust that that silence will speak louder and more truthfully than any mind chatter.
3. Loosen Up. "Letting go" is one of the greatest challenges we face on and off the mat. We live in a culture that encourages us to gain "control" and "keep it together". However, when we live in the confines of a tight grip, we rob ourselves of the simple moments in which we are open and free-flowing. So, as you move through poses that may seem completely foreign to you, release any tension, loosen your grip, and just allow your body to take shape. You'll be surprised at how powerful it feels to just let go.
4. Soak It All In. After class you may be tempted to get in your car, blast your favorite song, and forget the whole thing happened…or maybe you have to rush off to dinner with friends (I mean, you do deserve some food after all of that work!). However, I encourage you to give yourself a few minutes to reflect on your experience in class. That may just mean driving home with the radio turned off, or staying in for the night and cozying up with a good book. Whatever the case may be, allow whatever came up in class, mentally or physically, to surface. That quiet breathing room is often host to the beautiful aftermath of the practice.
5. Try, Try Again. Like anything in life, if at first you don't succeed try, try again. Perhaps you left your class leaving uninspired, bored, or maybe even angry. Yoga can bring up many different emotions, but don't let that deter you from trying again. Maybe a different teacher or style will call more to you. Maybe it was just the time or day. Either way, don't give up! I truly believe that yoga is for everyone, because it is IN everyone. It just may take a few tries to find your yoga groove!
Now go, meet yourself on the mat, and enjoy! Namaste, and happy new year!