Yoga & Breathing Tips to Stay Healthy This Winter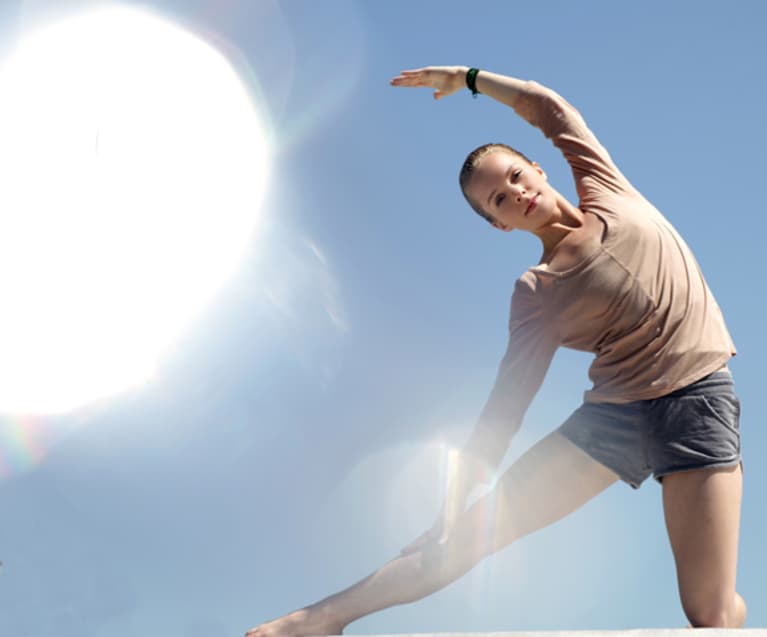 Winter is approaching; days are getting colder and grayer, sometimes wet. It's natural that our bodies want to go into hibernation.
Well, yoga is all about balance, so it's time we fight the good fight and get our butts moving! The beauty of yoga is that all you need is you. We tend to use the excuse of, "Ohh, but it's cold. I have to take a train to this yoga studio, blah, blah blah". Let go of any and all judgments you have of what a yoga practice is supposed to be, because you know how to move, there's no right or wrong. You can practice right in your own apartment. If you are feeling stagnant, the best thing you can do is a brisk yoga practice, throw in a bit of bhastrika (rapid breath of fire), and focus on core work.
A great way to start your day is doing 10 rapid runs of sun salutations. To really fan your fire, stop at high plank and do 21 rounds of powerful breathing exercises -- kapalbhati or bhastrika. Kapalbhati, or cleansing breath, is a forced and active exhale pumping the stomach, the inhale is passive. This breathing should only be through the nose. Bhastrika, or rapid breath of fire, is a vigorous inhale and exhale, which should be fast and full. Focus on exhaling all of the stale air out because your inhale is innate.
Interested in increasing circulation within the whole body? Look no further than shoulder stand. She is the queen of all asanas, so she is very effective by bringing fresh blood to the lungs, heart, thyroid, helping empower these areas to release toxins avoiding typical winter illnesses. Plus, this is a fun, childlike pose to play with! Always follow up shoulder stand with fish pose, then hug the knees into the chest and take at least a one minute savasana to drink in all of the benefits.
Another rejuvenating practice is the 5 Tibetan Rites or exercises. To learn how you can empower your body's own abilities to get your energy flowing -- try yoga teacher Sarah Kline's set.
Some great core work you can do are dolphin dives, which is like a modified downward facing dog. Start by grasping on to the outside of the elbows, plant them on the ground. You can either interlace your fingers or straighten the arms out so they are parallel with hands flat. Next you lift your hips up and back into this modified downward facing dog position. As you inhale, lengthen the body towards your hands, as you exhale push back to the modified downward facing dog. The goal is to bring the body parallel to the ground. It's best to do around ten of these. This will also help prepare you for inversions such as headstand. Take a rejuvenating child's pose after.
Other powerful core asanas are plank, side plank, forearm plank, chaturanga dandasana, boat pose (which can be done with twisting, for extra challenge) and also life nerve stretch, which is a very popular kundalini exercise. For life nerve stretch, lay on your back, head, arms and legs lifted, legs should be about 6 inches off the ground and engage your rapid breath of fire for one minute. You can alternate legs or even keep both legs down while arms, head and neck are lifted. Keep the back of the neck long, chin slightly tucked. You may rest in savasana for 45 seconds. It's recommended to do three rounds for one minute each.
So how does one crack that comforting place of stagnation? A better answer is to ask the question, what do you like about feeling stagnant? Does the space you are in allow you to be and do everything you can be and do? What is it going to take to allow that space to be available to you?
Meditation sounds like it can be miles away from you because of all the stimulation we're exposed to, but why not entertain yourself with a self guided visualization meditation? You can start by expressing to the forces of the universe and the heavens that you are in need of guidance to break up stagnation and allow for abundance. Ask the universe what is required to find balance and abundance. Begin to do silent self affirmations of what your heart desires, even if it doesn't feel true to you now. This ritual practice can begin to make great transformation. You can do this for one minute, five minutes, or thirty; whatever feels right to you that day. Manifestation shows up in all kinds of ways, so with patience, allow what you desire to come to you.