Soul Yoga: Living Yoga On and Off the Mat Every Day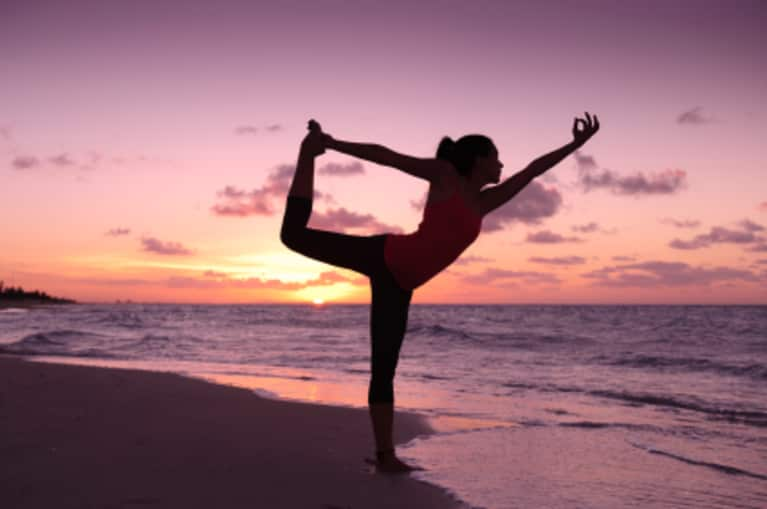 What do people think of when they hear "yoga?" Most probably envision people twisted into incomprehensible poses while balancing on their hands. Sure -- there are those people, and asanas are certainly a fundamental part of yoga practice, but yoga goes so much further beyond what is done on the mat.
When I was first introduced to yoga about ten years ago, like so many people I did it because it seemed like a great way to whip myself into shape and gain some flexibility. They offered a few different classes at the Equinox I belonged to in Manhattan, and I started going regularly. I didn't like it at first. I thought the poses were strange and difficult and the tone of the classes too serious – Once while we were in a seated meditation a friend of mine and I kept stealing glances at each other in the mirror and I had to leave the room to relieve a fit of nervous giggles that would have been a horrible, embarrassing disruption to the class.
I continued with yoga for a while, not seriously and definitely not with my whole self, for a few years until I dropped it all together. About five years ago, with a different, slightly more mature perspective I gave yoga a second try, and I was hooked. I can equate my yoga practice with a snowball… it started with a Rodney Yee video that I would do for 30 minutes here and there. Then I got another video, I started taking classes, subscribed to Yoga Journal and from there it changed from something I "had" to do to something I LOVED to do. I felt uprooted if I missed a few days of practice.
Yoga leaked off of the mat and into the rest of my life. While I had always been somewhat mindful of my eating, I became very in tune to what my body needed, and I committed to honoring the signals my body was giving me. I convinced my husband to start eating mindfully also, so much so that he now works for Whole Foods Market! I find that my perspective on the outside world shifted and I see things through rose colored lenses more so than ever. I'm not trying to say that I go skipping through life without any glitches – like anyone I have my moments and there are some tough times, but I have learned to take things in stride.
Appreciation is another skill that yoga has helped me to develop. When I go to the beach I don't just see the water, I contemplate the life force of it, the strength, the beauty, and appreciate its ever-changing ebbs and tides. Seeing dolphins play in the waves, so free and joyful, brings happy tears to my eyes. A walk in the woods is a playground for my senses, noticing the changing colors of the leaves, the sunny sky, the clean, crisp air, and the pure joy on my dog's faces when I let them off their leashes. I make a point to smile at and say hello to the people I encounter through out my day in the hope that maybe I am brightening their day in just the slightest way.
Yoga is like an old friend that is there to hug you if you feel down, stand by your side if you are nervous or afraid, and egg you on to push your limits if you are feeling at your best. It is always there. During intense meetings I have my steady breath to rely on to calm me down, during my commute to work I can clear my mind to meditate and ignore the stresses of those Jersey drivers, and my asana practice has given me the strength and confidence in my body to literally sometimes feel like I am floating on air. I look forward to see what yoga will bring me tonight, next week, in 2012 and many years from now and how it will continue to change so many lives in a positive way.
If you open your heart and let yoga in to your soul, then it will affect every single distant corner of your life. Make it your intention to water your soul with the presence of mind you have on your mat, and stay that way 24-hours a day.