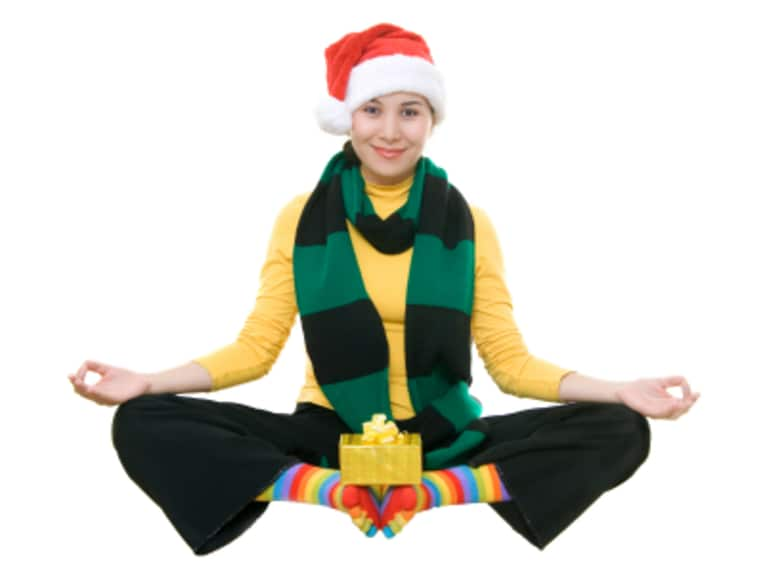 Ah, the holidays are here! You know what that means... parties, drinks, food, some more food, late evenings, little time to yourself, and a general feeling of abundance and cheer. For those reasons I love the holiday season, but it also has a sneaky way of pushing yoga and mindful eating out of the spotlight and onto the back burner. Every year it is the same… I say, "No way, not this year – this time I am going to stick with it!" And sure enough, I open my planner and realize next week I have my company holiday party, a concert on Friday, and a friend's holiday party on Saturday. Not to mention other regular life events, like a late meeting at work on Monday and hosting a dinner on Tuesday. I might get to one yoga class that week, and other than that I will have to rely on getting up early in the morning to squeeze in a home practice. And let's be honest, between the late nights and chilly mornings – it is not the easiest to get up before I absolutely have to.
So what is a devoted yogi to do? First of all, it is important to realize that a fundamental part of yoga is loving yourself unconditionally, even if you just downed enough pumpkin pie to feed a small village. You know what – if it happens, enjoy it and be thankful that you were given the means to satisfy an intense craving. On the other hand, just try not to make that each meal! Yoga is all about balance, so for your next meal, try to stick to something lighter, like Kathryn Budig's Steamed Artichoke with Tart Lemon Dip and a lean protein.
The same goes for working yoga into your schedule. Do as much of it as you can, and try to go above and beyond to schedule time in. On those mornings where it is 60 degrees in my bedroom and under the covers is the only place I want to be, I think of how satisfied I am after a good asana practice, and the glow I feel for the rest of the day, vs. the stiff disconnectedness I feel after missing practice for a day or two. Be happy and thankful about the time you do make for yoga, even if it is half the amount of time you normally spend on the mat. Just 15 minutes can make a difference by making you grounded and centered – a feeling to carry with you for the rest of your day. And most of all – enjoy this wonderful time of year, your yoga practice that is always there for you, and the friends and family who are always there for you as well.
Happy Holidays!