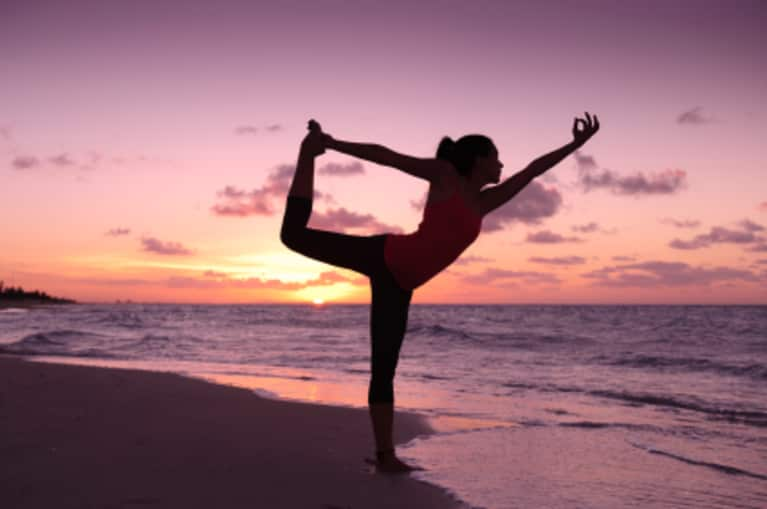 If you asked me this question back in high school I'd tell you that it was a nice way to work out. Back then I really only looked at yoga as a form of exercise -- a way to sweat a little and stretch out my body. Nowadays, I have a completely different outlook. After high school I went to college full time and got a full time job – and it stressed me out beyond belief. My eating and exercise habits became awful and I was constantly stressing out about pretty much everything. I then started to have anxiety attacks. I would try to take a deep breath and I literally couldn't.
I went to my doctor's to find out what I could do to alleviate my stress and anxiety and she recommended putting me on an anti-anxiety medication. I was not happy about this. I wanted to be in control of myself and not take medication to get rid of the problems I was having. I started to seek out more natural solutions and thought of taking up a yoga practice again to see if it made a difference.
Not only did it make a difference but it changed my life. I looked at yoga from a different perspective – it wasn't just a form of exercise; it made me feel good, it relaxed me, it energized me, and it helped my life run more smoothly. I started to practice every day and with each breath I started to notice that I wasn't having anxiety attacks anywhere near as often. I felt more in control of myself and my life.
Yoga is now an integral part of my life and I can't imagine a day, let alone a week, without getting in a flow of some kind. There are days where I am not feeling 100% but I get on my mat and just rest in balasana and soon enough I am twisting and folding in all directions and connecting with my breath. By the time I wiggle my toes out of savasana – I feel renewed and ready for anything life throws my way. Every now and then I still get stressed and feel some anxiety but now that I have a better understanding of how to react and by using my breath and awareness I can get back to a place of peace with ease.
I completely and whole heartedly encourage everyone in the world to try yoga – I can't even count the benefits I have reaped on my fingers and toes. This practice goes beyond balance, strength, and flexibility. For me it has enriched my life experiences, changed my perspective, allowed me to better embrace my true self, brought me peace of mind, better health, more zest for life, and an ever-evolving genuine sense of inner well-being.