5 Tips for Tech-Wary Yoga-Loving Parents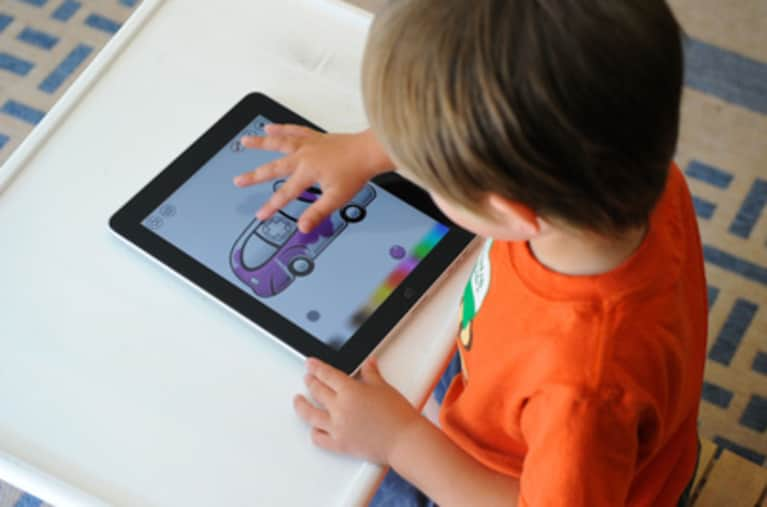 iPads are at the top of the wish list this holiday season. In fact, 44% of children ages 6-12 years old said they wanted an iPad more than any other gadget. So how do we as yoga-loving moms and dads make peace with this wired world?
As a yoga teacher, iPad owner and mother of two rambunctious little boys, I share the vision to connect kids to movement, music and art through great stories using groundbreaking technology. Not only is there a place, there is a need for introducing ancient practices and philosophies in a modern context. So the next time your little one reaches for your whizzing device, share the peace with just a click!
1. 'APPiness is acceptance: There is a resistance to technology. As parents and teachers, we can fight against the quickly moving tide or we can flow with acceptance in balance. Physically and emotionally, resistance can negatively impact our lives. Tension builds up in our body, anxiety levels rise and there is discord in our mind. When we surrender, our heart rate lowers, our body relaxes and our mind is at peace. The truth is that kids are going to be riding the information highway and we have a choice: Shield them from the inevitable or open the lines of communication and bond with them. Embracing our techy culture can be an opportunity to connect to our children in a healthy, fun way that they think is cool, too.
2. How APPropriate: Before you hand over the iPad, remember that knowledge is power! Find apps that are age appropriate. Play the games, listen to the music and read the books yourself first. Check out review sites like theiphonemom or tech4mommies who regularly post the best new apps for children by age group. We've included a list of our favorites apps to get you started below.
3. APPeal to all types of learners: Take advantage of the interactivity offered by apps. What kind of learner best describes the child? Reward the visual learner with colorful images; the audio learner by reading and listening to stories and rhythms; and the tactile learner by connecting imagery and words with movement. Exciting reports are coming out that the iPad's interactivity may offer a window into the world of non-verbal and autistic kids, too. Find stories that reinforce color recognition, introduce nature and reveal the cultural value.
4. APParently it works anywhere: Use the mobility of the device as a "Go Anywhere" tool to teach on the fly. That's the joy of WiFi! Great to use at the airport gate, in the checkout line and before dinner with grandparents to stretch and center the restless soul. Once children get the hang of it, why not play in a treehouse, a fort, or on a trampoline?
5. APPlaud good choices: So Angry Birds is ruffling your third chakra? There is an app for that! Concentrate on the child's positive choices. Encourage little Picassos by praising the newly created masterpiece and email it to a family member to enjoy without using a single sheet of paper. Sing along to a catchy tune or share in the excitement of rediscovering classic stories like Peter Rabbit told with an interactive twist. From planets and space shuttles, to birds and dinosaurs, seek out apps that promote free thinking, drive natural curiosity and take children on a journey of discovery.
5 iPad Apps We Love: