YogaEarth's Keen-Wah Decadence Is Perfect Guilt-Free Afternoon Indulgence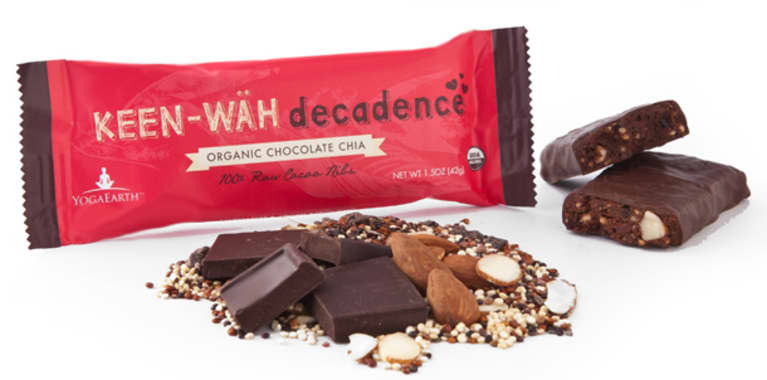 I eat a lot of bars. Organic, vegan, big, little, protein-packed, carb-loaded -- you name it, I've tried it. And YogaEarth's new 'Keen-Wah Decadence Bar' is a bar you'll definitely want to add to your grocery list.
What separates this particular bar from the competitive pack is its delectable dark chocolate taste and uber-clean label. I've had my share of great tasting bars, but none of them have the same type of authentic, great tasting dark chocolate taste that you'd find in a high-quality organic chocolate bar. Throw in a clean label with top-notch organic ingredients and you've got a winner.
Taste: What's so unique (and yummy) about YogaEarth's bar is that it truly tastes like dessert. The dark chocolate mixed with the chopped almonds, chia seeds, and quinoa crisps, gives the bar such a nice texture and crunch -- you really feel like you're indulging in a chocolate bar but without the guilt.
Label: The first five ingredients are almond butter, coconut, nectar, Peruvian cacao powder, chopped almonds, and Peruvian cacao nibs. Labels on bars don't get much cleaner than this. The bar is also 100% organic, vegan, and gluten-fee. It comes in at 1.5oz, 195 calories and has 6g of protein, 4g of fiber, and 18g of carbohydrates.
Bottom Line: The 'Keen-Wah Decadence Bar' is the perfect healthy replacement for the afternoon sugar-fix/snack. My new afternoon heaven is now a cup of organic coffee from my local roaster alongside this yummy bar.
YogaEarth Keen-Wah Decadence Bars: $2.95 for a bar, or subscribe and get a box of 12 for $29.70 at YogaEarth