Johnson & Johnson Has Toxins in Baby Shampoo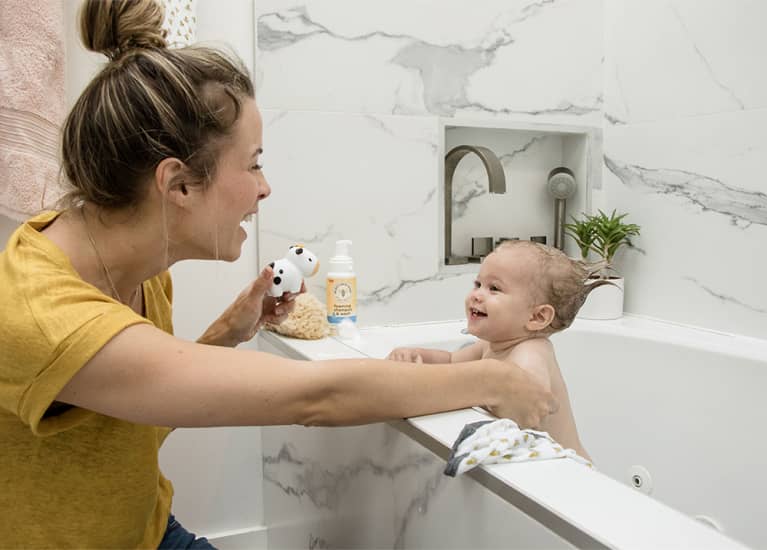 Toxins in everyday skin and beauty products is a HUGE problem. Thanks to people like Horst Rechelbacher, Dr. Frank Lipman, Stacy Malkan, Annie Leonard, Siobhan O'Connor and Alexandra Spunt, and even celebs Gisele Bundchen and Miranda Kerr, more and more people are realizing that cosmetics and everyday skin care and beauty products like shampoo, lipstick, and sunscreen are filled with cancer-causing chemicals.
We're beginning to see more organic and natural skin care products show up in stores, with brands like Tata Harper, Intelligent Nutrients and Pangea gaining more national distribution. However, we still have a ways to go in this movement, as some of the traditional powerhouses like Johnson & Johnson have been slow to remove chemicals from their products. It especially stinks when these chemicals can be found in baby products.
The Campaign for Safe Cosmetics issued a statement yesterday about a chemical that's in Johnson & Johnson's baby shampoo. Here are some of the highlights from their statment:
More than two years after leading health and parents' groups asked Johnson & Johnson (NYSE: JNJ) to reformulate its flagship baby shampoo to remove a chemical that releases formaldehyde, a known carcinogen, the company is still using the formaldehyde-releasing ingredient in Johnson's Baby Shampoo in the United States, Canada and China, while making formaldehyde-free versions of the shampoo in several other countries, according to a new analysis conducted by the Campaign for Safe Cosmetics."Clearly there is no need for Johnson & Johnson to expose babies to a known carcinogen when the company is already making safer alternatives. All babies deserve safer products," said Lisa Archer, director of the Campaign for Safe Cosmetics at the Breast Cancer Fund.Yesterday, after Johnson & Johnson received word of the Campaign for Safe Cosmetics report, the company released a statement saying it is no longer introducing new products with formaldehyde-releasing preservatives and has reduced its use of the chemical by 60 percent in the U.S. market and 33 percent globally over the past few years."We know that some consumers are concerned about formaldehyde, which is why we offer many products without formaldehyde releasing preservatives, and are phasing out these types of preservatives in our baby products worldwide," said the statement.Archer commented, "We're glad to see that the Johnson & Johnson is taking this seriously. This commitment is a big step in the right direction. We look forward to the day when we can tell consumers the company's entire product line is free of carcinogens and other chemicals of concern."