A Meat-Eating Vegetarian? 5 Steps to Maintain Your Vegetarian Sanity
"Eat meat!?! But I've been doing so well at being a vegetarian! I know I spent the first 39 years of my life being a meat-eater but come on!" This is exactly what was echoing through my head as I was sitting in a nutrition class at the Iowa City Yoga Festival a couple weekends ago (huge thanks to James Miller for putting on such an wonderful event).
At the festival, a very well-known and highly regarded nutritionist was going through a myriad of nutritional do's and don'ts when we started discussing heritage, ethnicity, blood types and what should or shouldn't be eaten given these variables. Being of an English/Irish, hunter gatherer background and blood type O+, I was seemingly born to eat meat and should shun almost all vegetables. Not really, but it appeared the odds of my success as a lifelong vegetarian might be under duress. Now, I'm not here to argue for or against the validity of the science behind these concepts but it did give me pause as I pondered the future of my eating habits and the promise I made to myself when I covered my eyes and leaped squarely into the realm of being a vegetarian.
Circle back about a year ago when I took this leap…
As a trained sports nutritionist, I had been questioning the health issues surrounding eating meat for a few years now. To begin with, you have the higher risks of heart disease, unnecessary and unhealthy exposure to the GH and steroids that are given in high doses to a vast majority of our livestock, increased likelihood of digestive issues, etc. In addition, you aren't always able to choose where your meat is sourced from especially if your lifestyle creates a lot of need for eating out. In a perfect meat-eating world, you would be able to hand-pick your farmer, see how the animals are fed and treated and maybe then be able to come to terms with the process. Even having a vague idea of some of these pitfalls, I had always been able to justify it somehow, right or wrong, because I was focused on getting as much lean protein in my diet as I could each day and didn't think it would be possible without consuming meat. As a fitness geek and personal trainer, it had been ingrained in me that this was necessary and, without it, I wouldn't be able to achieve the lofty fitness goals I had set for myself. Every book, magazine and blog in the universe was touting the massive amounts of chicken, fish and beef that must be consumed in order to get that elusive fit, muscular body.
Enter yoga... I've met so many amazing and gifted people since I have happily delved deeply into the realm of yogis and meditators. All of them seemingly have the best intentions and an extreme level of knowledge about what they need to do each day to continue to grow in their individual practices and lives. Most have an amazing amount of body awareness, both physically in yoga and through their eating habits. As I spoke with many friends and did an immense amount of research (research is my thing, it's just what I do), I began to see there were many alternatives to having meat in my diet and I could, in fact, meet and even exceed my physical fitness goals AND be a vegetarian. Alternatives such as beans, Greek yogurt, tempeh, quinoa, almonds, etc. have excellent nutritional profiles and taste very good on their own accord notwithstanding the many excellent recipes and vegetarian restaurant items now available.
Side note: As someone who cares deeply about nutrition, I feel obligated to remind my readers that being a vegetarian isn't a free license to eat any non-meat junk you choose. I've watched this happen all too often. You still have to make healthy choices if you want to fuel your body properly for energy and good health.
Now, over time I had pretty easily come to terms with the nutritional facts of a non-meat diet and was very comfortable that I would survive and not shrivel up as a vegetarian, especially considering I have chosen to still eat organic and grass-fed dairy and eggs. More importantly, though, I was becoming more and more aware of the ethical side of being a meat eater and it weighed heavily on my decision to explore a vegetarian lifestyle. Many of you reading this have watched the myriad of documentaries that chronicle how screwed up our meat industry is and all of the reasons to boycott and completely avoid their products. In addition to this, there are the environmental and employee treatment issues with meat processing that are disturbing at best. I'm completely on board with bringing awareness to and trying to eliminate these issues and have essentially quit ignoring that they exist like so many people have. These issues played a huge role in my decision to be a vegetarian as well as my decision to continue to spread the word about the craziness that ensues in our meat industry. I could easily write article after article about this topic, and there are so many battles to be waged on this front, but will not digress for the purposes of this contribution.
What happened next is really what turned the tide for me and, since that time, has continued to be one of many driving forces in my desire to remain a vegetarian. I was quietly speaking with a friend that I trust, as his experience in yoga and meditation is almost without equal in this country. He has been a vegetarian for decades and when I asked "why?" he simply explained not eating meat makes his yoga practice better and his meditations much, much deeper. He further went on to describe his yoga practice and meditations before and after and how dramatic the positive changes were for him. He also detailed how most animals in this country are killed and what happens to them chemically during this process which directly impacts the quality of their meat. Although, there is plenty of "scientific" proof that an animal's meat is tainted by the time it's consumed, something deeper about what he said resonated with me. He talked about how this meat that had been altered by the stress the animal experiences during processing and how that has an impact on you and your body and how eliminating meat from your meals, eliminates "stress" from being absorbed by your body as well. Now, it's only been roughly a year for me but I can attest, first hand, that my yoga and meditations have been enhanced since I quit eating meat. Granted, this is mostly anecdotal and simply my experience but I feel there really is something to the idea of not introducing "stress" into your body especially when a significant reason a lot people do yoga and meditate is to help alleviate the stress in their lives. As we are, quite literally, what we eat at the most basic cellular level, everything we consume and use for fuel has a significant impact on how we feel, how we approach our world and touches our overall health in dramatic ways. All I know is I tend to be very aware of where I'm at nutritionally each day and, since taking meat off of my plate, I have never had more energy or felt better physically and emotionally. Without question, this can be directly attributed to my nutritional choices.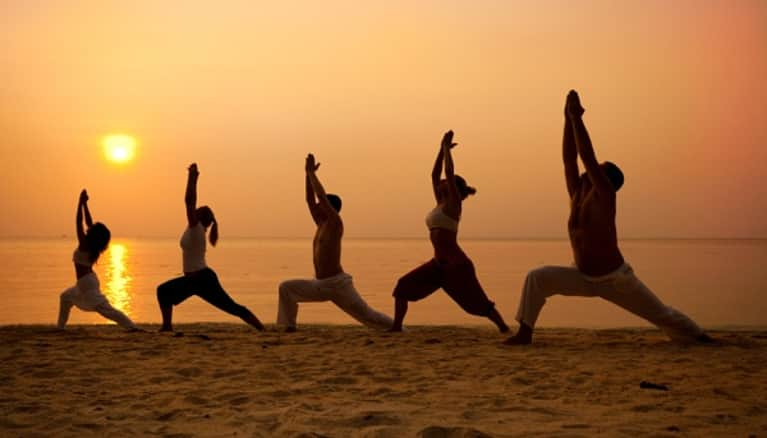 Fast forward to today…
Although this nutritionist introduced concepts that aren't necessarily aligned with my current eating plan, this class confirmed, in so many ways, that what I am doing is right for me and my aspirations. It also completely opened my eyes to many different ways of looking at nutrition and how it can be enjoyed. I've decided to stick to my guns and not eat meat despite some potential evidence to the contrary. In my experience, each individual must listen to their own body and determine what works for them and what they may or may not need to change. There is scientific and real-world merit to many nutritional concepts and many ways to approach your personal diet but, in my opinion, there is no better gauge than how you feel, right now, in this moment and what you have done and need to do to maintain what feels best for you. Keep it simple, enjoy the process and open yourself up to the many options available. When we are open, amazing things come our way even if unexpected… that in itself is worth the journey of exploration.
Although this list is likely endless, here are some things to consider when trying to determine whether becoming a vegetarian might be right for you and how to maintain your sanity through the process:
1. Educate yourself – There are so many qualified resources available in-person, online and in the bookstores and libraries. That being said, be picky, be open and research the sources for consistency and validity. Also, when it comes to the ethics of meat-eating, don't believe everything you read or hear on either side of the argument. Sometimes the passion and personal agendas of an argument can skew reality. For this, you will eventually need to dig deep into your heart and soul and decide for yourself where you stand.
2. Try new things – Some people assume vegetarian food will be boring or not taste good. Even where I live, in the middle of meat-eating country, there are many vegetarian restaurants as well as vegetarian options on the menu of others. This trend is growing steadily which is very encouraging. I have never had so many unique and tasty dishes since opening my options to vegetarian dishes. The flavors are amazing and… I can actually taste them now.
3. Be open to change - Just because you were raised eating meat and, in my case, a "guy", doesn't mean you have to continue to do so or you will be ostracized because you don't eat chicken wings with your beer during the game. I honestly struggled with this initially and very soon decided that what I was doing was my way of life and easily found alternatives for all situations. I've attended several barbeques with various friends since becoming a vegetarian and have easily made choices and had options that I could be happy about and didn't inconvenience me or anyone else at the event.
4. Be patient – Many of my vegetarian friends have stumbled. I still find walking by a barbeque restaurant difficult after years of enjoying the food. While sticking to your choice is noble and worth fighting for, don't get frustrated if you slip up or falter. We are, after all, human and this will happen. Our entire restaurant and even home recipe heritage is based around meat so it can be difficult at times. Get back up, brush yourself off and move forward in the moment you're in with conviction and purpose. By doing this, you will get back on track in no time.
5. Have fun – Isn't that what we're here for? To Love and to have fun while we're riding this wave of existence on Earth. Although this concept is certainly much broader and deeper than the topic of whether to eat meat or not, it still plays a role in how much success you will have in doing so. Have fun with your choice either way, stand firm in your decision, open your mind to all possibilities and, through it all, enjoy the ride…