Do One Thing That Makes You Smile Each Day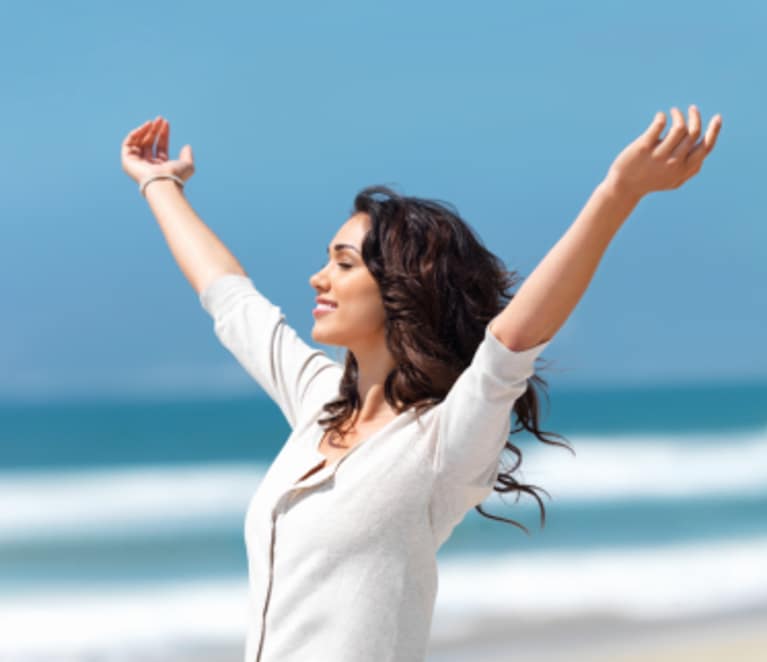 I walk my dog day everyday, no matter what the weather or how busy I am or tired I am, etc. It's just a part of my schedule and each time I pull her leash from the closet, she never fails to get excited.
A couple of weeks ago I was on one of my regular walks with Meka and I was feeling a little down. Mainly exhausted from my schedule and the to-do list I've compiled on my shoulders. On our walks, we usually vary our route, eventually ending up at a particular soccer field in a nearby park. As we reached the field, she dropped into her normal routine of rolling in the grass. She does this each and every time we come to this field, unless it's covered in snow. As soon as her paws hit the field, it's like a sensor and she stops, drops and rolls. And rolls and rolls some more, wiggling her feet in the air while making little noises of what I can only assume are happiness. Each and every time she does this, it brings a smile to my face because she just looks so damn happy. Once she's had enough, she jumps up refreshed and ready to run. It's like a jolt of caffeine to her system sending her off on a natural high. I've seen her do this time and time again and it struck me that I didn't know why. It was time to find out.
Kicking off my Havanas, I plunge my toes into the grass... OMG! Soft, cool, moist, dewy... I can't believe I had no idea this field of splendor existed and was right outside my back gate. How do they do this, I wondered. Why isn't my lawn this soft? Wandering around the field, barefoot with Meka taking rolling breaks along the way, I completely understood why she has a habit of rolling here. If I was alone, I would have been tempted to roll in it, as well. I wasn't and had to be content with walking. It must feel so good on her skin, cooling her down in the summer and providing a soft cushion in the fall and spring. She seems to get so much joy from such a simple act and I could completely understand why. It struck me how my dog has created a habit that brings her pleasure, that makes her happy and by doing so, brings a smile to my face, as well. She has figured out what most of us seem to take for granted.  
This made me think of all the simple things in life that bring a smile to my face each and every day and how incredibly important it is to find one thing each day that brings some joy into your heart, lifts your spirit and makes you smile... even if just a little. We rush, rush, rush through life frustrated, angry and quick to snap at others. Think of how many times you've sat in traffic or a line-up at the store, cursing the person in front of you. It struck me how my dog has created a habit that brings her pleasure, that makes her happy and by doing so, brings a smile to my face, as well. She has figured out what most of us seem to take for granted and that is the simplicity of letting your surroundings inspire a little bit of happiness in your day.
Take a moment right now to look around you. Or look outside a window, if that's available to you. Notice colors, sounds, smells. Take a deep breath and let it slowly as you focus on what's around you. For me, I always smile when I glance behind me and see my cat and dog snuggled up together. If I glance out my office window, I see the fall leaves fluttering in the wind as a ray of sunshine peaks through the clouds catching the colors of the leaves and making them glow a little. These are simple things that cost me no investment other than simply taking a moment to notice. If you take a moment to allow your surroundings to inspire you, you just might be able to give frustration a moment's rest.
So why only one thing? Because it's much easier to find one thing, than it is to find 5 or 10. We are bombarded regularly with to-do lists, numbered ways to do everything, on a regular basis and why add more numbers to your list. One is simple, attainable and where we start with most things naturally. One step follows another, one tooth leads to many, one raindrop proceeds a rainfall, one bite of chocolate... we all know where that one leads to. One is the simplest number of all and I believe we can all find one thing every day that brings a smile to our faces. Let that be your first step, your starting gait and see what takes flight from there. Soon your day will be filled with many things that bring in a smile to your face and, in turn, you'll do the same for others.