Bump & (Sufi) Grind: Prenatal Yoga with Ashley Albrand, Part II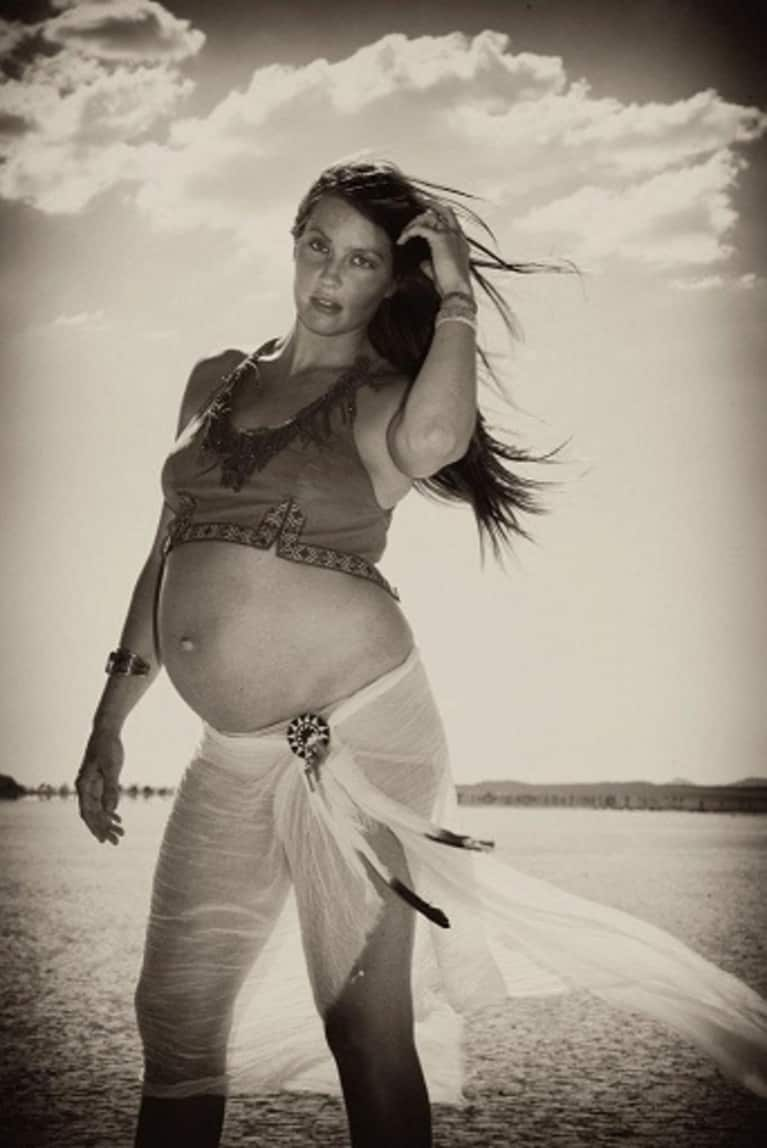 Yogis and yoga teachers, how has a student's or your own pregnancy changed the way you teach or practice? What have been your challenges, realizations or blessings of prenatal practice? I sat down with inversion queen Ashley Albrand to find out how she's embraced her changing body, soul and practice over the last nine months. This is the second half of a two-part interview. Read the first here!
ER: You've long been a yogi, but are just now about to be a new mom. Practicing yogi or not, what does prenatal yoga offer moms-to-be?
AA: Connection to self. Connection to spirit. Connection to baby. Relaxation, body awareness, time to visualize transcended labor, expanded consciousness, more energy, uplifted mood, enhanced organ functioning, healthier baby, sense of contentment, better sleep, happier, healthier, holier self.
What has prenatal yoga taught you about yourself, your body?
Besides the depth of my yogic strength, I did expand on an idea that was in my heart. I have always been aware that going slowly is nature's way. My practice during these last 9 months has concreted that understanding into my being. All the best things happen slowly. The grass and trees are not in a rush. They take their time and the reward is far beyond anything that happens fast. Patience and being here now are elements of my yoga practice. I feel an even deeper awareness and understanding of that now that I have had this journey.
What have been your ups, downs (and maybe upside-downs) of practicing prenatal yoga?
In the beginning of pregnancy, I was queasy and yoga practice was not feeling good to me. I didn't "do yoga" for three months. However, that was my yoga: to do nothing. It felt really foreign to me because I am usually a doer. I am LOVING my practice now near the end. I'm due any day now and the asanas feel amazing. Baby is dancing around and kicking while I'm in downward dog and I LOVE it. I have been upside down a little bit during the pregnancy, doing a few headstands and handstands but for the most part grounded earthy poses have been the most intuitively correct. The best part of prenatal yoga for me is meditation. It's been cosmic. I feel like I'm traveling worlds.
What is one thing you absolutely love about practicing yoga while pregnant?
I love turning myself inside out and connecting with the consciousness of my unborn baby. The baby brings things to the surface of my awareness that were ready to be resolved and released. I have ascended into a new phase in my life with the baby's help. Spirit enables me to see what needs to be released before I become a mother. The process isn't always easy but the results are a deep peace and sense of contentment with my life that I have never known before. I feel yoga, union. I have my baby and the yoga practice to thank. I hold my hands over my heart and whisper "thank you, thank you, thank you" for this incredible expansive journey.
Check out the first half of Ashley's prenatal yoga interview here, or Ashley's conscious pregnancy blog where she shares instructional practice videos, recipes and more mama magic at yoginishaktipregnancy.tumblr.com or Ashley on YouTube, Facebook, and Twitter.
photos by Kristin Burns